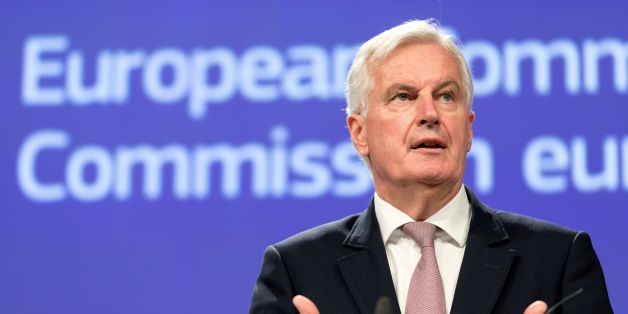 THIERRY CHARLIER via Getty Images
The talks between the UK Government and the EU to negotiate Britain's exit from the EU already feel as if they're going to be a long and difficult process. It's perhaps not surprising, but a year on from the decision to leave the EU, we are still not certain what Brexit will mean for half a million children who live here whose parents are EU nationals. The same goes for the thousands of UK born kids who live in other EU countries. And if a year feels like a long time to us, imagine how it feels when you're a child unsure about whether you and your family might have to leave the UK?
The implications for children who may have to leave the UK post-Brexit are of course huge. I have spoken to many children who have said they are very worried about their own immigration status and that of other family members. They don't know for sure whether their mums and dads are going to be asked to leave the country that they see as their home. For a child born in this country to EU nationals, the idea of going to live in a country they don't know, away from their friends, even having to cope with learning a new language, is terrifying. When Britain voted for Brexit, many said they weren't worried about having to leave the UK, but almost a year on they still don't know what is happening and now they are much more concerned.
Sadly, the debate amongst politicians about what Brexit will mean for Britain has so far made very little mention of children. The futures of the children of EU nationals living in the UK were given no more than passing reference in either of the White Papers published by the Government on Brexit, though the Government has since put forward its offer to the EU about the future immigration status of EU nationals and their families.
What is needed now is a quick resolution, and I'm worried that still seems some way off. As Children's Commissioner for England I am a voice for children, independent of governments but able to speak up for them to people in positions of power. Today I've written to the EU's Brexit Chief Negotiator, Michael Barnier, urging the EU to take a more constructive approach. I think it's important that the EU separates out the issue of European Court of Justice jurisdiction from citizen's immigration rights, so that an agreement can be made swiftly. Any refusal to do so will turn children into bargaining chips in these talks. And any hold up in reaching an agreement keeps children and their parents in limbo.
It is concerning that while the British Government has put forward detailed proposals - although there are some important clarifications that I've asked the Brexit Secretary to make - the EU has decided instead to assert a set of principles without any real detail of how these principles would work in practice.
The EU said they wanted to make residence rights of EU nationals the first thing to be agreed during the negotiations. Yet so far their proposals make residence rights dependent on ECJ jurisdiction, something which won't be agreed until the end of the negotiations.
If the EU genuinely want to resolve the question of residence rights of EU nationals, they need to separate out the two issues to enable a negotiation in good faith which can give certainty to the hundreds of thousands of children and their families left in limbo. Two more years of uncertainty is bad enough for adults worried about their future residency. For children, it feels even longer.
Anne Longfield OBE is the Children's Commissioner for England