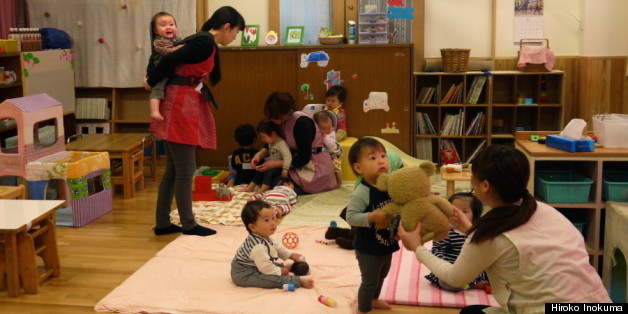 Hiroko Inokuma
The Government yesterday published its plans for a new Tax Free Childcare scheme, which could provide working parents with up to £1,200 of support with childcare costs for each of their children every year. With the pound in people's pockets likely to be the hot topic of the general election in 2015 and the cost of childcare escalating, the availability of childcare and childcare costs are becoming top political issues, taken seriously by all political parties.
Any help for parents in meeting these costs is good news, so 4Children welcomes yesterday's announcement. However, to best help parents the scheme must be simple, widely available and apply to childcare for school aged children. Most importantly, with costs rising by more than 5% a year, families need this help now. At the moment though, the Tax Free Childcare scheme is not scheduled to come on stream until autumn 2015.
Childcare funding is already highly complex and yesterday's proposals, with significant variations in the level of support available to families depending on their circumstances, do not change this. For example, a high-earning family in which each parent earns £145,000 (just below the £150,000 cut-off point for eligibility) will qualify for the full level of childcare support. However, it is likely that a middle-income household where one parent earns £50,000 and the other is made redundant would lose its eligibility completely, until the unemployed parent finds another job.
Indeed, for those who regularly move between periods of employment and unemployment, the situation is likely to be particularly complex. Ultimately, the Government needs to ensure that the system that is put in place is clear and straightforward so that families can easily understand the amounts they will receive and can plan their family budgets accordingly.
It will also be crucial for "employment" to be properly defined within the new system. As part of the consultation, the Government has put forward two options for determining whether or not someone is employed, and therefore eligible for support. The first is whether they work at least a minimum number of hours, and the second is whether they earn at least a minimum level of income. Modern working patterns are increasingly variable. For instance, recent controversies over zero-hours contracts illustrate that people can technically be in work without any guarantee of hours or pay. Therefore, for the Tax Free Childcare system to offer genuine support to working families it must be sufficiently flexible or many families may be excluded.
In addition, the Government plans to cap the amount of support it provides to parents at £1,200 per year. However, the consultation puts forward a choice between setting this cap on either an annual or monthly basis. Ultimately, we think a monthly cap on support would be unduly restrictive, and therefore strongly urge implementation of the cap on an annual basis. This would allow parents to save vouchers up and use them at times of the year when their childcare costs maybe particularly high, including school holidays or during seasonal peaks in their working hours.
As a final point, one welcome aspect of the Government's plans is the commitment to delivering the proposals without charging parents any administration fees. In our view, this is very much the right decision, and it is crucial that it forms part of the final design.
As we approach the next general election, all political parties must come forward with significant childcare plans that offer parents help with childcare costs. Yesterday's announcement could be a valuable addition if broadened and made available quickly, without which parents will continue to struggle.