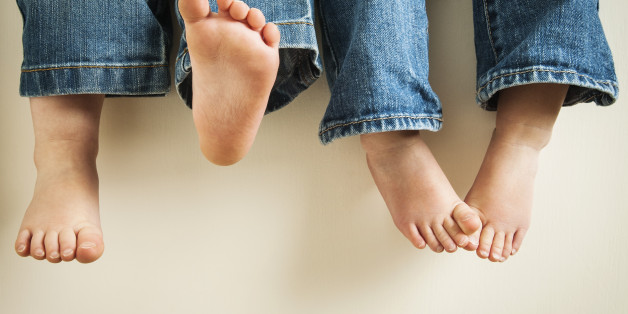 Matthew Wreford via Getty Images
Yesterday the Department for Work and Pensions has launched its new strategy for helping disadvantaged families - those out of work or struggling with other problems. This will upgrade the 'Troubled Families' programme, launched by David Cameron in 2011.
The main aim of 'Improving Lives: Helping Workless Families' is to tackle worklessness and bring down the number of children growing up in families where no one over 16 works, which currently stands at 1.3 million - a historic low. But the Green Paper also makes clear that workless parents may be battling a range of other problems and barriers to work, such as relationship difficulties, mental health problems, drug and alcohol dependence, debts and homelessness.
For these parents, being out of work is not always a simple act of signing on or not looking for work. It is often driven by other issues, which need to be addressed to make a meaningful difference.
There are some stark facts on the issues these families face. Parents who are out of work are three times more likely to experience relationship problems, and twice as likely to have debt problems. In families where neither parent works, it is twice as likely that at least one of them has a mental health problem.
Around 160,000 children live with a parent who uses opiates, and around 200,000 live with an adult dependent on alcohol. Of course, these are just estimates. Many children dealing with situations like these go under the radar.
In fact, there are many ways in which children at risk might remain 'invisible,' with problems not picked up by service providers. The usual classifications of vulnerability - such as whether a child is in care, or in need, or has a special education need or disability - are all important, but they also do not account for many children that we simply do not know about until it is too late.
For example, children might have older siblings or cousins who are involved in crime or gangs. They might be at risk of sexual abuse, exploitation or trafficking. They might be missing or absent from school. They might have arrived in the country without any documentation or legal identity. Or they may be dealing with mental health or behavioural disorders which have not been assessed and diagnosed, so they are left to suffer alone.
This theme is one of my key priorities and throughout 2017 much of my work will shine a light on children whose needs and issues are hidden from view. In the summer, I will launch a major review of the range of vulnerabilities experienced by children. This will act as a guide to what we know about the many different groups of vulnerable and 'invisible' children, how many there are, what are their life chances and, for six key groups, what their experiences are like. While there may be groups for whom we still do not have good information, this work will be an important first step towards talking about and providing support for a wider range of childhood vulnerabilities.
So, I welcome the Green Paper's focus on children's vulnerabilities and how they drive disadvantage. The strategy moves us into a new phase in how we support families with complex needs. As Children's Commissioner for England, I look forward to doing my part to ensure that we act to improve the lives of all children.