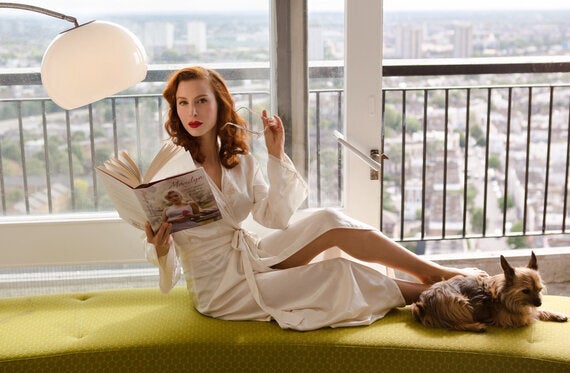 The summer is still here (well, kind of) and it's time to take a wonderful trip down memory lane!
There's something scrumptiously tangible about reading an old book, learning from other peoples past and the delicious style of descriptive writing that goes with vintage times.
Whether it is the smell of musty pages or the fascination of others, how they made their mark in the world (before Youtube vloggers and Instagramaholics), the following list shows the glamour, style and charm of days gone by- enjoy!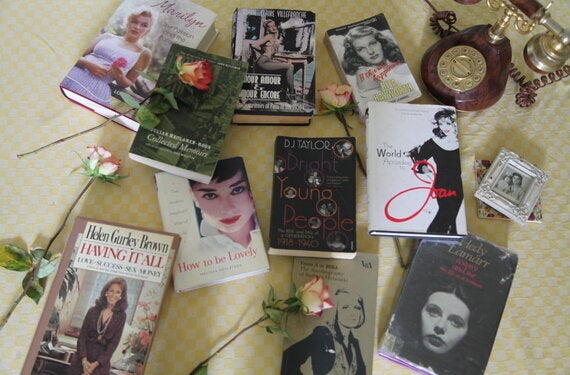 1- Marilyn; The Passion and the Paradox
There have been many Marilyn Monroe biographies, often describing her pain and torture and destructive death. The brilliant thing about Louis version is his detailed discovery at all that she encountered and what psychological influence this made to build up the icon we all know as Marilyn. A gripping read so beautifully written.
2- From A to Biba; The Autobiography
I love a good motivation story! And this will have you rocketing out of your seat at the sheer hard work and inspiration of Barbara Hulanicki. She created the infamous Sixties brand Biba with her husband. Starting as a fashion illustrator, she threw caution to the wind and made the first ever ready-to-wear clothes (also known as High Street shopping!) Also love all the details about her 'dollybirds', pink flamingos and the shortest miniskirt ever.
3- Amour Amour and Amour Encore
By Marie-Claire Villefranche
Written and set in 1950's showgirl theatre land in Paris, the title says it all. Following the rather saucy adventures of two showgirls slash flatmates, we encounter their racy lives running around clubs, parties and soirees with many interested beaus, whilst kicking a few to the curb along the way! Original girl power! Marie-Claire writes with a humorous passion and has clearly inherited her writer mothers wit.
4- Bright Young People; The Rise and Fall of a Generation 1918-1940
This book makes you realise that Made in Chelsea certainly weren't the first naughty rich kids! With the First World War over and plenty of mummy and daddies money to slosh on champagne at the Ritz, this biography shows many of the squandering characters of this generation. There were bottle parties (everyone dressed as babies and took opium) or country gallivanting, where they would play havoc at a family members mansion. The papers had a field day (original papping, sweetie) whilst many didn't make it back from the other side.
5- If This Was Happiness; Rita Hayworth
There is an illusion of vintage Hollywood actors that they are a symbol of untouchable wonder. This still remains today, but the heartache and hardship that many go through to 'make it' is often invisible. This story is not just about Rita's turbulent life but the Hollywood system laid out in all it's glory and the contractual stars stuck on a treadmill of money.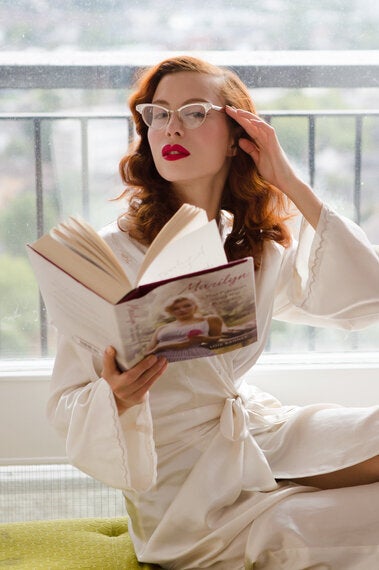 I love this book for it's pure sass and randomness! Love, success, sex and money is all part of Helens promise if you simply follow her vintage steps to happiness! Although it was in the days of typewriting and telephoning, with societies views being a lot different, Helen (who worked her way up to become editor of Cosmopolitan Magazine and had her own American chat show) truly is an ambassador of 'come with nothing, leave with everything.' Learn how to 'mouseburger' with Helen!
7- The World According to Joan
Everyday on Facebook and Instagram you see uplifting quotes from people telling you to, 'look after number one' and 'just be fabulous, darling'- imagine a whole book of them? Joan Collins gives her view on how she believes the world works, and her quotes are the ultimate one-liners. A light-hearted read with some real values and truths we can all learn from.
8- How To Be Lovely; The Audrey Hepburn Way
Audrey was an elegant and sophisticated image, a beloved icon who put the 'haute' in 'couture', a mother, actress and humanitarian who believed in giving everything she could. Audrey was often approached to pen her story but refused, preferring to give her time to charity. She was, as the book title says, simply lovely, an inspiration on gracious living and this glimpse of her life lessons are a joy to read.
9- Hedy Lamarr; Ecstasy and me.
This biography shows the life of actress Hedy Lamarr, a 40's silverscreen goddess with a life of captivating drama. An abusive husband and the first actress to perform full nudity in the film, she had Hollywood spellbound from the beginning. Her life wasn't easy and she lost a lot of monye over time, but through all her highs and lows, she holds a position of serene. This limited edition biography shows just how hard she had to fight to be in the brutal world of entertainment.
A dandy, bohemian writer of the forties, fifties and sixties, Julian was one of the most colourful residents of Soho and Fitzrovia. He writes about his surroundings as well as close acquaintances such as Graham Greene and Dylan Thomas, portraying a life often chaotic and extreme. His views on life were often noted as self-destructive, he became homeless on more than one occasion and was described as one of the greatest writers of the 20th century.
Popular in the Community