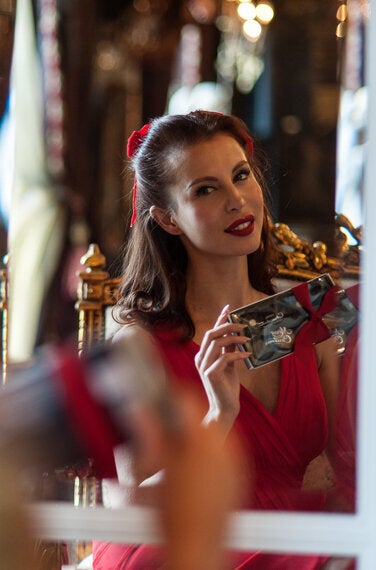 It's getting closer and closer to Christmas! And as if shopping is not stressful enough, there is the small problem of getting the loved one in your life a gift that she will really love.
Fear not! It's all about finding something that resonates with her style and taste whilst it doesn't have to break the bank either.
Whether you are in a long-term relationship or newly formed acquaintances, here is my list of favourite Christmas gifts for the darling in your life...
It can be quite daunting looking for jewellery for your loved one, but vintage is always classy. It's important to note what kind of era might be best, and what kind of attire she currently wears. Twenties pearls are pure elegance, Forties for glamorous drop earrings, Fifties for the infamous Bakelite bracelets and Sixties was all about plastic fantastic. There are many online stores that sell vintage or try Portobello Market and Brick Lane in London.
A signature blowdry has the feel good factor of a red carpet moment even when you're in the frozen pea aisle on a Tuesday afternoon.
When my hair is on point so is my life (no really). I suffer from major frizz attacks and a Hollywood blowout is also great for the busy working woman. With a luxury blowout the hair is far less maintenance so you don't have to style it each morning yourself. Brings a whole new meaning to the hashtag #iwokeuplikethis.
Try ShowDry, for the ultimate signature blowdry gift that will leave her feeling her best in under an hour.
It is a known fact that everyone looks good in a Polaroid picture. It somehow automatically makes your skin look more dewy and fresh (even if your half cut with all the free champers on tap). They are also fun to write messages underneath and keep as souvenirs or frame as a collection.
Underwear, made with pure materials such as silk or cotton are always a winner.
Tip. Get the right size. When I was 18 I worked in a luxury lingerie store in Soho. Men would come into the shop, pick out hundreds of pounds of lingerie and when I enquired as to what size their beloved was they would come over all cloudy. Some would even say, 'er, about your size!' Lingerie should fit well and getting a size too small or big is even more embarrassing as normally you can't take it back (even if you have the receipt).
If she's not an underwear kind of girl, loungewear is the next best thing. Wait till she's asleep and then become the best knicker thief in town.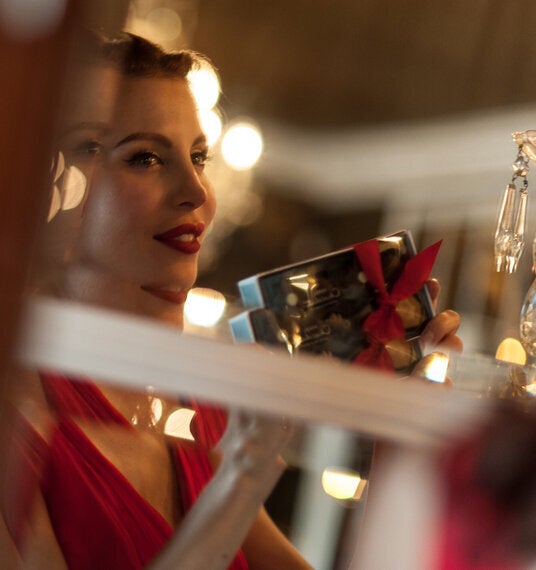 The best thing about the iPad case is that secretly we like to use it as a clutch handbag. So it's not so much about protecting the iPad but more a fashion accessory! There are so many amazing fabrics, shapes and makes so have fun in finding her one.
Tip: Try Harvey Nics or Harrods have a wide selection of styles.
Luxury Chocolates (preferably given in bed)
As is most things in life, it's all about the presentation. A red bow tied the right way or a box that we can keep after raises the blood pressure just the right amount. It's the simple things in life and luxury chocolates really set the tone. Try Champagne Truffles or Hotel Chocolat for the best in taste.
If she is a lover of writing things-to-do lists, plans, dreams, ideas or contacts, it is always nice to write them in a beautifully presented notebook.
Moleskin, floral or embellished are gorgeous and some companies even do embossed initial letters on them. Journaling is a great way to let off steam as is writing down plans (it's something about ticking off the list that gets the satisfactory mark). Writing on paper is a lost art form with all our technology so going back to basics has a therapeutic effect. Write a sweet message inside and she will remember you all year!
Technology, science and beauty are evolving before our very eyes. We are looking our best thanks to new and amazing discoveries such as laser facials and EMS (Electric Muscle Stimulation). That's not to say the classics aren't still effective such as Jade rollers and lymph drainage but these can work in harmony together.
My personal favourite is FaceGym at Selfridges, of which they work your face out for you. Using ancient Chinese stimulation, Radiance effect with green tea serums and advanced lasers, it is the perfect balance of nature, strength and nourishment.
Va-Va-Voom Statement Shoes
I don't actually mean shoes with wheels (although that would be quite fun) but one's that have lots of character and are a statement. Shoes complete the outfit and Christmas is a time when you can go completely crackers and not worry too much whether they are sensible. Five-inch platforms with cherry peep toes? Yes, please. My favourites are Agent Provocateur or Charlotte Olympia.
We all love our pets to pieces, and treating them is essential. So getting a present such as a small toy, collar or bed for your ladies pet will leave her and Rover delighted. If it's a dog, I always think their good at detecting kindness, so be on your best behaviour at the Christmas table!