I caught up with the lovely Peter Andre at the launch of his new perfume Scarlet. Peter revealed the metrosexual in him and discussed his views about modern beauty in a refreshingly candid interview.
Antonia: Who'd have though Peter Andre the brains behind a female perfume?
Peter: Yeah, because the new women of the world are quite strong, they're powerful. Don't worry I'm not saying us guys aren't powerful I'm just saying that the new woman is powerful and elegant, but also has that little devilish thing about her, you know that little sting, that little sort of bite to her.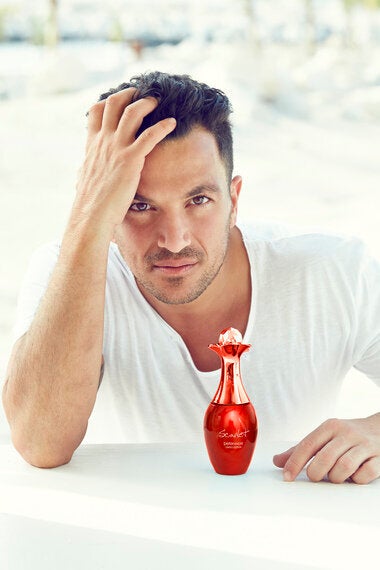 Antonia: it's interesting how you are evolving as a brand, tell us a bit more
Peter: It's weird because then you do something like a TV commercial like for Iceland and it's almost like, can you do all of that? And you know if you were just doing something like a commercial it can come across like you're doing it because there's nothing else but thankfully we're selling out tours, we've got brands that are selling incredibly well and when you get to do an advert you get to have the fun side of it where you're just doing a bit of tongue in cheek and it's a bit of fun and it keeps your profile in a different way. So I'm having fun.
Antonia: What do you think of the way you look now compared to the way you looked at the outset of your career? How has your look evolved?
Peter: My parents used to give me grief about the way I looked. My dad said, One day you're going to look at this and laugh - wear a suit, wear something nice. I'd wear my shirt open and they said you will see as you get older that what you think looks cool doesn't necessarily look cool. My dad was honest with me he always wanted me to wear a suit.
And now? My dad laughs. And I say you were right!.
You know, you do evolve and as soon as I turned 40, it was like a switch went and I thought now it's time to get out of these gimmicky outfits. I still wear the odd beanie and stuff like that but I like to dress up.
Antonia: Do you think that society puts way too much pressure on the way we look, even as men do you think it's too much pressure?
Peter: Yes. Do you know why? Because animals don't know what they look like , they're happy. Mirrors came along and kicked us right in the face. And then HD TV came out and it made it even worse because you see all the wrinkles. Honestly, I almost wish mirrors were not invented. We'd be the happiest people on earth.
Antonia: With that in mind you've got two daughters now, and the pressure on society to look better and keep on top of the game so to speak as far as our image is concerned is deepening. So with two girls and obviously being in the media spotlight yourself, do you worry about the pressure that your girls will have to grow up under?
Peter: Yes. I'm so glad that ladies like Beyonce who are more full figured have now started to become fashionable because when it was the stick thin image I was very frightened , people were becoming anorexic, very sick, models had to be stick thin to get any work. The pressure was worse then. Yes society puts pressure on girls.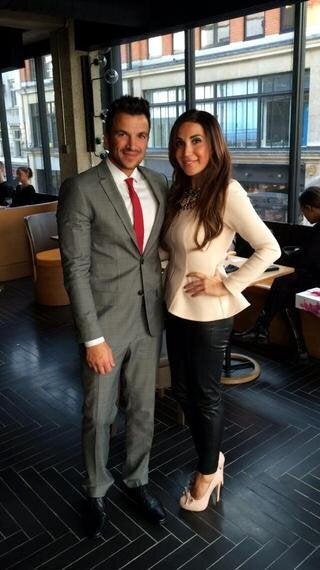 Antonia: Seeing as we're talking about age and beauty, what's your view on cosmetic surgery?
Peter: Cosmetic surgery? To an extent I think it's ok. For example, I hated my nose, I had a lump, and at school in Australia I was picked on for it. The kids used to laugh at me for my big nose. I wanted to have it done at all costs. Now that, to me, changed everything in my life. I had that nose job and it changed my life so, for me, how could I ever criticise anyone if they want to get something done? But then I guess it's how far do you go? I mean Michael Jackson who we loved , greatest pop star of all, that was too far, so the thing is you can't blame someone if he does go a bit too far - because they might not know where to stop but at the same time if you want something done and it really will make a difference , when you're old enough to make your own decision I think it's ok, to a point.
Antonia: I want to ask you what song sums up your life?
Peter: Of my own songs? Good question!I don't know. But my favourite song of all time is Human Nature by Michael Jackson. We do it on tour with our ten piece blues band, It's beautiful.
Antonia: What's next for brand Andre?
Peter: I'm very grateful, and extremely surprised I'm still here, so I'm just taking each day as it comes. But we are working on a prime time, night time show for one of the major channels, which I'm really happy about. I did reality, I got to the tenth series, I didn't want people to get bored of it, the ratings were high, exceptionally high, and I said to the guys lets step away on a high and we'll come back to it later, and now we need to do other things, watch this space.
Antonia: Count to me some of your blessings
Peter: Obviously family, number one. Being on stage, I'm very lucky because I did this 25 years ago and to think I can still do it, it's very hard to say them all, I could go on forever.
Antonia: Health? Your stunning good looks? Shall I do the list for you?!!
Peter: The looks thing, I'm noticing a change! But that, again, is due to lovely HD cameras!