BaliSpirit Festival was one of the most delicious feasts my being has been treated to in a while. In and out through the tunnel of self-discovery, struggling and indulging, revealing and accepting, controlling and letting go.
Apart from all the endless joy and fun, this truly special experience gave me some key learnings, which I can't help but share with you.
It all starts with the location. If Bali is one of the world's hubs for all things spiritual, the BaliSpirit Festival is the hub of that hub, the hard core of it all. In Bali, enchantment is a daily routine; the BaliSpirit Festival is the big celebration, "the white magic Halloween".
And there couldn't be a better place for it than Ubud. The daytime events took place at Purnati Centre for the Arts. Sprawling green lawns, rice paddies at the background with the jungle further out, hammocks here and there, chill-out areas with puffy cushions, roomy and airy workshop spaces, a massive swimming pool, a few veggie food stands, recycling spots, friendly and smiley staff... A bubble of paradise. I could so live there!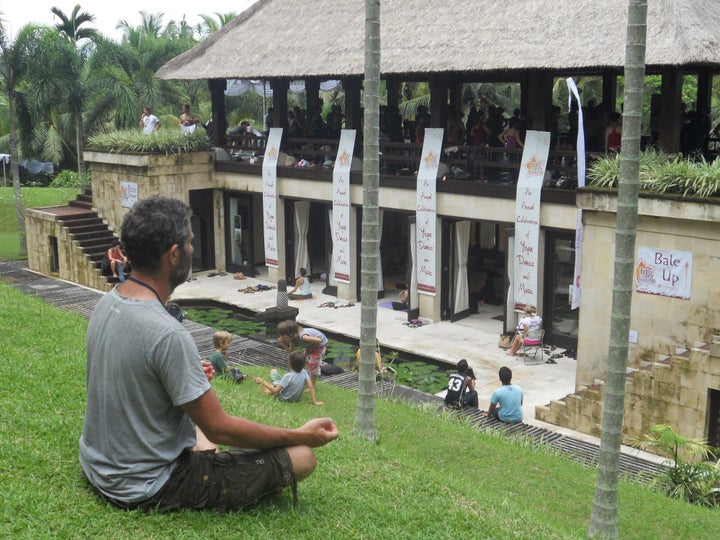 The night-time programme took place at ARMA Museum & Resort, another majestic venue where no extra stage décor is necessary.
Both locations were just beautiful and fit for purpose offering the best possible environment for the celebration of yoga, dance and music.
As soon as I arrived at Purnati Centre, my heart arrived home. It came to the forefront and my ego's defenses had no option but to step away. Over the next five days I was celebrating life with hundreds of like-minded people in the environment free of pretentiousness. You are who you are, and that's what you stand for. You are being accepted and valued as you are. No regalia or job titles required. It's ok to smile to a stranger, approach them and have a chat, offer them friendship and support. Key learning number one: shoes and egotism out, be who you are.
The BaliSpirit Festival was a get-together of dozens of the world's top teachers and practitioners of yoga and all things spiritual: Simon Low, Danny Paradise, Gwyn Williams, AwaHoshi, Govinda Kai, Ronan Tang to name a few. These activists of self-development attracted hundreds and hundreds of attendees from all over the world. The success was as grand as the programme, with daytime tickets sold out on Day 2.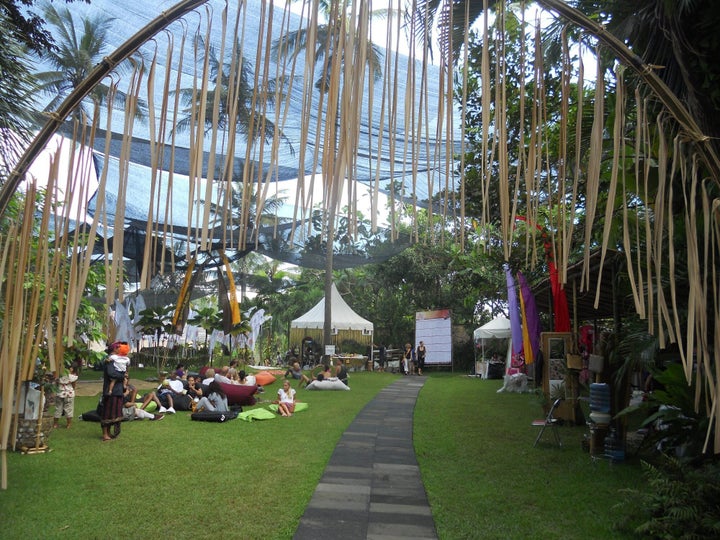 And no wonder; the festival offered the most delicious (and wholesome) fine dining experience for the body, mind and soul you could possibly imagine. In the daytime, there were over 25 two-hour sessions daily to choose from. Jiwamukti Yoga: the End of Suffering; Yoga Poems Workshop; Mindful Breathing; Art of Backbends; Acroyoga & Thai massage; Qigong; Yin & Yang Yoga; West African Dance; Crystal Bowl Healing... every single session offered a potential transformation. It was hard not to get greedy wanting to try it all.
The presenters would often have to cater for up to a hundred people in their classes, and their mastery shone through. In all the classes I attended they did brilliantly. I loved how most of the presenters would weave in an inspirational talk into the practice, encouraging the mind to expand and the heart to open.
Ideally you would need some time after each class to digest what you have just learned and experienced, but as the festival was packed with the sessions not to miss, my mind & soul had to store all the impressions to process later.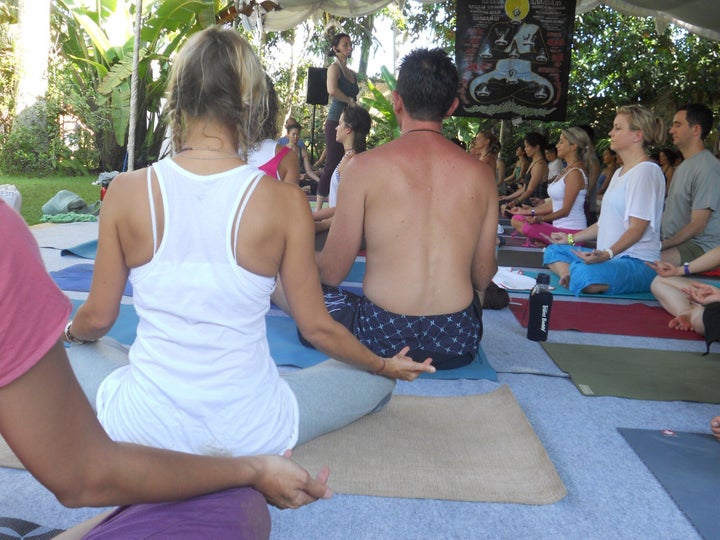 The night-time programme saw top performers of music and dance, all of them being activists of spiritual and social change: Rocky Dawuni (the holder of one of the "Best African Artist-2011" Award), Luminaries, Nahko & Medicine for the People; Delhi 2 Dublin, Jacqueline Fuentes...these and many other artists would send the crowd into an ecstatic joy of dance every night.
During the festival we were all embraced with a sense of Unity: the "kula" coming together. The integration into the practice, the merger with the surroundings, the unification with others, spreading and sharing love and compassion... We were practicing, enjoying, sharing, supporting each other and having fun together.
This feeling of unity was an ideal environment for me to absorb another key learning, and that was: self-acceptance, self-esteem, self-love; the importance of finding an inner strength, without relying on others. Time and again would various teachers talk to us about the importance to search for the truth and strength within ourselves, learning how to love ourselves and be happy unconditionally. It was a wonderful juxtaposition of the external unification with others and the importance of self-love, self-trust and independence.
During the post-festival class, Cherie Rae discussed the importance of spoiling yourself and falling in love with yourself so passionately I had no other option but to fall into that state. Not often do we realise that we might be abandoning ourselves and depriving ourselves from self-love. Theme number two: merge with the world yet build your inner core.
Whilst the festival only lasted for five days, there was a wealth of yummy workshops and events afterwards, my highlight being the grand opening of the expanded Yoga Barn in Ubud. We celebrated with The Future Sound of Yoga, a creative fusion of yoga, music and dance with a live DJ. After a short warm-up session we were tasked with letting go and becoming one with the music, allowing the body to become the dance. A friend of mine who arrived later in the evening announced that he is not a good dancer and therefore didn't know how to fit in. I said: "It's not a night club, no one is watching you. Just dance as you feel like". And so I did, listening to my own words. Two hours later I felt high (without drugs!). The after-effect of going with the flow, the importance of easing off and letting things happen: theme number three.
I'm confident that more and more themes I have experienced at the BaliSpirit Festival will keep emerging and revealing themselves as I go along.
Now, did I say I can't wait for the next year's festival??
Related