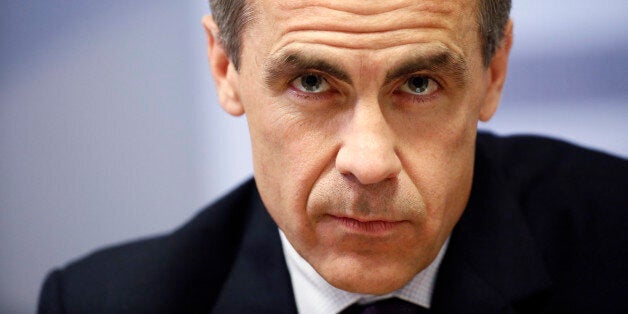 I wasn't at least, so decided to ask the governor this morning why his beloved "forward guidance" plan for interest rates has been all over the place. Just an innocent question, but Carney did not take it too well.
"Has forward guidance been a muddle or a learning process?", I wondered aloud after he presented the Bank's latest outlook for the economy. What was his response? He glowered, and shot back: "You're muddled, I'm afraid."
Sitting at his side, deputy governor Ben Broadbent duly chuckled at Carney's catty response. I was almost surprised he didn't offer a saucer of milk.
After an awkward pause, the governor went back into central-banker speak, proudly boasting of how "boring" and "consistent" his plan was.
"I know it's dull, I know it's repetitive - it's limited and gradual," he said. "It's consistent, it's boring, but that's what you get."
Although the Bank announced it would "particularly" keep an eye on wages as it had been surprised by how weak they had been growing, Carney insisted nothing had changed.
The subtext seemed to be: how can you question my masterplan?
"The governor tends to get sarccy when he gets a question he doesn't like," one hack observed to me.
The governor's tetchiness continued as the other reporters assembled for the governor's inflation report press conference chipped away at the Canadian.
Carney tried to reassure us with the news that the Bank had decided, given all the uncertainty, to change how long it estimated for the UK economy to eat up its spare capacity. But the hacks were not impressed.
One wryly asked where he felt the Bank was "on the spectrum between certainty and cluelessness". Carney snapped that he would prefer to use his own terms to judge his masterplan - his beloved "boring" and "consistent".
"I know it's not good for headlines," he added, with barely concealed disdain. Another told Carney that anything he said "must be taken with a very large pinch of salt".
The Bank governor's other mantra, which he seemed increasingly irritated to face questions about, was when interest rates rise, they would be "gradual and limited".
One hack tried to be helpful. How gradual? How limited? Oh, it would depend on the data, Carney helpfully obliged. But don't worry, they'll remain limited.
Scots got a preview of this up in Glasgow when he swatted down the same question, insisting that the moment when people will know when interest rates will rise "is when they rise".
This still misses the point, as Carney's Bank of England is meant to offer clear reassurance for families with an eye on their mortgage repayments and businesses worried about their debts.
Still the governor clings to this as his message. After the press conference, one wry hack joked to me that it'd be cheaper for Carney to print t-shirts saying "They'll rise when they rise, okay?"
Carney's first version of forward guidance, with a 7% unemployment threshold as an indicator of when rates could rise, was "well understood", as the Bank's own polls showed.
Now he seems to be on the back foot.
Related