Some of you who read my stuff here may have noticed that I don't write very often. I need be moved, to feel genuinely passionate about something, before I put pen to paper.
And nothing, absolutely nothing, has moved me over the years quite like the music of Mikey Georgeson.
The Best of the Vessel is the new album which brings together a collection of his work that has been over 20 years in the making.
Georgeson first came to the fore back in the 90's, fronting the ridiculously wonderful but painfully ignored pop group, David Devant & His Spirit Wife.
Undeterred, Georgeson has gone on on to work under the guise of Mr Solo, Carfax (with White Town's Jyoti Mishra), and, more recently, as Mikey Georgeson & The Civilised Scene.
The Best of The Vessel is the album that brings all those elements together. And it's a blinding triumph.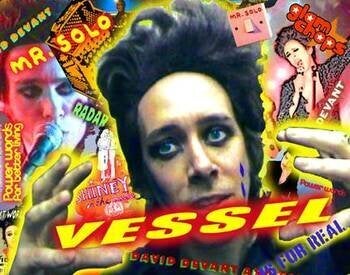 Having been barred from the Brit Pop party, it seems that only now are critics reassessing the undeniable pop sensibilities of David Devant & His Spirit Wife. And hearing the songs on this album, it's an absolute wonder that it has taken so long.
'This is For Real' and 'Pimlico' are hidden classics that, back in the day, would have sat comfortably on top of the charts. With hooks that could snare a whale and lyrics packed with pathos, they'd still be perfect additions today.
I could repeat that for most of the songs here. This album is that good.
There are particular gems: 'Life on a Crescent' is a heartbreakingly delicate and perfectly formed reflection on suburban life. 'Going To London' and 'My Heroine' are quite simply two of the purest pop songs I've ever heard.
Best of all though is 'Half of It'. Again, it's a great tune, but significantly it's a new release, and a wonderful sign that even though this album is a retrospective, it shows us that perhaps only now are we really seeing the very best of Mikey Georgeson.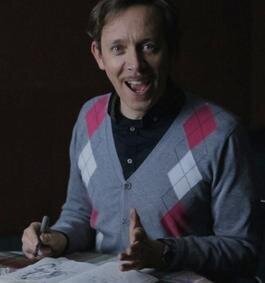 Over the years, Georgeson has been compared to many other performers, perhaps the most accurate being Pulp's Jarvis Cocker. They share an endearing peculiarity, an intelligent wit, an empathy and compassion that has armed them with the tools to make music that sets them apart.
But while Cocker was accepted and invited to the party - a party he wisely rejected - Georgeson has continued to work outside the mainstream. And he's all the better for it - because by ploughing a lone furrow, Georgeson has remained sensitive to both himself and his audience.
This album marks Georgeson out as an original British songwriter of lasting quality. He remains a presence somehow transcendent and other-wordly, bringing us songs that seem to have always existed, holding up the mirror to connect us to something we can truly love.
What an incredible talent.
The Best of The Vessel is out now on itunes
You can watch the video to Half of It here