Just when you thought you'd heard the last of Fashion Week for another season, here's my London Fashion Week roundup in all its fashionable glory. Fashionably late that is.
As I mentioned in my post last season, London Fashion Week is usually something I love and loathe with equal intensity. However, this time round I absolutely loved everything about it, perhaps because I was more organised.
Firstly, I managed to survive the whole week without skipping a meal. If you follow me on social media you'll see I've been training hard with James Crossley, AKA Hunter from Gladiators. I know, too cool! One of the things he has pulled me up on is my habit of missing meals when I have a hectic schedule. I'm going to do another post about this soon, but to avoid any slip-ups I signed up to Total Diet Food, who delivered all my meals to me every morning during the week.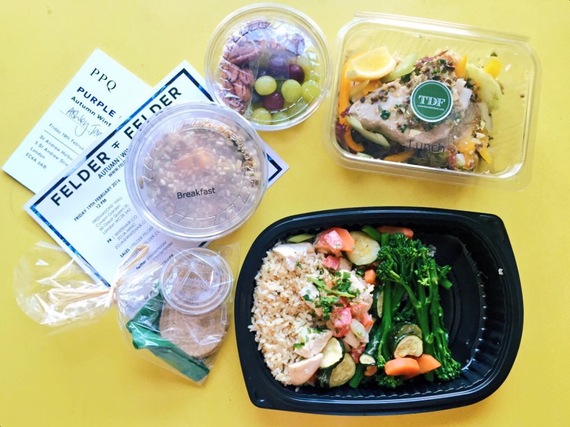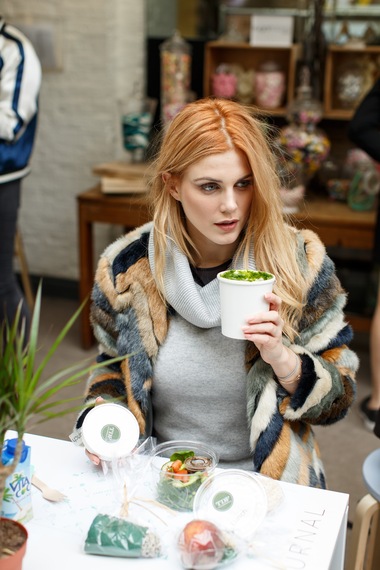 Secondly, I used Priv the whole way through Fashion Week. Priv is an app that allows you to book hair, makeup, nails, and even massages straight to your home or office. It's currently only in London in the UK, but if you are London based definitely check them out. Having a professional hair and makeup artist at my house several times a day meant I could be more experimental with my looks, but also meant I felt like a Kardashian for a week! :)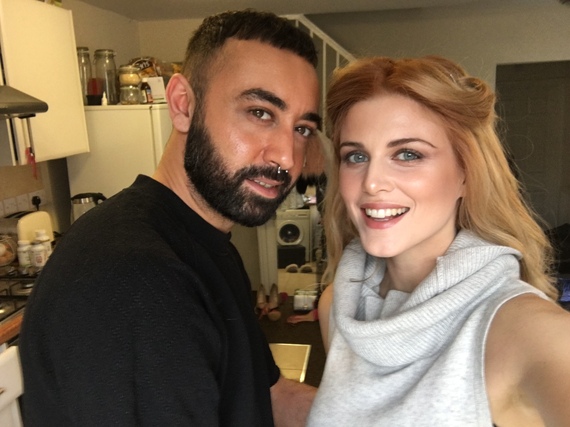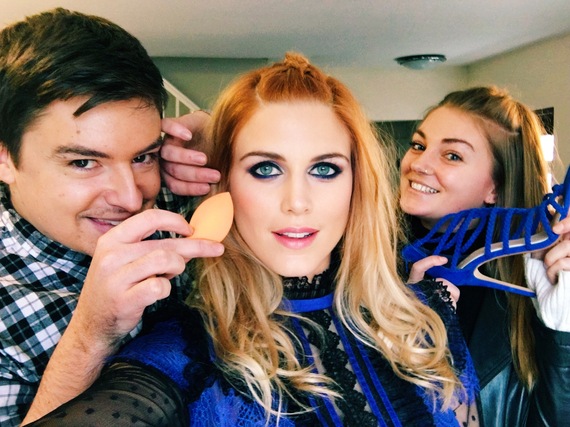 And so Fashion Week kicked off on Friday with Felder Felder. It's always such a great show, and this season was no different. I loved the metallic, chainmail and sheer looks, and there was a real rock and roll feel to the show. Plus I got to catch up with my friend Sarah-Jane Crawford on the FROW. Oh and I was flattered to have worn Felder Felder SS16 to the show!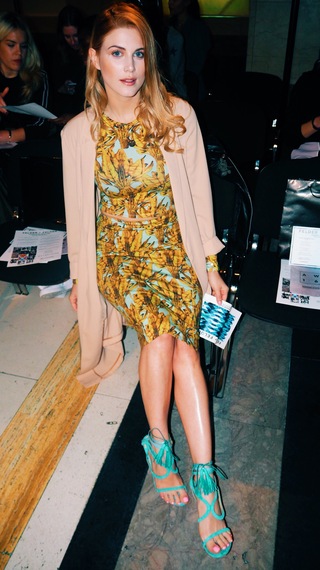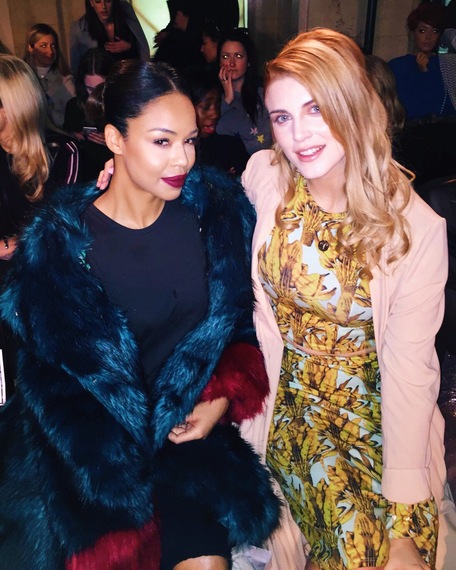 Next I popped along to the Three Floor presentation, well technically I popped to O2 first as I cracked my phone the night before, but I'll spare you that story! If you aren't familiar with Three Floor, you need to be. They have the most amazing dresses, which I often wear to events, and their presentation proved the brand is just getting better and better!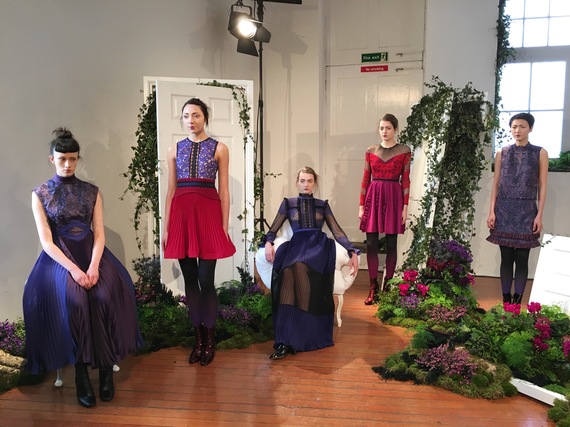 Then it was back home and into hair and makeup again so I could get ready for Paul Costelloe. Costelloe's clothes are the most flattering in the world, they really emphasise the feminine body, so I was so excited to wear this incredible purple two piece. I teamed it with a matching Moda in Pelle bag and clutch and was thrilled to see my Irish friends Vogue Williams, Storm Keating, and Lorna Weightman on the FROW. I loved the edgier feel to the collection I saw on the catwalk; I'll definitely be trying to get my hands on a couple of pieces.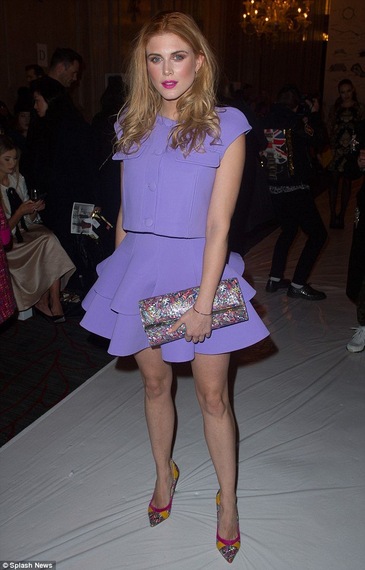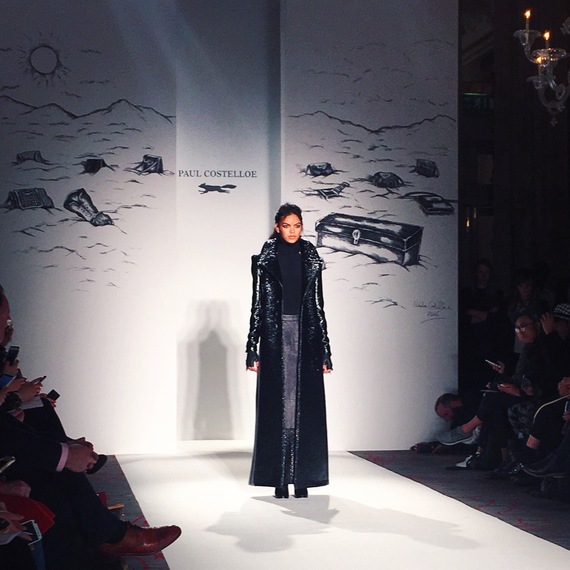 Sadly there was no time to steal anything as I had a quick makeup and outfit change backstage before the PPQ show. I wore head to toe Oasis with an incredible PPQ coat, which received a lot of attention. Their show took place inside a church which had the most amazing monochrome flooring. It was the perfect setting to see the ice-cream pastel collection. Plus I got to sit next to fellow presenter and my BFF Charlotte de Carle.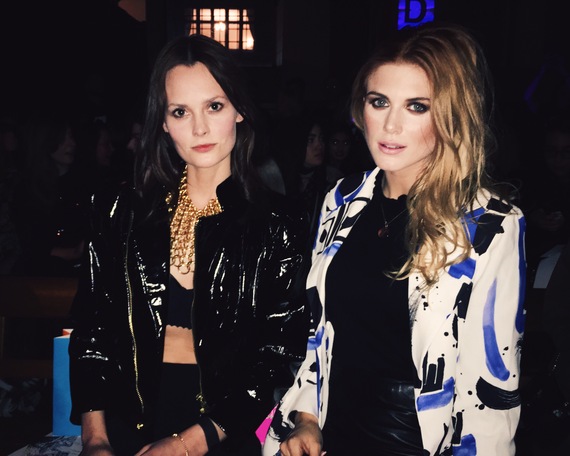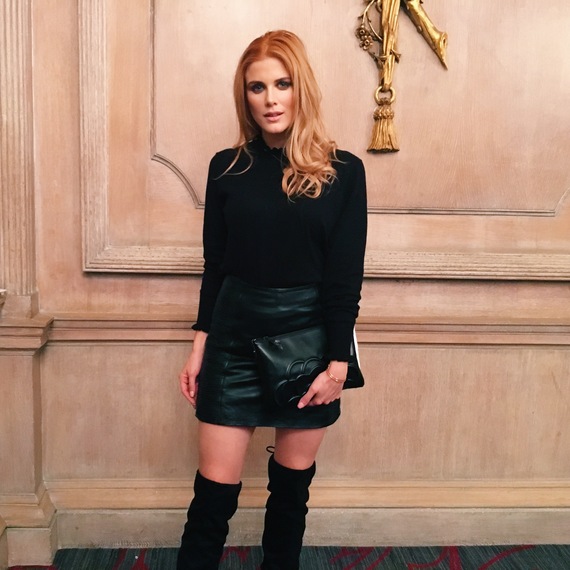 Despite being exhausted after day one, I was up bright and early the next day as I was so excited for Julien MacDonald's show. Julien's become a gym friend, so I was elated when he asked me along as I am honestly obsessed with anything he creates, and the show fully lived up to all of my expectations. It was everything I expected and more! Plus, Three Floor allowed me to wear a dress I fell in love with at their presentation the previous day.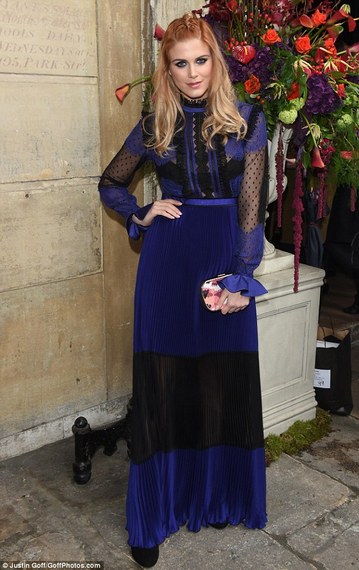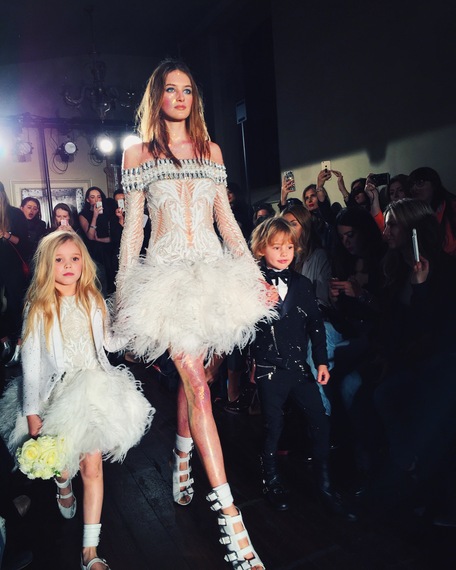 As if that wasn't exciting enough, that evening I was invited along to the notorious Fabulous Fund Fair, an event hosted by supermodels Karlie Kloss and Natalia Vodianova. I decided to wear another dress by Three Floor but switched up my hair and makeup - this is one of my favourite looks the Priv team created on me. The night was incredible and I bumped into my friend and shoe designer Patrick Cox (quite literally bumped into him, as there were dodgems), and I even got my photograph taken by the iconic Ellen Von Unwerth. Scream!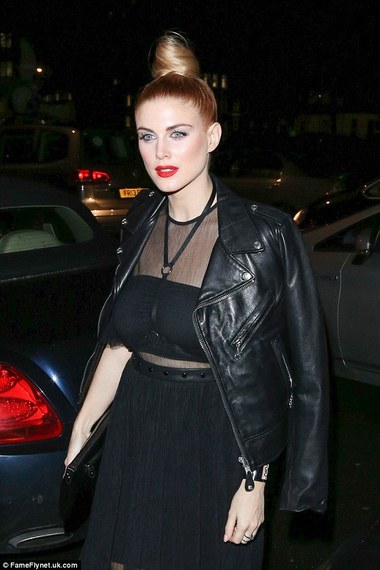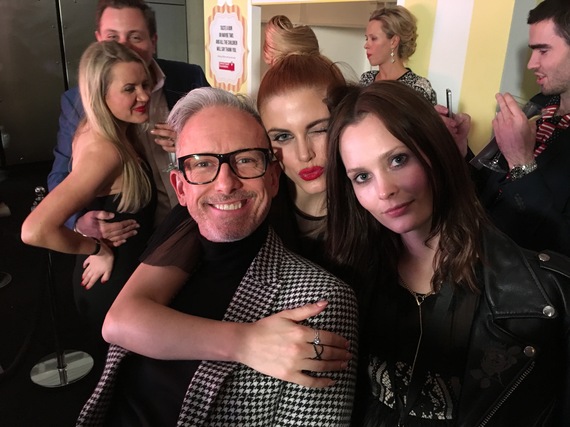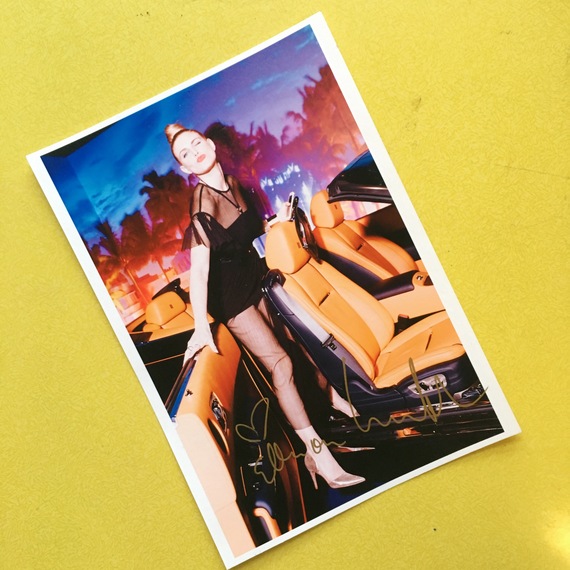 After only a few hours sleep I was up early and in hair and makeup with a large coffee as I got ready to have brunch with one of my style icons, Alice Temperley. I went for a casual outfit in Mint Velvet and the most amazing faux fur coat from Urban Code.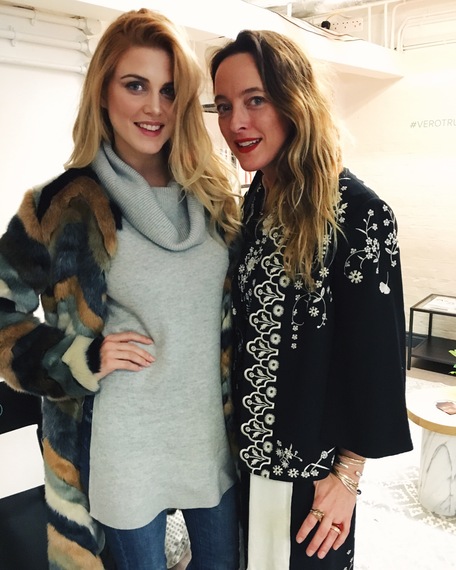 Before I knew it was Monday and I was back in hair and makeup before another busy day. First up, I was back to work as I did a DJ set live at London Fashion Week for Hoxton radio. I totally loved my colourful cool outfit - I wore a Moschino T-shirt, a skirt from Wolf & Badger, Office shoes, and a faux fur ASOS coat.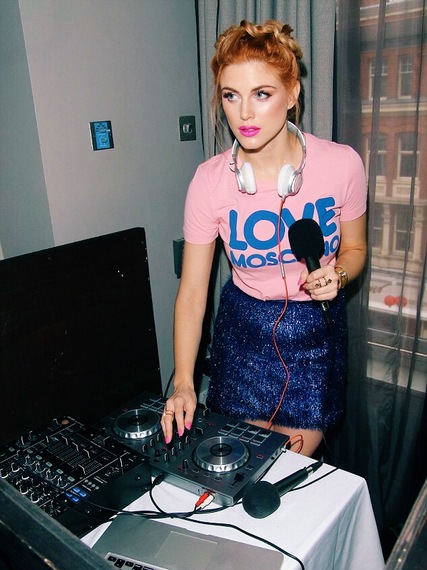 Before I knew it my set was over, and I was dressed in white and on my way to Claridges for the Aspinal presentation. By this point I accepted footwear defeat and put on my Superstars a la Victoria Beckham. I rocked these with a two piece from Very exclusive, Cadenza earrings, and a green Aspinal bag, of course! The collection was amazing - I've already got the pink and powder blue bags on my wishlist.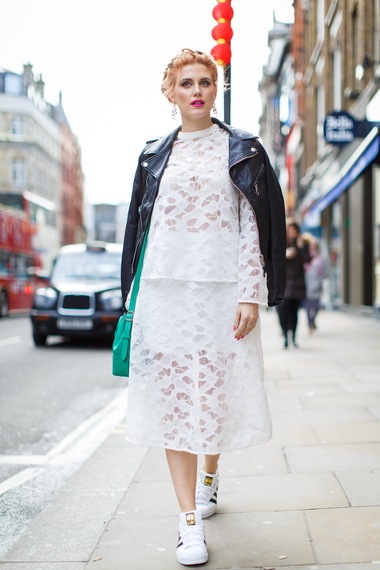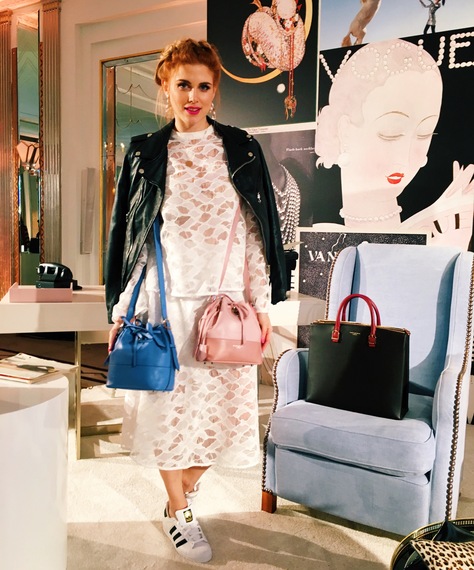 Finally, Fashion Week was over for another season, but I decided to drag my weary body to the world premiere of Sacha Baron Cohen's new film Grimsby. I wasn't quite ready to wave goodbye to fashion, so I wore the most amazing Jeremy Scott outfit from Hervia, with a colourful Schott leather jacket, a Lamb clutch and Primark heels; well I could sit down afterall! It was the perfect end to the week as I laughed the whole way through - you have to go see it!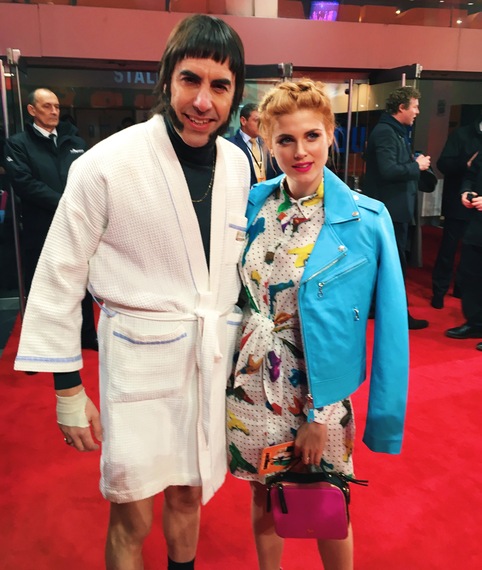 Well, that's it for another season fashion bunnies, and yes I hate myself already for calling you that. Sorry. And sorry it's taken me a while to write this, but I've had some crazy adventures, all of which I'll tell you about very, very soon.
Until next time.... x