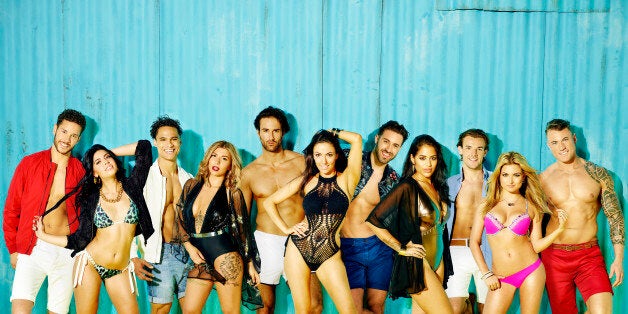 I am not being hyperbolic when I say I LOVE reality TV. I was brought up in a generation that has feasted on a diet of shows like Big Brother and The X Factor, and you'd be hard-pressed to find one such show I haven't seen over the years.
While the genre gets a bad rap, I have always defended it from snobby TV purists who claim only high quality drama, documentaries and the like have a place in the schedules.
However, recently I've been feeling conflicted about the arrival of Love Island, which has just kicked off its second series on ITV2.
Given that it draws heavily on Big Brother (one of my all-time favourites), in theory, I should be lapping up every minute of the drama, but in reality (pun very much intended), there's actually a number of ways that it's really letting us down, as a reality show in 2016:
1) Its attitude towards women
If you tuned into the launch episode of the latest series you will have seen host Caroline Flack showing that the patriarchy is still alive and well, as she introduced all the contestants hoping to find romance.
As they attempted to couple the hopefuls up, the girls were lined up (in bikinis, obv) for the boys to pick from like slabs of meat on an oestrogen buffet.
While producers did attempt to give the women some element of control by telling them they could step forward to show if they liked each man, it was taken back from them by the fact the men could still pick them to be their partner, regardless of whether they actually fancied the blokes or not. *facepalms*
2) Its piss-poor representation of the single, 20-something man
The production team didn't cast the net very wide when lining up men for the new series. It seems a rippling set of abs and some terrible opinions on women were the only thing required to get you noticed by producers, which has resulted in a pretty damning representation of the modern male on the show.
The concept of being a gentleman has been lost on this lot, who spend their days cooped up in the villa either bragging about their sexual conquests or objectifying their female co-stars.
One of the over-sexed meatheads, Nathan Massey, even went as far as shaming fellow Islander Cara De La Hoyde when she refused to kiss him, despite it being totally her prerogative not to. "You're the most frigid girl I've ever met in my life, you are frigid aren't you?" he told her. "Do I intimidate you? I thought so."
I could only watch on in horror as this disgusting display of sexism played out, but what worried me more than having to watch it, was what it is teaching young, impressionable viewers about choice and consent. By putting men like this on TV, we're not only teaching boys it's ok to speak to women like this, but we're also perpetuating the idea that women should 'put out' or face ridicule.
Contrary to what Love Island would have everyone believe, this isn't what all my fellow single, 20-something men are like. We're not all a bunch of #LADS who only care about pumping iron and shagging birds, but producers clearly think this is what viewers want, which is pretty sad for those of us who know how to a) treat the fairer sex, and b) be an all-round decent human being.
3) Its non-inclusive approach to the LGBT community
While shows like Big Brother and First Dates have led the way in featuring participants of all genders and sexaulities, it is like the past 50 years of campaigning for LGBT equality haven't happened at all over on Love Island.
The format ignores LGBT relationships completely - with only romances between the opposite sexes encouraged - and living in 2016, it seems crazy that flagrantly heterosexual dating shows are still being made (yes Take Me Out, we're also including you in this).
Admittedly, one contestant, Sophie Gradon, has revealed she has had two previous relationships with women, but why can't the show tweak its outdated rules and cast a more diverse cross section of society, so they can have a chance at being shot by cupid's arrow too?
4) The fact most of the 'relationships' aren't real anyway
Thought you'd seen some showmances on Big Brother and I'm A Celebrity? Then you ain't seen nothing until you've watched Love Island.
Despite its title, the show is about useful to showing meaningful relationships as porn is to informing our views on sex. Nothing about the dating process on his show is organic or natural - everything is a game.
From the off, the two people are thrown together, then told they can trade their partner in if something else comes along and takes their fancy. Producers are also constantly throwing in more contestants to catch the eye of those already 'coupled up', with the aim of the game to ensure you are in a partnership to avoid being thrown off the Island. The nature of this means these showmances are exposed even quicker than on other reality shows, due to the sheer greed and fickleness of the contestants.
As a nation, we love nothing more than a love story, but we're also pretty wise to a showmance, so why bother to create a show that doesn't encourage the real deal?