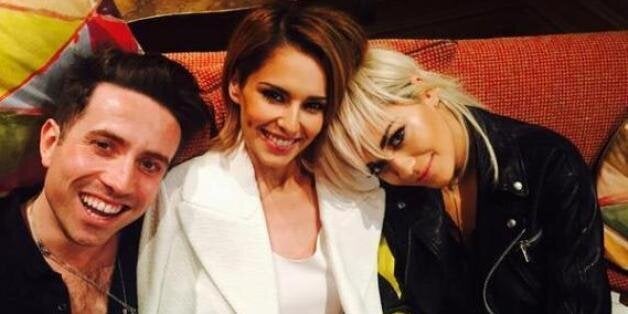 Any 'X Factor' fan will tell you the day a new panel gets announced is usually a very exciting one - not only does it mean we get introduced to the four people we'll be ditching our friends for every Saturday night, but it also marks the start of the official countdown until the new series kicks off.
After a couple of tumultuous years for the ITV talent show, which had seen ratings tumble dramatically since its 2010 heyday, Simon Cowell decided that a radical overhaul was in order. Out went host Dermot O'Leary and judges Mel B and Louis Walsh, and in their places came new presenters Caroline Flack and Olly Murs, along with newbie panellists Grimmy and Rita.
But if he thinks the judging duo is the answer to reversing the show's ailing fortunes, I fear he may be sadly mistaken.
The announcement that these two would be sitting behind the famous desk made it immediately clear Simon's strategy involves courting the lucrative "yoof" audience. At 30 and 24 respectively, Grimmy and Rita are much younger than their predecessors, bringing the average age of the panel down to just 35, compared to 2014's average of 46. When the show began in 2004 with Simon, Louis and Sharon Osbourne on the panel, this number was even higher at 49.
While the 16-34 age group are seen as much more appealing to advertisers, X Factor's biggest problem is that it has been haemorrhaging chunks of its audience for a number of years now. If ratings and beating 'Strictly Come Dancing' is what Simon is really worried about it, it seems crazy to be narrowing down its appeal to a small age group. Surely what it really needs to be doing is casting its net as wide as possible to win back as many viewers as it can?
Some may argue that the age of the show's judges will not reflect on who is likely to tune in, but Grimmy in particular has a proven track record in alienating older audiences. More than a million people have switched off his Radio 1 Breakfast Show in the last year, as the station tries to attract more younger listeners as part of its public service remit. This may have been hailed as a good thing by his Radio 1 bosses, but 'X Factor' really cannot afford to do the same, with many commentators seeing this series as make-or-break for the show in the Saturday night ratings war.
Similarly, thanks to her high-profile relationships, raunchy stage antics and outrageous dress sense, Rita is never far from the headlines, which is sure to be one of the reasons Simon was so keen to get her on board. But column inches don't necessarily translate into the ability to judge talent and mentor contestants. While Simon may claim to have been impressed by Rita's performance on rival talent show 'The Voice', where she served as a coach for one series earlier this year, her role wasn't without its critics. Many blasted her dull comments to the singing wannabes, with even former judge Jessie J calling her out for not being tough enough on the more mediocre acts. Rita was also the first coach to lose all her contestants when the live shows started (a gold star to you if you're able to name just one of them), and ultimately she failed to help 'The Voice' do what it desperately needed to - find a real star. Say what you like about Louis Walsh, but the man helped launch the careers of some of X Factor's most memorable acts including JLS, Jedward, Union J and Shayne Ward.
Moreover, it's difficult to see what Grimmy and Rita's close friendship will bring to the show. Seasoned 'X Factor' viewers know that it works best when there is an edge of tension between the judges, with many memorable feuds characterising the show's 11-year history. Whether it's Sharon Osbourne throwing water over Louis, the complete and utter hatred between Sharon and Dannii Minogue, the 'frenemy' relationship between Simon and Cheryl Fernandez-Versini, or Louis' constant desire to royally wind Simon up, fans LOVE it when there's a promise the panel could blow up at any second. But with Rita and Grimmy having long been pals before they signed up to the show, we're unlikely to see any fireworks between them, and somehow I can't see Grimmy and Cheryl going at it hammer and tongs, or Rita delivering withering put-downs in quite the same way Mel B did.
What the 'X Factor' has always needed - and still does - is a camp matriarch who isn't afraid to tell it like it really is - a female Simon, if you will. Mel B was settling into this role very nicely following the departure of Sharon Osbourne and quite why she was ever fired remains an absolute mystery to me. It also needs someone with a sense of the ridiculous - someone who is unpredictable, won't take the show too seriously and is willing to champion the more eccentric acts, but yet still knows their stuff. Essentially, the show needs Louis Walsh. The Irishman IS 'The X Factor' and quite how it will survive without the cheeky glint in his eye or his ridiculous "little Lenry Henry" comments remains to be seen. After all, we all know what happened the last time Louis was fired from the show.
Simon can change the panel as much as he likes, but what he really needs to realise is that, in order to win back viewers, he needs to freshen up the tired format and make less demands on the casual viewer to make it 'must-see TV' again. The axing of the 'double auditions' stage is long overdue (personally, I'd have much rather have seen the back of the arenas than for the rooms to be axed again), while we can only hope we're not 'treated' to three nights in a row of the awful - and cruel - Six Chair Challenge again. A reduced running time of the live shows would also be a welcome move, as their ever-increasing length and countless ad breaks have made them more of an endurance test to sit through in recent years. Most importantly, the judges must pick some proper talent. The show's highest rated series came when One Direction, Cher Lloyd, Rebecca Ferguson, Matt Cardle and Tesco Mary were contestants, and it's impossible to think of a year that produced as many stars.
When 'X Factor' returns to screens in the autumn, it's likely to enjoy a ratings boost as curious viewers tune in to see how Simon has changed the show and if the newbies are worth their salt. But the proof will be if they stick around, and with Rita and Grimmy on the panel, I can't see that happening. While I'm open to being proved wrong, if I were Louis Walsh, I'd be sure to be close to my phone waiting for a call from Mr Cowell...