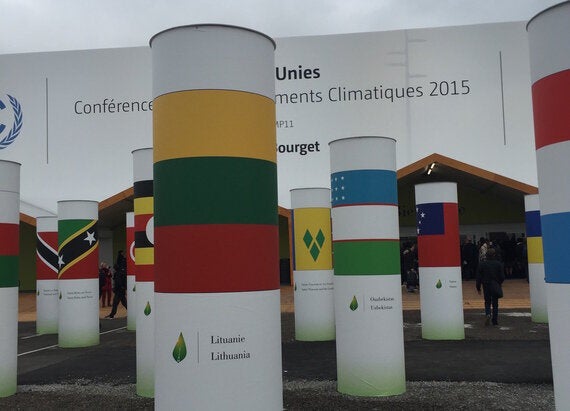 The annual climate talks - or COP21 - just began, with forty five thousand people and over one hundred heads of state descending on Paris.
The scene at Le Bourget is that of a trade fair, with countries showcasing their green credentials, corporates riding the green wave and non-governmental organizations pushing and prodding. Plus probably the largest gathering of dictators and wannabe dictators in one place in history.
The hallways are full; the food infrastructure extensive; the toilets few and far between. In other words, the stage is set for over three thousand negotiators to start haggling about a climate agreement.
Here's the good news, however: These annual climate talks are uniquely different from all the twenty iterations that preceded them because outcomes that matter are clear and can be predicted with high certainty.
Here are the three most important ones.
Low-Carbon Business Plans
At the previous twenty UN-sponsored annual climate talks, it was all about the text. Huddled in meeting rooms at all hours of the day and night, negotiators from up to two hundred countries pored over arcane language and negotiated it word by word, seeking a consensus view among all nations.
Thankfully, this time it will different: The text of any agreement, for the first time ever, regrettably won't matter. Some 180 countries responsible for almost 100 per cent of global greenhouse gas emissions have submitted voluntary commitments, outlining how and when they plan to cut emissions (in UN jargon, these are known as Intended Nationally Determined Contributions, or INDCs).
INDCs aren't and won't be legally enforceable. But that too doesn't matter. For the first time in history, the entire world (pretty much) is pledging to de-carbonize in the form of published (and therefore subject to scrutiny) mini-business plans for entire economies. Importantly, countries today realize that low-carbon is good for their citizens and their economies.
This is a huge, decisive step forward. We won't look back, in the same way as we didn't look back when a 1987 agreement to save the ozone layer also contained unenforceable pledges.
The private sector will take its cue from these INDCs. That matters greatly. Any fight against climate change requires that the private sector, two-thirds of global employment and of global GDP, retrofits our collective infrastructure, from the way we drive and fly to how we heat our buildings, power our factories and produce cement and steel. Post-Paris, we must focus on transaction flows: Without capital and investable projects, low-carbonization isn't going to happen.
This process has already started. A Call to Action has been issued by several influential organizations to begin the process of translating INDCs into concrete, actionable "Climate Investment Plans", a necessary step to de-carbonize our infrastructure globally.
To get from where we are (the INDCs) to where we need to be (climate investment plans composed of transactions and projects), we have begun to create a common language for climate actions in the form of a uniform categorisation, in order to provide a tool for reliable data gathering and thus accurate analysis and understanding of needs and opportunities. Also necessary is the creation of climate investment networks bringing together all participants including market research, policy makers and intermediaries as well as sources of finance, in active partnerships to promote transaction flows.
In Paris, because the text that will be agreed doesn't matter much, the action on the side is, for once, more important. Several critical initiatives to scale-up clean energy worldwide are coming together on the side lines of the UN climate talks, all of which will play a key role in driving real dollars into green infrastructure.
For example, a collection of billionaires (including Bill Gates, Mark Zuckerberg and Jeff Bezos) have launched a new global initiative, the Breakthrough Energy Coalition, aimed at accelerating private sector investment in clean energy. In parallel, Mission Innovation is being launched by Bill Gates and nineteen governments with the aim to double public investments in energy research over the next five years from $10 billion to $20 billion.
The Billionaires aren't alone.
Among other worthy practical initiatives, a one billion dollars project finance vehicle called Climate Investor One and proposed by the Netherlands Development Finance Company FMO, combines three innovative investment facilities into one to facilitate the early-stage development, construction financing, and refinancing of renewable energy projects in developing countries. This is of great importance because clean energy involves large upfront expenditures in developing markets where the regulatory infrastructure is typically weak, rendering financing a constant challenge in spite of attractive economics.
A lot more is urgently needed to turn the tide of ocean acidification, increased extreme weather events, sea level rise and global warming. But at the Paris UN Climate Talks, we are turning the corner.
Related