This Gynaecological Cancer Awareness Month it's time for all women to get to know their body.
September is Gynaecological Cancer Awareness Month and throughout the month we will be urging all women to get to know their body and become aware of the signs and symptoms of gynaecological cancers.
Did you know that 21 women die every day in the UK from one of these cancers? Yet a survey we recently carried out, polling 1,000 women, found alarmingly low levels of awareness of the cancers and their signs and symptoms, and little understanding of the female gynaecological anatomy.
One in seven women couldn't name a gynaecological cancer and nearly half couldn't identify the vagina on a diagram. This is so very worrying. How can we expect women to know what changes to look out for in their vagina or to notice any of the signs and symptoms of a gynaecological cancer if they're not body aware?
Of course, we are not blaming women as "we don't know what we don't know". Furthermore, there are five gynaecological cancers, so knowing all the signs and symptoms and their nuances might seem daunting. This is why our ask is simply for women to know their bodies by learning more about them.
Talking about gynaecological health isn't always easy; in fact, embarrassment is a key factor in women delaying seeking help. So here at The Eve Appeal we have campaigned to end the embarrassment, stigma and taboos that surround gynaecological issues and cancers, and we want you to help us in this mission through talking more openly.
We want women to be able to speak about signs, symptoms and concerns without embarrassment or shame, just as they do about breast cancer. The support that Cara Delevingne, Ellie Goulding and, of course, Angelina Jolie have shown in spreading awareness of gynaecological cancers is amazing. These high profile women talking openly about women's health are normalising such conversations and will help women to be diagnosed as early as possible, giving them a far greater chance of survival.
Gynaecological cancers are the second biggest killer in women. That is why this Gynaecological Cancer Awareness Month we want women to take control of their gynaecological health, know the signs, know the symptoms, respond to that smear test letter that's been hanging around for weeks, make a doctor's appointment for a check-up or pick up the phone to a specialist gynaecological cancer nurse at Ask Eve to talk through a worry and get some expert advice. It's time to have an open and frank conversation.
It might just save a life.
Signs and symptoms to look out for: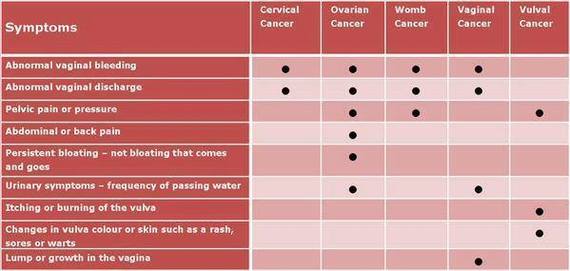 * If you have any concerns or questions about gynaecological cancers, please contact The Eve Appeal's information service - Ask Eve on freephone 0808 8020 019 or email nurse@eveappeal.org.uk