Angus Walker is communications and public affairs officer at Mental Health First Aid (MHFA) England. He works within the organisation's marketing and communications team to support key mental health campaigns and highlight the work of MHFA instructors and impact MHFA programmes have in communities and workplaces all over the country. Angus holds a Masters in Psychology from the University of Edinburgh and has a background in healthcare communications. He is also a trained Youth Mental Health First Aider and all round advocate of Mental Health First Aid.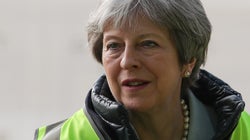 POOL New / Reuters
Just over a year ago Prime Minister Theresa May announced that she wanted to transform approaches to mental health across
Providing better information and reframing the narrow and simplistic picture that minority-producing statistics create will empower everyone to reflect on the wide-ranging impact of mental ill health and poor wellbeing in their own lives and others'. Subtly but surely, it will increase mental health campaigners' momentum, and most importantly, bring mental health that little bit closer to parity of esteem.
With this approach, my hope is that we can eventually create a world without intervention at the point of crisis, where good mental wellbeing is woven into the fabric of our society and where we all lead healthier, happier lives as a result.