Guita Blake
Senior VP & Head of Europe at Mindtree
Guita Blake is Senior Vice President & Head of Europe at Mindtree, a multinational leader in digital transformation and technology services across industries from inception to execution.

Providing Global 2000 clients with the tools to outperform their competition, Mindtree's deep expertise in infrastructure and applications helps optimise IT as a strategic asset.

With over 25 years' experience across multiple global functions, Guita is passionate about the digital transformation of business, cloud technology, diversity in the technology sector, and the fourth industrial revolution.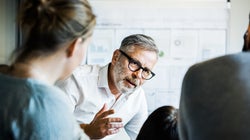 Tom Werner via Getty Images
In recent years, the notion of true artificial intelligence (AI) has undoubtedly surpassed merely a scientific abstraction
Mobile technological innovations such as Siri, the iPhone's digital assistant, Google's latest Google Home product, or, Alexa, the smart home hub introduced by Amazon, are, to most people, the limits of today's Artificial Intelligence (AI).