Helen leads the team and sets the strategic direction of the BRC. She joined in January 2013 and has been working with retailers for over 25 years. She is also a judge of the Everywoman Retail Ambassadors Programme and was previously Chair of Working Chance, a charity helping women offenders find employment between 2012 and 2016. Helen was previously UK Head of Retail at KPMG, driving and developing the retail practice and leading relationships and audits for many clients. Helen was awarded the OBE in 2016 for Services to Retail.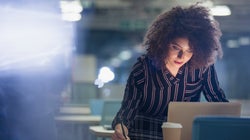 Caiaimage/Sam Edwards via Getty Images
We need to be careful to delve the beneath headline data and keep the end goal in sight
Dressing up as a superhero or a monster is one of the great joys of growing up, especially at Halloween. For a parent, there are few things as fun as helping your child transform themselves into their favourite character. Whilst accessories and make-up can take you so far; the most important thing is a great costume.