Hey there, I am John Adams and I write multi-award winning parenting and lifestyle blog
Dadbloguk.com
.
I have an unusual family. In 2011, I left full-time employment to run the household and become the main carer of my kids. This enabled my wife to concentrate on her career.
Soon after taking this lifestyle decision, I started blogging about my experiences as a stay at home dad. My children are a little older now and while I am still the main caregiver, these days I like to think of myself as a 'school run dad'!
I write about a variety of parenting-related subjects: fatherhood, schooling, education, childcare. i also write about equalities issues, men's interests and motoring. You will also find me on YouTube.
Prior to launching Dadbloguk.com, I worked as a news reporter and journalist. I have also worked in public relations and communications in the private, voluntary and public sectors.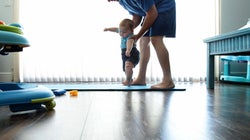 Gary John Norman via Getty Images
I felt utterly miserable when I went back to my job, leaving my wife and child at home