Julie Lodrick
Headmistress of Kent College
Julie studied music and combined arts at University College Chichester, took her PGCE at Kingston University and a Master in Education Leadership with the Open University. She also holds an NPQH. Having started her career as a Director of Music at St Margarets Convent, Julie then became Housemistress at Queenswood, was Deputy Head at Farlington School and moved to York at in 2009 to take up the post as Principal of The Mount, before becoming Headmistress of Kent College in January 2016. Julie is a keen advocate for girls' education on a global scale and is a trustee of Ibba Girls' School, a new boarding school for girls in South Sudan. Julie is a keen long-distance runner and enjoys the theatre, concerts and the cinema.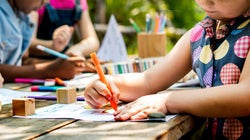 Rawpixel via Getty Images
The creative arts is an integral element of providing pupils with a broad and balanced education
While our children's futures will still be decided by exam grades, it is important that parents, students and teachers see the process in the context of long-term character development. Factors such as how the student sees themselves as a learner and whether they can develop the resilience to engage with challenge and learn from their mistakes, have a big part to play in deciding success.