Liz Johnson
Paralympic gold-medalist and co-founder of The Ability People
Liz Johnson is a Paralympic gold-medalist and co-founder of The Ability People, a disability-led recruitment consultancy.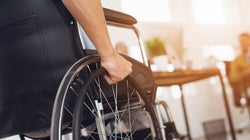 vadimguzhva via Getty Images
Disability action isn't just for charities or fashion campaigns but for businesses of every size and sector
I think sport is important and vital for everybody. There are so many benefits - physical, mental, health, social - so many positives to be offered from getting involved. People should be entitled to access it at the level that they want. It needs to be talked about constantly.