Martin is adopted, and an adoptive Dad. He and his wife Sandy founded the East Herts and FASD Support Network after their son was diagnosed with Foetal Alcohol Spectrum Disorder, and they discovered no support was available. Martin and Sandy both write and speak about FASD for parents and professional audiences. In professional life, Martin works for Oxfam and has specialised in arms, arms control and disarmament for over 30 years.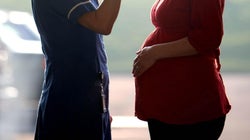 PA Wire/PA Images
FASD is thought to be as prevalent as autism, yet is much less well known
Adopting a child with a Foetal Alcohol Spectrum Disorder is life changing, no doubt about it. But so is adopting any child. When I was adopted back in the 1960s it changed my parents' lives. They drove me home through some of the biggest snowdrifts of the 20th century, stopping to feed me in the back of the car and realising they had little idea what to do. They managed.