Nicola Burgess
Legal Director at Joint Council for the Welfare of Immigrants
Nicola has ten years' experience working in immigration and asylum law and is currently a Legal Director at JCWI. She qualified as a solicitor in 2009 and is also an IAAS level 2 accredited caseworker. Nicola has a particular interest in legal aid work and assisting the most vulnerable: including victims of torture, those with mental health issues and victims of trafficking.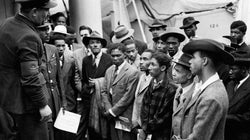 PA Wire/PA Images
The 50% success rate on appeals show that poor decisions are routinely made by the Home Office
We live in an ever increasing hostile environment to immigrants, asylum seekers and refugees. The media and the government share responsibility for dehumanising this often vulnerable class. They seem to be no one's concern, let alone priority.