Tina Charisma , is an International Development consultant and a writer who regularly writes and contributes on international development issues and projects globally.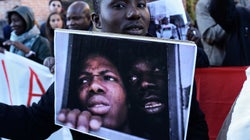 NurPhoto via Getty Images
We can't keep taking steps backward into deep and dark times
Some people often appear alienated from the struggles that exist within community groups that they do not belong to. For instance there are many who may find it hard to understand the importance of natural hair movements amongst black female ethnic groups because they frankly may have never encountered prejudice based on their physical appearance.