It's one small step for the high street, one giant leap for body image! (Well... Sort of!) After I posted a photo of a Topshop mannequin - which went viral - in October of last year, Topshop have never been more aware of the power of social media. This week, Facebook users have united and Topshop have finally backed down!
Their super-thin mannequins were labelled as 'ridiculous' and this time, Topshop took note! The campaign I started with Georgia Bibby AKA - The Legs, started an international backlash against the company and their portrayal of body image, particularly in regards to women. Their press statement of November last year stated that their mannequins were a UK size 10 - which after measuring the legs, proved to be a little bit of a white lie!
Topshop have since redeemed themselves, despite it being 10 months later. Their mannequins will be looked at and hopefully changed thanks to all the support and comments we received and further backlash the company have had since last year.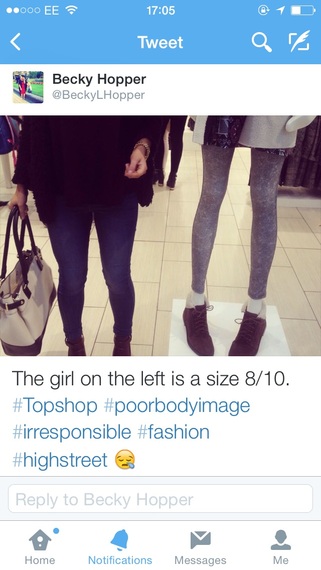 We've argued that these images may act as triggers for those who are predisposed to eating disorders, anorexia, bulimia and body dysmorphia. Leading eating disorder charities have backed this suggestion saying this is undoubtedly the case. We need a more diverse range of body types to show to all generations, rather than making one, potentially dangerous image seem like the norm. At the same time, we encourage people not to body shame anyone, not to 'skinny shame' and we certainly don't endorse obesity; simply a healthy lifestyle, which by the way, comes in all shapes and sizes!
Debenhams in the UK and a Swedish department store showcased a range of different mannequins including some which were a UK size 16. The key here is DIVERSITY! We aren't suggesting that everyone should be a size 16 or that it's always dangerous to be very petite, why not celebrate yourself no matter what you look like on the outside! Female (and male) beauty! You don't have to look like Kendall Jenner to be gorgeous!
This may only be a small step for body image, but it's a very positive one! We're hoping that other shops who have been accused of ridiculous beauty standards - such as Primark, Whistle and River Island - will follow Topshop's lead and change not only their mannequins, but their attitudes to female body image.
Women - 1, Rubbish fashion industry stereotypes - 0! We win, ladies and gents! Thank you for your continued support!