An evening of visual austerity is rewarded with richness of sound.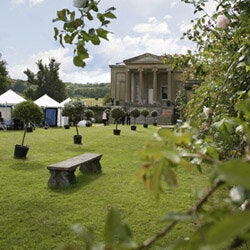 In a climate that continues to be cash-strapped for the arts, Poulenc's second opera - written as he suffered a breakdown - is a daring choice for privately-funded Grange Park Opera. Conspicuously lacking the visual feast of Eugene Onegin's ball or the accessibility of Italian bel canto in Puritani (both also playing at the Hampshire opera house this season), Dialogues des Carmélites isn't a crowd-pleasing blockbuster aimed at lifting the generous spirits of potential sponsors in the audience. It demands a level of engagement in both subject matter and music that requires an investment of energy from the audience.
Director John Doyle seems to find this a challenge, especially in the opening scenes during which the largely recitative nature of Carmélites establishes itself. In fact there are no real arias in the opera, and drama is at a minimum, apart from at the end of each act. Audience members having rushed from work to make curtains up could be forgiven for drifting off when confronted with Liz Ascroft's austere set and Poulenc's at times dissonant "dialogues".
The bare stage and unchanging scene create the self-denial and claustrophobia of the nuns during their persecution. But they also force our attention to where, arguably, it should always be: on the music and performances. Thankfully most of the cast hold their own in this department. Hye-Youn Lee brings vocal depth to Blanche, moving around the music and the French dexterously enough to make the fiendish part seem easy. Her duet with Nicky Spence's Chevalier is brimming with barely-restrained emotion. Anne-Marie Owens' Old Prioress is captivating in her dying scene, the theological battle raging inside communicated through the force of her soaring contralto. Though a young voice, Soraya Mafi as Sister Constance rises above the orchestra with a purity of tone where other more developed voices in the cast fail. Nigel Robson's Chaplain seemed to stumble on the French but made up for it with a sensitive tenor performance.
Those who make the effort to engage are rewarded with the full sensuality of a score that belies Poulenc's membership of Les Six and harks back to the flowing sounds of Debussy - admirably performed by the English Chamber Orchestra and conducted by Stephen Barlow. Indeed, Carmélites is as much an opera for the large orchestra it requires for its gorgeous motifs, as it is for the singers with their haunting harmonies.
While the finale is as gruesomely tragic as any Puccini, the horror happens offstage in this production. The emphasis is on contemplation, emotion and spirituality rather than on entertainment - for the audience as much as the characters. For audience members willing to enter into this spirit, the experience is a unique one. As Poulenc himself said of Carmélites,
people won't find it exactly amusing, but I think they will be deeply moved
. Grange Park Opera's Chief Executive Wasfi Kani will be hoping the movement is in the right direction.