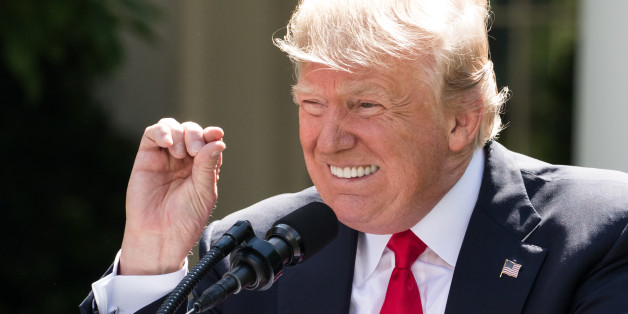 NurPhoto via Getty Images
History will not be kind to President Donald Trump, for many reasons.
But ripping up the Paris Climate Accord is the single most malicious act of his presidency so far. Future generations will look back on this moment with shame, and he will never be forgiven.
In one swift, selfish and vengeful act, Donald Trump has sentenced our children to a life more difficult. A planet more vulnerable.
So when rising sea levels begin to flood New York City, it will be on Trump's head.
When children are dying from lack of food and water, it will be on Trump's head.
When millions upon millions of displaced people lose their homes, it will be on Trump's head.
When our forests disappear and our rivers dry up, when our animals die and when vicious natural disasters wipe out families, it will be on Trump's head.
This ignorant decision doesn't just threaten the future of our children, it weakens America's place in the world.
Because the Paris Accord is more than just a climate deal, it's an historic partnership between every major country on the planet. In this moment, America turns its back on the world, joining Syria and Nicaragua as the only none-compliant nations.
Donald Trump is the loser here, isolated and lonely while the rest of the world works together.
Worse, if Trump's obsession with coal continues, America may be left behind for good. Europe and China are already developing clean energy technology that is more efficient and cost-effective than fossil fuels. This is the economy of the future and Trump's America wants no part of it.
Pulling out of the Paris Accord isn't just ignorant, it's bad business.
But there is still hope. We will forge ahead without Trump. And so will US states, local governments and businesses, many of whom have renewed their commitment to green solutions and fossil fuel alternatives in spite of Trump's decision. And not just because it makes economic sense, but because it's the right thing to do.
They know that ripping up the Paris Accord is an act of monumental self-harm and isolation.
Donald Trump, with this act, you are on the wrong side of history.
Connect with Ben at benjamin-brown.uk