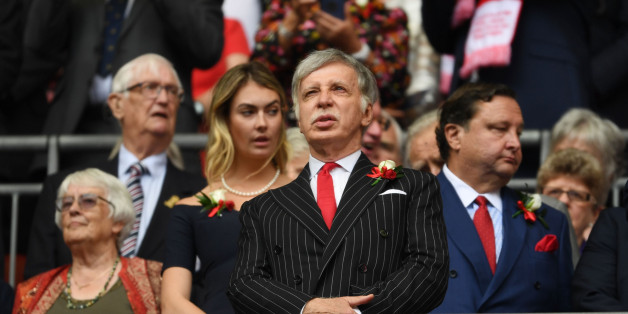 Stuart MacFarlane via Getty Images
My Outdoor TV (MOTV) has just launched in the U.K. in a flurry of blood, guns and controversy. The channel owned by Stan Kroenke (the billionaire, 67% shareholder in Arsenal football club) has a selection of 'outdoor' shows like Tracks Across Africa, in which professional hunters shoot elephants, Skull Bound, which follows a female huntress who shoots animals with a bow and arrow, and Miss Wildgame, the first hardcore hunting competition to put huntresses head-to-head.
I have spent more than 20 years following conservation efforts around the world. I have been part of relocation programmes across Africa and the Far East and last year I followed the extraordinary migration of the wildebeest across the Serengeti of Tanzania into the Kenyan Mara.
The project explored our complex relationship with wildlife including poaching and big game hunting. Animal management (read: culling) is a painful but necessary part of conservation. Most wildlife charities will agree that human intervention is now necessary to control populations and ensure wild animals don't starve or die of thirst in the last remaining tracts of wilderness.
Poaching as we know is a huge problem across the world fanned by the trade in ivory, animal skins, rhino horn and live exotic animals. It has reach a critical level.
There is an argument that big game hunting is a way of making money from the necessary cull of wild animals. Why not get some rich white guy to pay a huge sum of money to kill an animal that needs to be culled anyway? What's more the money from the hunt can be ploughed back into conservation.
To be honest I don't really believe it any more. It is true that large sums of money goes to the protection of the 'conservation' areas where hunting is allowed. Private armies are employed to keep the poachers away from the prized animals awaiting murder at the hands of a white hunter, but the residual effect on the preservation of animals is negligible. Some of some animals within the area might be protected but we are deluded if we think it really makes a difference.
I thought the killing of Cecil the Lion marked a watershed in our attitudes towards hunting, but only last week his son was killed by another hunter.
We are already getting mixed messages.
I lost any respect for Theresa May after she removed the ban on the ivory trade and pledged to reintroduced fox hunting in her manifesto. The Trump family have been pictured on big game hunts. Sarah Palin loves it. It's an American thing but, a little like their love of guns, we don't want it here.
Shooting animals for the entertainment of others crosses the line. Many of our North American neighbours have a very different approach to shooting and hunting. Blood thirsty and gun happy, they have a rather mercenary relationship with wildlife.
Television has the power to glamourise its subjects. Young impressionable people will be motivated by the sight of majestic animals being killed. They will be 'radicalised' into hunting.
Stan Kroenke, as the majority shareholder of Arsenal and the owner of MOTV, has a responsibility. He may relish the murder of endangered wildlife himself but he should not peddle his disgusting programmes on a country that still prides itself as a nation of animal lovers.
As a billionaire philanthropist Kroenke should be putting money into conservation not making money from its destruction.
If we really care about this, I call upon the nation to hit him where it really hurts, our great sport of football. Let him know we aren't a nation that supports the killing of animals for fun, endangered or not. Boycott Arsenal and Save the Elephant.