In anticipation for his upcoming solo show 'Monster', Carla Nizzola and I visited Magnus Gjoen's new Hackney studio set up to pick his brain on the inspirations behind his most refined collection to date.
Your upcoming show 'Monster' at Hang-Up creatively investigates and analyses the mind of a serial killer and their pre occupation with fantasy as children. This is an intriguing topic to touch upon - what was the initial inspiration?
I started playing with this daydreaming monster character. When I came up with that name, I began to investigate a lot. With that I found this dark direction which relates to my work. The more you read, the more you get fascinated - and I became intrigued with the mind of a serial killer.
This has also come about because I have taken inspiration from other artists and other times. For example, instead of doing the Renaissance for once I thought, "OK, lets look at something more Modern". I took inspiration from artists such as Sonia Delaunay, and Gio Schiano, and Ettore Sottsass. All of them are very graphic. I love Pop Art. Especially the early 1940s, 1950s Italian Artists. And you haven't been able to see that in my art before so its nice to incorporate other things that I love and combine them. So it becomes something really fresh.
The thing about this concept is that it was so nice to break free and involve a topic which I haven't used before. I've tried to bring a lot of my own influences into this collection. People have said, "but we want another skull", so I said to myself, "you need to take what you've done before and merge it into something new". For example, I'm still taking influences from the renaissance and notions of death and using it in a new way.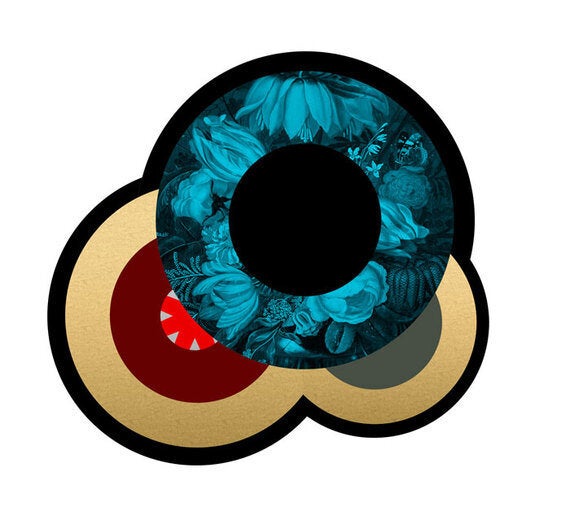 Have you always been fascinated with the corrupted mind and the serial killer ideal?
A couple of summers ago in LA my friend insisted we go on a Charles Manson tour. I enjoyed it, but I wouldn't have gone there without her persuasion. I learnt a lot on this tour. That kind of triggered it, and two years later something comes up that ignites and recollects that experience. I think a lot of people are quite fascinated by serial killers. The word 'serial killer' in itself is used more than 'mass-murderer' for that reason. It's used to sell books and documentaries - it becomes a kind of draw for people.
That's also why I was inspired by these shapes from the Modernist artists. They use very bold, primitive colours, which linked to what I was reading about the serial killers and similarities in their childhoods, often a traumatic event. I think a lot of people have traits in them that could make them serial killers but there are a few factors that are missing which keep us within the limits and borders of society.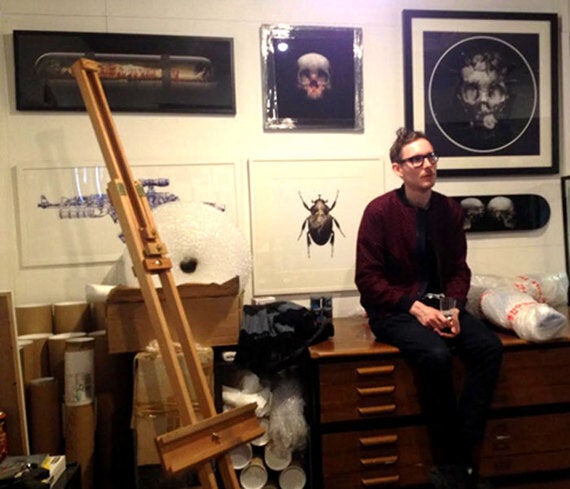 This will be your second show with Hang-Up. Your first show with us was your first ever solo show. How do you feel you have progressed as an artist and creator since returning?
I think this time I'm much more prepared and organised. It was much more about getting the concept together and following that concept instead of going into all different directions. It was interesting - because I have concentrated on the serial killer I have set myself some rules and I have had to keep within those rules, which is one thing the serial killer might not necessarily follow.
I've had to reign in a few ideas and force myself to get back on track with this new concept. I've made a collection that is more focused and more directional.
Have you preferred this way of working?
Well it's how you work in fashion - or supposed to. You're supposed to set themes for the season, they can change obviously as other people give certain inputs. Whereas here its only me, and once I was happy with the theme I could stay on course.
I've selected a new theme which I haven't touched on before, and incorporated certain elements in which I'm known for. So its kind of a progression I would say. Which I think you need to do as an artist. Its about putting all my other interests together without killing off the ones I had before.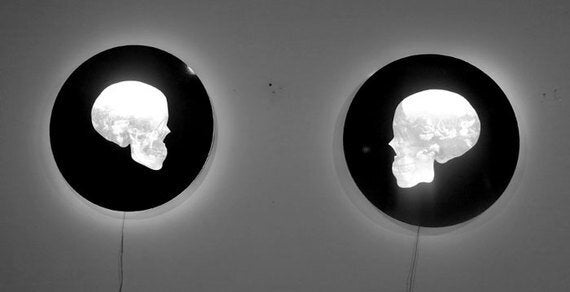 You used to work as a graphic designer for Vivienne Westwood. Does fashion still inspire your work?
I do a lot of research when I get an idea. Thats what you do in fashion. You start the collection by researching: travelling, collecting as much information about a theme as possible, and then go back to the studio. Westwood didn't necessarily work this way, but thats how my other jobs in fashion did. Any major fashion house has their own set of rules. [It's what they teach you at fashion school]. When I first started at Vivienne Westwood I realised I was being taught how not to do things. She has a completely different way of doing things. I would rather not work the way she works, but how the Italians and Parisians work....
The 'Monster' exhibition will showcase a collection of limited edition prints, and mixed media originals. Most of the originals will be large scale 'wall pieces' - do you feel your concept is better portrayed in the larger scale?
They are meant to be statement pieces, especially the originals. I wanted to create an impact. I think also because the work I've done before has been quite bold and 'in your face' with the imagery I use, where as this series is not as obvious.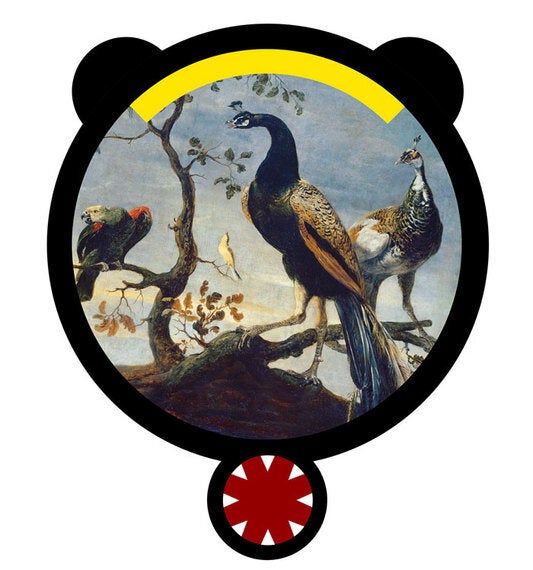 This is the first time you have experimented with a variety of materials such as Perspex and wood as opposed to working flat and digitally. Why have you chosen to represent these 'Monsters' by using original mixed media artworks?
We're always trying to do new things, and explore new materials. We've done the painting, the printing on wood. Perplex itself is very childish in a way, so it represents the childlike mind. Taking this and combining it with the fantastical imagery represents the serial killers daydreaming taken into adulthood, that intensifies to the point where they want to act out their fantasies. The funny thing is that when they are actually acting out the killing is not when they get the gratification - it's when its finished. It's not the process if killing. And the problem is if they don't feel the gratification, they will perfect it until they get it right - and do it again and again and again. It's very thought out and planned.
I like the link to your practice and process. The repetition of acting out a killing as you've just described links to the repetition of geometric forms and imagery in your new collection, and the gratification of getting it right.
Yes, thats a very good explanation. I'm trying to perfect something and intensify the experience by using repetition.
Was it a challenge to put your ideas into original, almost sculptural forms?
My ideas were developed and developed to a stage where they had to work both digitally and as a 3D piece. When I've reached the harmonious sate for each piece I have learnt to know when to finish.
Whilst the value of your originals are appreciating per year with your increasing demand, your limited editions can still be purchased in the affordable price range. Is it important for you as an artist to make work accessible to everyone?
I have set the prices of at least the smaller edition in this show at the same price as the works I've done before because I want the viewers to accept this new collection for its artistic value rather than the price. You kind of have to make your mark in a way, by catering for everything from the high to the low. Its also important that people can have an introduction to my art.
Will we be expecting more mixed media originals from you in the next few years?
Yes, I think so. I've also been experimenting with porcelain.
Does the new collection relate to your previous works that have played with societies pre conceived notions of beauty and death/good vs evil?
The concept behind all of my work is to show people a different kind of perspective and the mantra I have is that there is always another side to every story.
Do you feel your work will always have that underlying concept?
Where did this fascination with the juxtaposition between life and death initially come from?
I don't actually know where it came from. I think it was one of the concepts I related to best when I first started as an artist.
Your new collection combines flat, graphic shapes with your renowned decorative imagery. Using graphic, 2D imagery is a new process for you - what was the initial inspiration behind this?
Its something to do with symmetry and beauty and working under rules that you don't necessarily live by. Its also about doing something thats unexpected. The best thing someone told me once was to don't make things obvious.
Can you expand on the role both the graphic shapes and decorative imagery plays in representing the complex and confused mind of a serial killer.
Well the primary colours are hinting at the child, and the decorative imagery gives a bit more depth, and contradicts the flat shapes as it's very ornate as opposed to the primitive colours. The piece "When The Dream Of Paradise Died" is hinting at a Renaissance halo. It suggests that often the serial killer becomes a mythical person - kind of idolised. Its the method of bringing two worlds together in a way and also relates tot he 'Disneyesque' Pop Culture shapes I've used.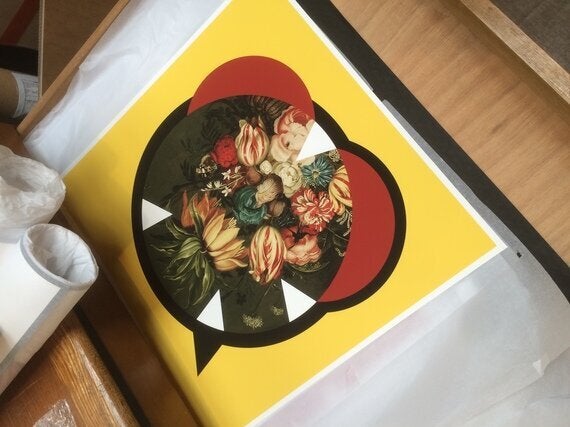 You are known for sampling imagery dating back to as early as the 14th century and combining it with contemporary ideals. What is it that inspires you about this period, such as the Renaissance?
Its the beauty of it. This period is awe inspiring. I can't look at a modern oil painting and get as drawn into it or become as light headed. It's not that the painting is better back then, its just different. The modern way of painting has changed. I just find it fascinating.
There's a condition, I can't remember what its called, where your mind perceives so much beauty that you become dizzy and light headed. When I was at the Pitti Palace in Florence I experienced it.
Do you think that your notions of beauty are more closely linked to that of this period than of the 21st Century?
Probably, yes. I do of course love other Modern and Contemporary art, but maybe it's the naive part of me. To me it's quite obvious that it's beautiful, as opposed to Contemporary Art. I want to take something from the past that people don't necessarily want on their wall, and modernise it so that you are able to put it on your wall and own a Contemporary piece. For me it's about not forgetting what was done in the past, and what the old masters did. I want to bring this style back into peoples homes.
Where do you source your imagery from?
To be honest, I wont tell you exactly where I get it from. I do mostly find them by visiting museums. There's a lot of places you can get images from. Italy is probably the worst place. They are really strict with their image use. You have to pay first the museum, then the photography agency who has the picture of the painting. It's all part of the research - to find the correct image. It's not just any image. It has to talk to me. Sometimes you can't get the rights to an image. You just have to do your best.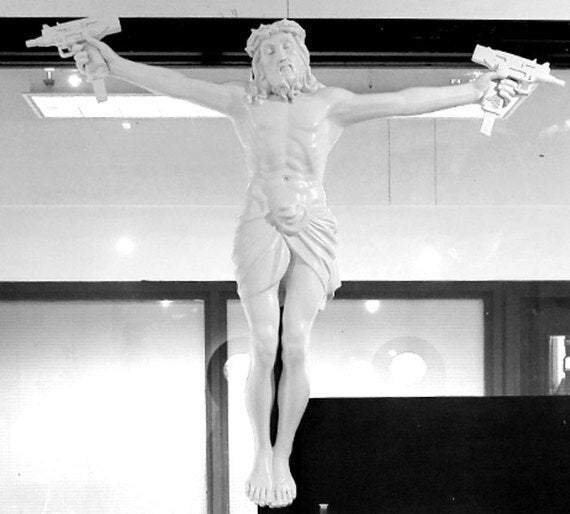 As mentioned, this is your second solo show at Hang-Up - why did you want to come back for round two?
I think of course its a mutual relationship which I enjoy, and I did really well with you guys last time.
Do you prefer to be alone when you're creating?
I thought I worked better when I'm alone, but it's not true. I thought I had to be in solitude to at least focus, but I think if you constantly do things: go to museums, exhibitions, read, walk down the street - all of these things are collected inside your head. You don't necessary know that these are influences, but they evolve your work and show themselves when you put pen to paper?
The Monster collection is a refined progression from your earlier styles and perhaps the most abstracted/contemporary collection you've made to date. Where do you see your practice taking you in the next few years? What do you have planned?
In terms of plans I have Scope Art Fair in New York next month and then a solo show in LA. In terms of where this will take me in the next few years, I have no idea. It's like the wind that changes. I have a lot of things I would still like to do, that I didn't finish.
And finally, what do you want the viewer to come away with after experiencing 'Monster'?
Utter Bliss..! I want them to see something that is beautiful, complex, reminds them of a lot of things such as their childhood, what they saw at the British Museum, what they saw in a Contemporary Gallery. I want it to play on what people relate to, and to people's emotions....with a little bit of gold.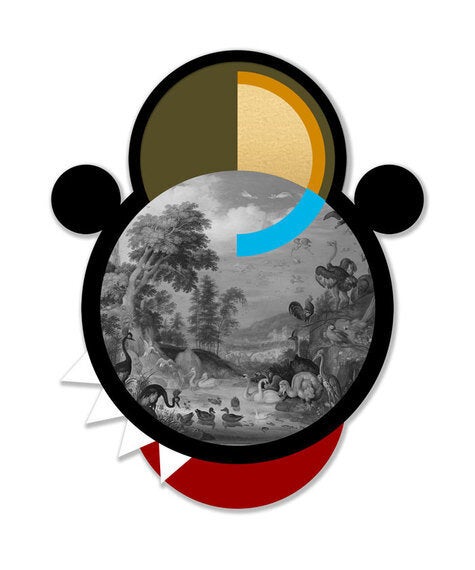 All images from Hang-Up Gallery