This week Millie Kotseva's review of art on the streets is full of vivid colours and bold collaborations, starting from the sunny streets of London, where Brazilian prolific artist Mateus Bailon and Spanish renowned artist Miss Van team up for a new eye-candy full colours mural.
The piece features signature for the both artists characters such as sealife creatures and masked naked female figure in bright contrast colours. The collaboration simply works...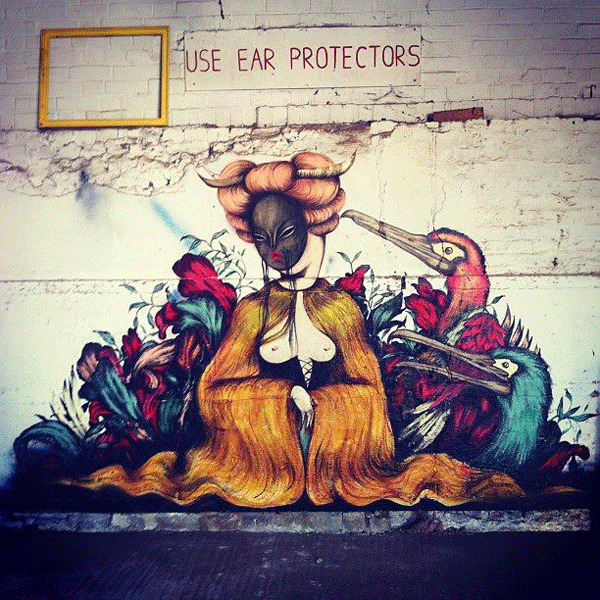 Other notable walls come from Herakut - Mannheim, Germany, Nunca - LA, USA, Hunto- London, UK, Swoon and RETNA - Oaxaca, Mexico, Alice Pasquini- London, UK, RETNA- LA, USA and ROA - Vienna, Austria.
The German duo Herakut have been working on the Giant Storybook Project for almost a year, painting fantasy wild creatures and whimsical true stories all over the world. The newest page of the book, ''My Super Hero Power is Forgiveness'' tells the story of Lily super powers - kindness and forgiveness, is located in Mannheim.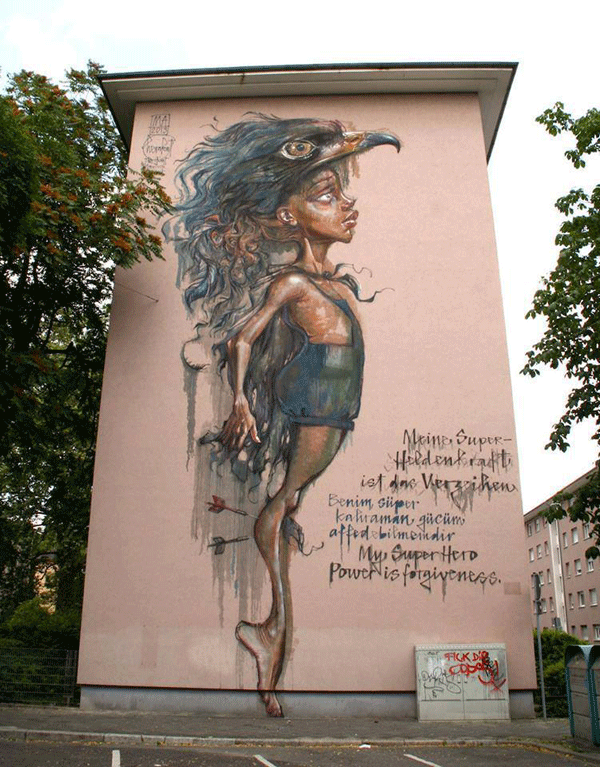 We rarely have the pleasure of seeing the works of Brazilian artist Nunca outside Brazil but this new commission in USA, featuring signature native-American character in monochrome with tribal jewellery, reaching out to an apple tree, is an absolute masterpiece and a real treat.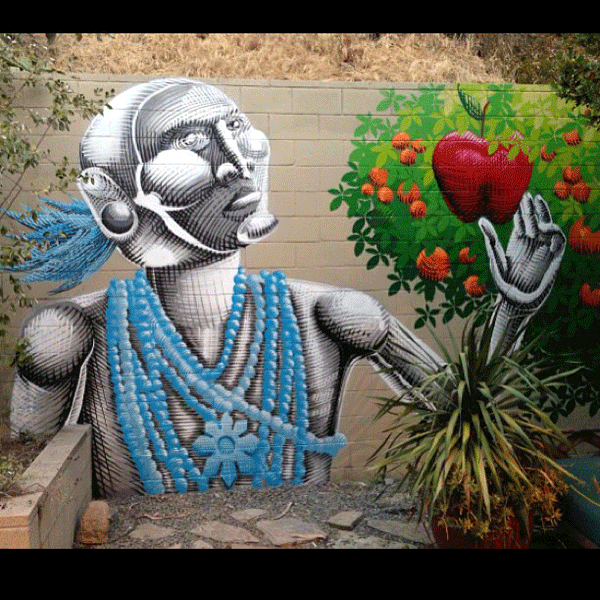 We have been following prolific Italian artist Hunto's work for a while. What makes his pieces to stand out is not only their vivid plasticity, strong imagery and undeniable eroticism but also their direct reference to Cubism.
This new wall is from London and we like it a lot.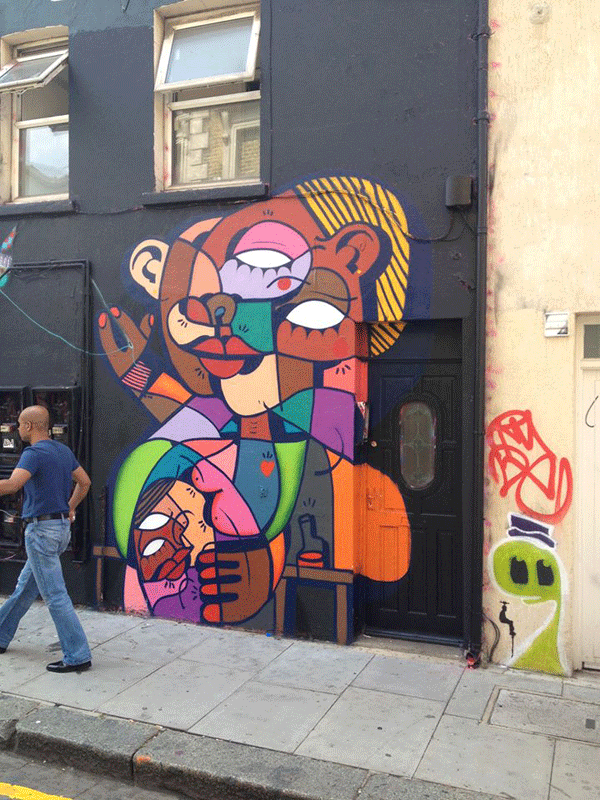 The Museum of Contemporary Art of Oaxaca, Mexico is another prime example of art establishment embracing street art and graffiti with its ''Made in Oaxaca'' new exhibition, featuring twelve site-specific works of renowned artists, curated by Pedro Alonzo. What caught our eyes is this brilliant collaborative Swoon and RETNA mural, where the texture and colourfulness of Swoon paste-up blends beautifully with RETNA's raw calligraphy. A true eye-candy...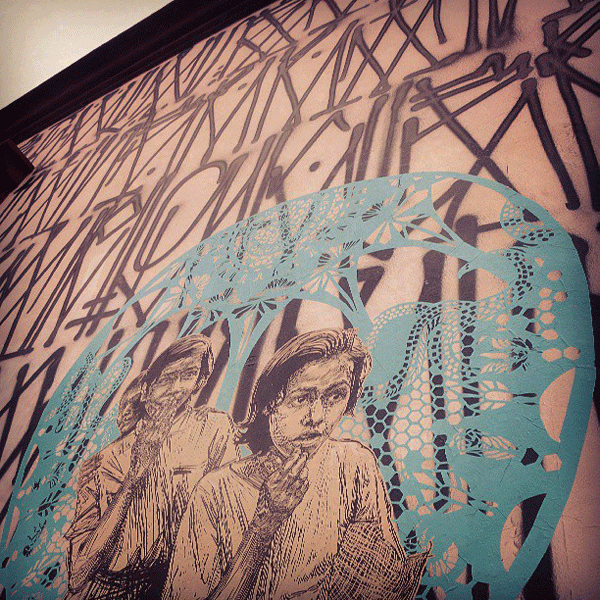 French artist Alice Pasquini is currently in London, painting non-stop. Her newest piece is with an unusual location - on a boat by Tower Bridge, London.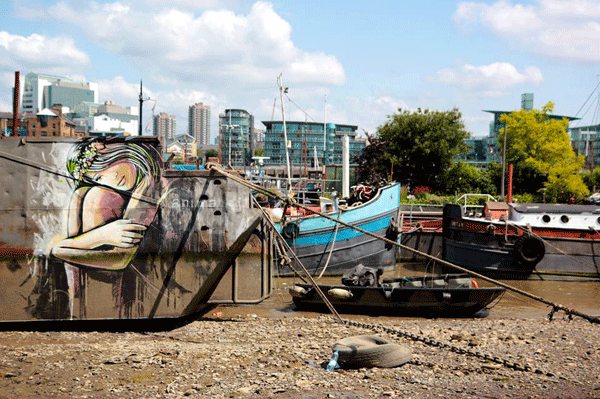 American artist RETNA is well known for his signature calligraphy on a large scale and this new work with famous fashion photographer Mathieu Bitton , even though a bit different, is quite refreshing.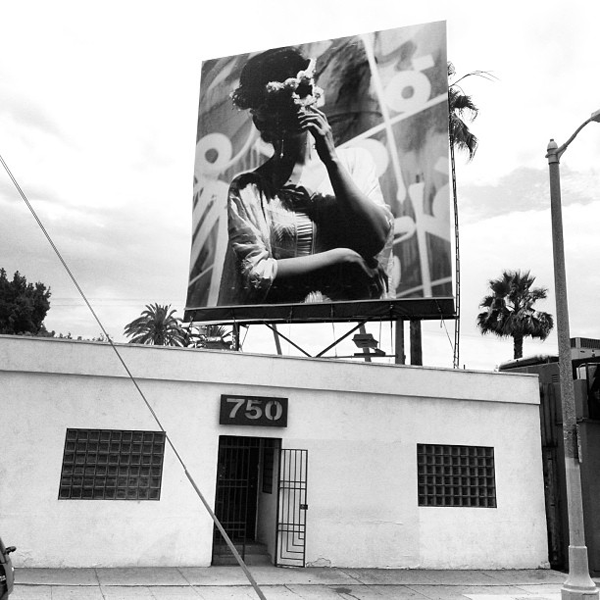 Last, but not least is brilliant ROA, who never fails to impress. The huge mural, featuring giant fox, rabbit, beaver and a doe in monochrome, is from the time, spent in Vienna, part of his mini show at Inoperable Gallery - Pan ROA's Box.