Football fans are a pessimistic bunch when they see fit. The gutting of Southampton over the summer had many connoisseurs of the beautiful game insistent that the south coast club would sink quicker than a stone in the Solent after losing manager Mauricio Pochettino to Tottenham. Rickie Lambert, Adam Lallana, Luke Shaw, Calum Chambers and Dejan Lovren then followed the Argentine out of the St. Mary's exit door to exacerbate matters.
Pochettino's replacement, Ronald Koeman, some people game him a snowballs chance in hell at keeping Saints aloft this term, despite bringing in ample replacements and convincing midfield lynchpin Morgan Schneiderlin to remain at the club. Supporters, as usual, were quick to jump the gun, not realising that Koeman had endured a similar situation with his previous club.
When he took over the reins at Feyenoord in 2011, key players were sold and no money was invested back into the team. Koeman took the Rotterdammers from 10th to 2nd in his first season in charge of the Eredivisie side, with youth team products central to their success. Bruno Martins Indi, Stefan de Vrij and Jordy Clasie all became household names under the watchful eye of Koeman, which will have appealed to the Saints hierarchy as they look to unearth the next Gareth Bale, Theo Walcott or Alex Oxlade-Chamberlain.
With the funds accumulated from the aforementioned sales, Koeman had the opportunity to build a team in his image. In came Graziano Pellè, a striker he managed for two of his three seasons at the Feyenoord helm, Dušan Tadić, a player Koeman knew from his time in the Eredivisie, and Shane Long, amongst others, as the Dutch manager looked to better Saints' 8th placed finish last term.
A 2-1 defeat at Liverpool on the opening weekend of the season was enough to encourage some hope but still seemed to set the tone for what could be a tough campaign for Southampton. However, Saints have since gone from strength-to-strength in the Premier League, winning 3 of their last 4 matches. Such form has lifted the club to second in England's top tier, just three points off table toppers and the only undefeated team in the league, Chelsea. Saints' WhoScored rating (7.10) is bettered only by Chelsea (7.18) and while it's an admittedly small sample size, Koeman's squad rating is significantly better than Pochettino's last season (6.91).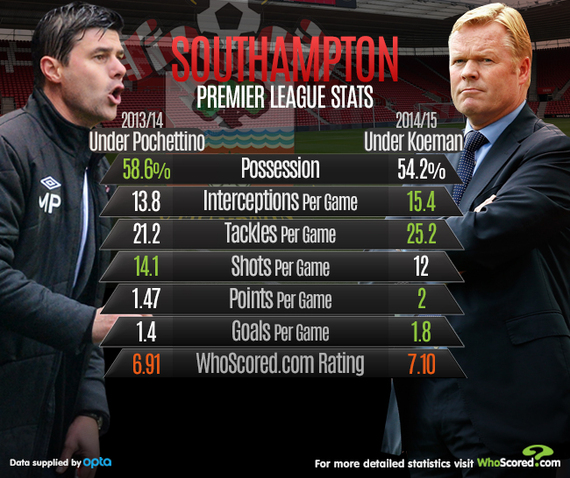 The notable difference between the two sides under each manager is, of course, the high pressing game adopted by Pochettino. The Argentine demanded his players harass the opposition deep in their own half in order to win possession in attacking areas. This helped Saints enjoy the most possession (58.6%) in the Premier League last season, a figure that has dropped this term (54.2%) as Koeman has his players sit a little deeper.
Saints are averaging more tackles (25.2) and interceptions per game (15.4) this season, an increase on averages of 21.2 and 13.8. This figure was always going to rise due the team seeing less of the ball. However, the increase suggests that Saints are quick to hassle the opposition when they encroach on their defensive third and rather than actively go in hunt of the ball, they're leting the opposition come to them before making a move.
Unsurprisingly, seeing less of the ball means Saints this season are averaging fewer shots per game (12) than last season (14.1), presumably as the team are winning the ball in deeper positions, allowing the opposition to regroup when they do lose the ball. Furthermore, as Koeman's side are not pressing as high up the pitch as they were last season, there is less of a chance for Saints to spring a surprise attack, which is why this figure is lower.
This reluctance to press the opposition in attacking areas quite so much, however, could be as a result of the upheaval in personnel over the summer. Pochettino had the benefit of working with players who had played together for a number of years prior to his appointment in January 2013. The likes of Lallana, Lambert and Schneiderlin knew one another's game, the runs they would and wouldn't make and the passes they would play from their time at the club, which ultimately benefitted Pochettino.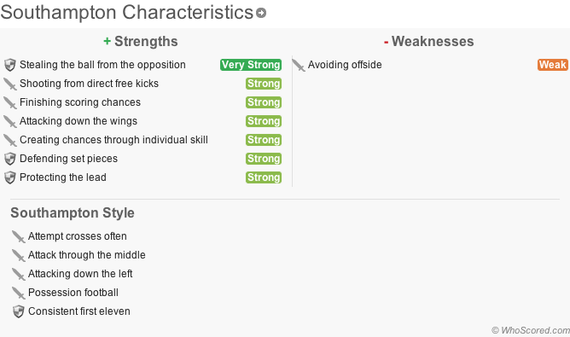 It was simply a case of injecting urgency in order for the team to adhere to his plans. In the second half of the 2012/13 season, they showed glimpses of what was to come the following campaign and with no major outgoings, it was little surprise Pochettino's game plan was so effective in his one and only full campaign at St. Mary's. Koeman's side may bare more of a resemblance to Pochettino's once the players become accustomed to each other, but at the time of writing, the system in place is working just fine.
With nine goals scored, just the three conceded, 10 points from 15 and a recent Capital One Cup win at Arsenal, Saints are performing above the expectations of the neutrals, who gave them little hope of replicating last season's exploits this time around. Big summer signings Pellè and Tadić have hit the ground running, while Schneiderlin has continued the fine form that saw him courted by Spurs prior to their move for Benjamin Stambouli, and Koeman deserves credit for their flying start to the campaign.
Whether they can maintain this form remains to be seen, but for the time being life is rosy on the south coast, all the more so considering Pochettino's Spurs sit three points and seven places below them in the table. Major squad overhauls usually have an adverse effect on the team - take Spurs' season in the wake of Bale's multi-million pound move to Real Madrid - but Koeman has taken everything in his stride and built a side capable of matching Pochettino's from last season.