The virtues of creativity, particularly in the field of fashion design, are very much fluid, with different designers adhering to different sets of values. However, one particular virtue is always present, the creation of beauty. Abraham & Thakore, the Indian design trio, are taking this virtue to an entirely new level.
Founded some years ago by David Abraham, Rakesh Thakore and Kevin Nigli, Rakesh & Thakore as a brand have been conquering the world of fashion one outlet at a time. Emerging in Delhi, they now have stores in New Delhi and Bangalore, and are retailed across India, Europe, the Middle East, Japan and the USA; their designs have been exhibited at the Indira Gandhi centre for the arts and secured a permanent exhibit at Britain's Victoria & Albert museum.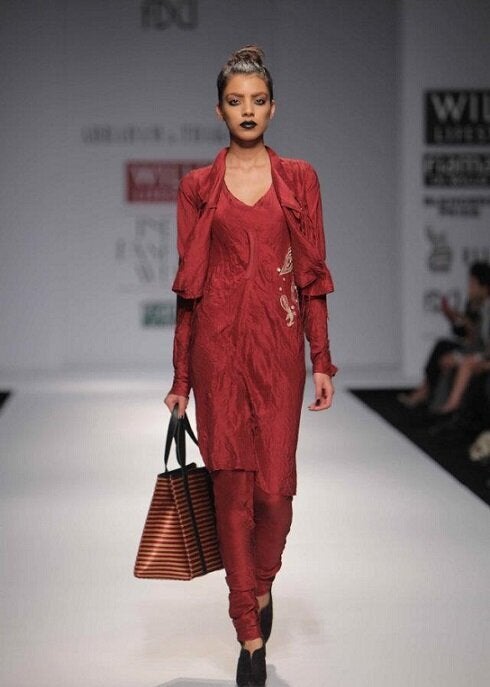 Abraham & Thakore Autumn/Winter 2013
Abraham & Thakore's designs are a refreshing take on tradition; this is due to an inherent sense of artistic curiosity, as all great artists reinterpret the past in order to make sense of the present. With designs that eclipse their competitors, Abraham & Thakore have a distinctive ethos which governs their creativity, one which is atavistic and filled with passion, as explains David Abraham "I believe design is a natural instinct for some. The instinct has always been there, as a part of our lives. Formal training at the NID, the design school in Ahamedabad shaped and articulated it, and helped us entre a profession we love."
Moreover, their design ethos is something which incorporates a very specific aesthetic approach, which is "to analyse what is absolutely key in communicating a concept and to strip away anything that is unnecessary, the excess; to try to be as rooted, honest and unpretentious in our creative approach as possible."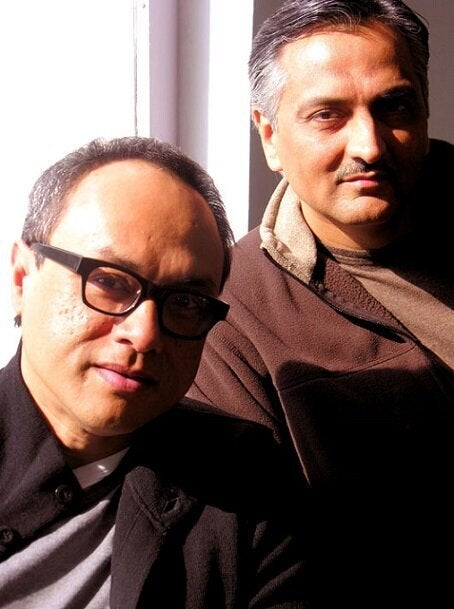 David Abraham and Rakesh Thakore
Defining themselves as artists first at foremost, Abraham & Thakore walk the tight rope of experimentation with superb versatility, their designs go against convention in many ways, for example, their use of the colour black, which is often negated by Indian designers in favour of more brighter hues, was used in a sari design, which blew all the critics away.
The reaction from the public has been exceptional, says "we have been selling our designs for many years here to a loyal and discerning clientele, who understands and appreciates our ethos, which is very rewarding." The foreign market too is enthused with excitement "we have sold successfully in many stores in Europe over the years, such as Liberty and Selfridges in London, and we have now launched an exclusive co-branded collection for loungewear and home with Harrods in London."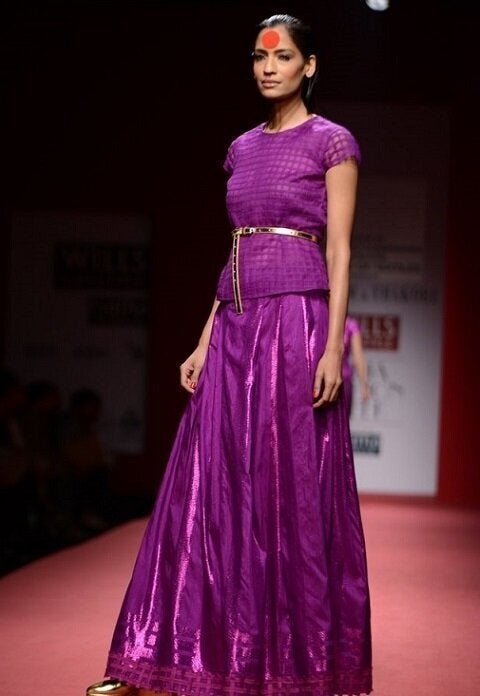 Abraham & Thakore Autumn/Winter 2013
Going back to the inception of Abraham & Thakore, the idea was a simple one, yet genius in its way "we were at a point in our early career when we felt we could bring out different sensibilities and experiences to create fashion and textiles that were rooted in our Indian identity yet with a contemporary and international take, reflection the way we lived in urban India" says David.
Fresh from Delhi and Mumbai fashion week, Abraham & Thakore have amazed everyone with their latest collections, which seamlessly meld the old with the new. Indian fashion is at an exciting crossroads at the moment, with designers being inspired by Indian culture and global culture at large. David Is especially excited about this "Indian designers are performing at a very interesting time in our history. Overseas brands and ideas are rushing in and we are constantly in flux, re-evaluating our responses. The world has shrunk; international trends are now instantly available on your Smartphone. This is the future. As a society we still tend to look to the west in many areas, but I think many Indian designers acknowledge this in their work, which actually makes the creative dialogue between India and the West so interesting. Maybe inclusiveness is an alternative approach to either/or."
Whatever the future holds for Indian design, it is a sure thing that Abraham & Thakore will continue to grow as a brand, giving pleasure to the fashion hungry public every step of the way.
Related