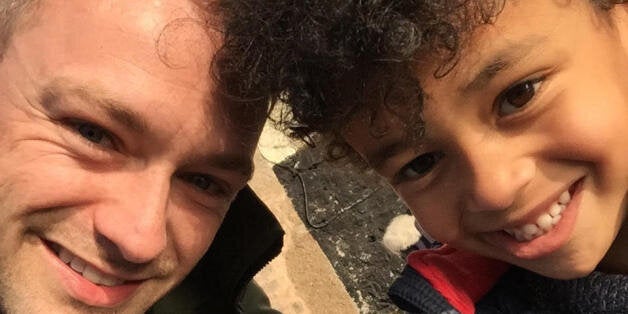 A few weeks ago an email dropped into my inbox from the team at the Huffington Post who invited me to write a piece about 'thriving families'. I'm terrible at saying no, so I quickly agreed and promised to send some copy over quickly.
The problem, I soon realised, was that I couldn't really relate to the subject matter. I write a blog about grief, having been widowed at the age of thirty-three. In PR circles I suppose I qualify as a 'daddy blogger' because I have a five-year-old son, whom I raise alone. However, if you're looking to indulge in a 'family' blog then you may find mine a little decimated. The topic is more 'struggling single parent' than 'thriving family'.
On my part, however, this is nothing to feel proud about. After all, why shouldn't I aim to thrive when I still have the great honour of actually being alive? Being asked to write on the matter forced me to consider what was holding me back.
To the outside world I guess you could say that I'm doing alright. On paper (or perhaps rather on social media) I probably appear to be someone who throws himself into life and lets little hold him back. It couldn't be further from the truth though; I've been scared of life every day for the last three and a half years.
This week I went to counselling to try to understand exactly why. At first my therapist was a bit confused about my apparent low self esteem (she's paid to suffer hearing about all the incredible people I get to meet, the places I visit with work, the careers highs etc.). That was until I explained something to her that I'd never even realised myself: I've been petrified of spending any substantial amount of time away from home alone with my son ever since my wife died. A pretty big deal for a single parent, you could say.
We traced it back to post traumatic stress. Exactly a week after Desreen was killed, I decided to stick to our previous plans of taking Jackson to Thomas Land. Aged two at the time, I'm quite sure that he would have readily traded me for even his least favourite train back then. It was supposed to be my way of making him happy just seven days after he'd lost his mum but it had the opposite effect - it was hell from start to finish.
Some weeks later we went away on holiday to Spain with friends. Jackson was hospitalised the day before we left with a temperature running over forty. He clung to me the whole week and refused to venture outdoors. I couldn't wait to get home but when we did land back at Luton - the furthest London airport from our home - our taxi didn't arrive and we were stranded there until the early hours of the morning with no form of transport. He threw his shoes and dummy at me and spat on the ground from the constraints of his pushchair. I'd let him down and he was angry.
These were both incidents that could easily be brushed off in normal life, but grief changes how everything affects you and, evidently, both events left me with issues. They left me scared.
This week I decided to master that fear. A brief chat with the right person made me understand what was holding me back. A little internet research made me appreciate that there were places we could go together that could be great. And a slightly stretched credit card gave me the power to conquer my own limitations as a parent.
Booking a holiday is such an habitual part of summer for so many parents out there. For me, though, it has represented something extraordinary. It's made me feel like I'm alive again and ready to take on the world. And the best part is my favourite person is coming with me.
This summer The Huffington Post UK is spearheading an initiative helping families thrive, with a focus on parent wellbeing, the challenges facing stay-at-home and working parents, friendships and navigating the landscape of modern parenting beyond the 2.4. To kickstart the campaign, Jamie Oliver guest edited the site, bringing a focus on feeding healthy families.
We'll be sharing stories and blogs with the hashtag #ThrivingFamilies and we'd like you to do the same. If you'd like to use our blogging platform to share your story, email ukblogteam@huffingtonpost.com to get involved. Jamie's new cookbook Super Food Family Classics, published by Penguin, is on sale at £26.