The EU Referendum and the excellent National Women in Engineering Day happen to fall on the same day this year, 23 June. Although it may seem that the two are not related there are some very important links between them. It is often difficult for women to progress in male dominated industries but EU legislation has given women stronger protection and ensured that having children doesn't mean losing your job. For example Directive 92/85/EEC covering protection at work for women that are pregnant or have recently given birth guarantees 14 weeks maternity leave, prevents women from being dismissed for issues related to pregnancy and ensures the continuation of employment rights. And Directive 2010/18/EU covering parental leave ensures that employees have the right to return to the same job they had before taking leave and gives the right to request changes to working hours upon return. These things alone are enough to get my Remain vote.
Of course the requests don't have to be granted. But in the engineering sector we are seeing more and more companies waking up to the fact that creating a flexible working environment means that firms are more likely to retain their female staff. Retention of women is a major issue for engineering companies who generally report a drop off in female staff at senior levels withing their organisations. Even those that are having great success in attracting women at graduate level are finding it more difficult to achieve better gender balance at higher levels.
As it is the week of National Women in Engineering Day it seems appropriate to point out that this is an issue which is not going to go away. Although the widely reported skills shortage is a major driver for all engineering firms, many of whom are now working with schools and universities to encourage girls to study STEM subjects, there are more pressing concerns. One of which is a growing requirement among client organisations that their supply chain prove that they are diverse and inclusive employers, and another is the incoming gender pay gap reporting legislation.
From October 2016 gender pay gap reporting will become a mandatory requirement for companies with over 250 employees. They will have to reveal the difference between male and female pay as a percentage, having calculated it as an hourly rate. So engineering firms, which are not only male dominated but top heavy in terms of male senior staff, can expect to see some pretty wide gaps, which must be publicly revealed in league tables published by government.
Of course if you are a member of the Major Projects Association you will already be aware of this. As part of its Gender Balance Initiaitve the organisation held a session on the forthcoming requirements with legal experts Clyde & Co. The message was clear - companies need to start working on this now to ensure that they are prepared and that they understand their gender pay gap. Using data from 1999 to 2015 the Office of National Statistics puts the current average pay gap at 19% (see chart). In engineering it is likely to be much higher.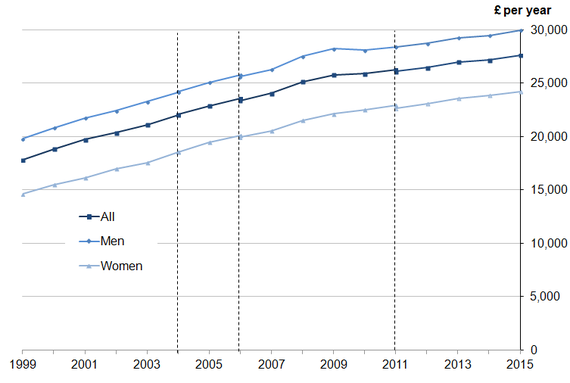 So in terms of improving the number, and the progression of women in engineering, the clock is ticking and those that make the effort to understand, and act, will be identified as the most inclusive, and attractive to women. And for engineering companies seeking to both meet the skills gap and diversify their organisations this will be a huge advantage.
Read my Huff Post blog from National Women in Engineering Day 2015