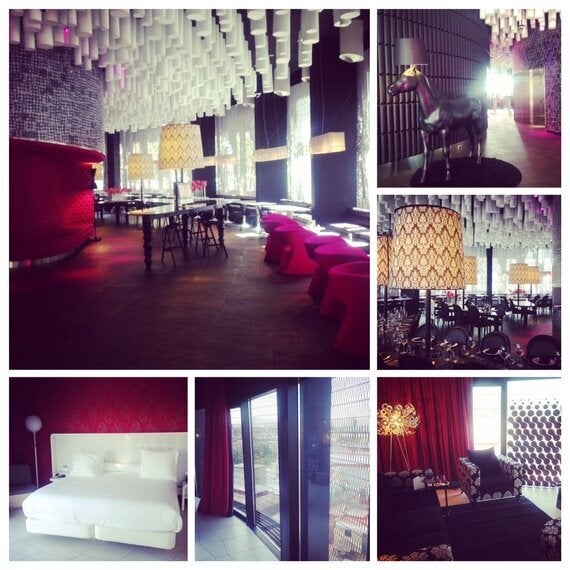 For our last stay of the week in Barcelona we headed over to the area of El Raval, which is an area we'd never visited before on our trips to Barcelona, but one I wanted to get to know.
With little windy streets of cafes, bars and shops and open squares of lush greenery and outdoor bars, El Raval definitely has a laid back and local vibe to it. It is one of the lesser known areas of Barcelona for tourists but we were immediately fond of it and liked the fact it was less touristy and busy.
Our hotel, the Barcelo Raval, was situated opposite a pretty square and it looked very cool from the outside with its tall circular bronze metal building.
Inside was even more impressive, decorated in red, black and white with sculptures hanging from the ceiling, a collection of funky modern chairs and a host of cool lighting including a full sized pretend horse with a lampshade on its head! The hotels bar and restaurant were on the same floor as the reception and the whole are had a very fun vibe to it even in early afternoon and you could imagine the hotel bar becoming very popular in the evening.
We checked into our suite which was huge with a lounge area as you entered, an open bathroom in the middle and a circular shaped corridor along to the bedroom, which featured a big white retro style bed, bed side tables, a chair, floor lights and a desk area. Even though the windows featured the metal pattern of the building on them, you could still see the impressive view all along the bedroom.
After we had settled into our room, we walked up the couple of flights of stairs to the roof of the hotel (you could also get a lift) and saw the fantastic 360 degree view of the city. You could walk all around the circular roof, which had telescopes and pictures with descriptions of the Barcelona sights which could be seen underneath. There was also a very small pool with loungers and benches, tables and stools situated around the roof.
That evening we had an early evening reservation at the infamous Tickets and it was lovely to be able to walk to the restaurant in around 20minutes from the hotel. After dinner, we enjoyed a leisurely stroll back to the hotel and from a Time Out recommendation, stopped off at the gin bar , which was an old fish shop! We were the only people in there when we arrived and the owner was very friendly and recommended we sample their homemade gin, which was served with tonic and pink peppercorns and was delicious. He played some great tunes and the bar was very retro and unique inside and is definitely worth a visit whilst in Barcelona.
We enjoyed a great nights sleep and lie-in in our suite and went down for breakfast in the restaurant about 30minutes before it finished. Unfortunately the food felt like it had been sat out for quite a while and the cheeses and meats had turned quite warm, which was disappointing as we thought it would be regularly refreshed. Instead, we enjoyed a croissant and some orange juice before checking out and heading to the airport.
Barcelo Raval is in a fantastic location for exploring the area of El Raval and you can walk to a lot of locations with ease. It is a cool and modern hotel with very impressive views from the roof and I would definitely recommend it as an affordable base for your trip to Barcelona.