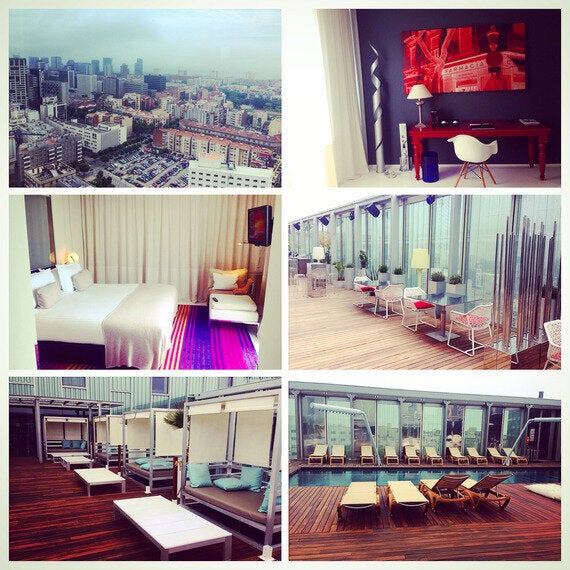 For our second night in Barcelona, we caught the Metro over to the other side of the city arriving at Poble Nou. For those who haven't been to Barcelona before, the Metro is extremely easy to use and is a quick and cheap way to get around the city. Compared to the London tube, it is a lot easier to get to grips with and you can buy a travel card to use between you that lasts 10 trips for only 10 Euros, which served us very well during our visit.
The Melia Barcelona Sky hotel was just a short walk from Poble Nou station and very easy to find - you just look up! The hotel building is a tall skyscraper that almost looks like a puzzle piece with it's two different height rectangle shapes next to one another. Situated in a more residential and business district, the area didn't have the same vibey city feel as a lot of Barcelona but it felt a bit more local and had the added advantage of only being a 10-minute walk to the seafront.
Our room at Melia Barcelona Sky was on one of The Level floors, which meant we had a bedroom on a high floor and also had access to a private lounge on the 25th floor where you could enjoy complimentary canapés and drinks throughout the day and a more private breakfast in the morning. We were also able to check in here, which was a leisurely process where we sat enjoying a glass of cava enjoying the amazing views across the city.
Situated on the 23rd floor, our suite had similar views with huge windows across the front and you could see the sea from our bedroom. The suite featured a lounge area with sofa, iPod dock and speaker, desk and minibar and a spacious bedroom with huge bed in the middle of the room, a chaise longue and TV. Off this was a walk-in wardrobe with dressing table area and bathroom with rain shower, a bath and double sinks. It was a great sized room and the decor was bright and modern.
After checking in to our room, we decided to have a look around the rest of the hotel. Above on the 24th floor, was Dos Cielos restaurant, where we had a table booked for that evening, and an outdoor bar, which would have been lovely for a drink but it was quite windy on the day we were there. There was also a small but cosy spa and an outdoor pool area lower down in the hotel which had a long swimming pool with loungers and day beds spaced around it. On the ground floor was a restaurant, where breakfast was also served, and bar area, and both were quite busy in the middle of the day.
Since we were so close to the beach, we decided to have a stroll to the seafront and had a nice walk and drink at Port Olympic before catching the Metro to Jaume, to visit El Born where we enjoyed our first Spritz of the holiday.
We arrived back at the hotel and enjoyed a pre-dinner drink in The Level lounge before retiring to our suite to get ready for dinner at Dos Cielos - look out for this review coming tomorrow!
After a good nights sleep in our suite we were somehow able to fit more food in with breakfast the following morning and spent a leisurely hour drinking coffee and helping ourselves to meats, cheeses, fruit and breads from the well stocked buffet in The Place on the ground floor. With lots of fresh and varied food, it was one of the best recent hotel breakfasts we'd had and set us up nicely for the day ahead.