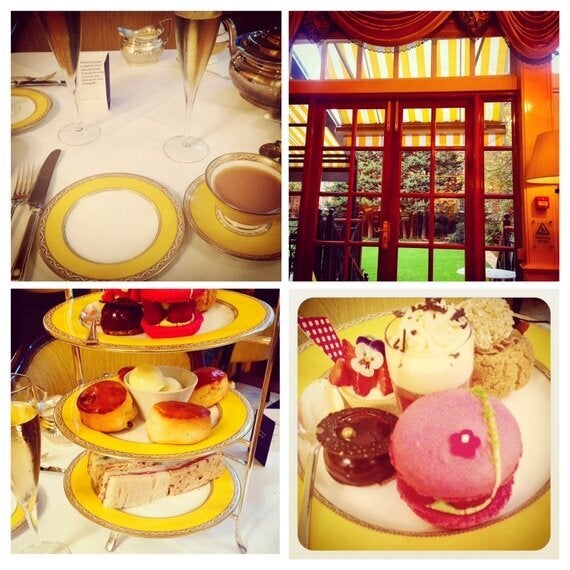 After visiting The Goring back in April and enjoying it immensely, I was very excited to be paying the hotel another visit to sample their afternoon tea.
Currently the prestigious Tea Guilds #1 afternoon tea in London, The Goring's afternoon tea is priced at £42.50 per person or £52.50 with a glass of Bollinger champagne (£62.50 with Rose Bollinger). With afternoon tea at some top London establishments costing up to £75 per person, as the #1 in London, and such a special and indulgent treat, I think it is quite a reasonable cost.
Taking my Mum with me as my guest, I visited The Goring on a Monday afternoon and was surprised that it was fully booked on what I thought would be a quiet day. We were given one of the best tables looking out at their gardens and the table was laid with a pristine white tablecloth, silver cutlery and yellow and gold detailed china cups and saucers.
We chose the Bollinger afternoon tea - there is something about a glass of champagne that really adds to afternoon tea I think - and our impeccably dressed waitress poured us a cold and crisp flute of champagne from an impressive looking magnum of Bollinger. Before our sandwiches and cakes arrived, we were given a glass of cold watermelon juice which was sweet yet refreshing and was a perfect palate cleanser.
The sandwiches and cakes were presented on a 3-tier gold and yellow china cake stand which matched our cups and side plates and it was adorned with a selection of sandwiches, scones and an assortment of cakes on the top tier. It was difficult to know where to start but we opted for savoury first and enjoyed the Cucumber, Beef and Horseradish, Smoked Salmon and Cream Cheese and Ham and Mustard Sandwiches, which of course came traditionally crustless.
The Scones had a golden glaze to them and there were two choices of plain and currant with toppings of Clotted Cream and homemade Strawberry and Raspberry Jams, which were all delicious.
There was a selection of four cakes and a miniature trifle on the top tier and we began with the Hazelnut Choux which was rich yet delicate with the nuts really coming through. The Creme Fraiche and Strawberry Tart was encased in a buttery, almost shortbread like pastry that was surprisingly light. The Chocolate Mousse with Passion Fruit was surprising as it looked like it could be very sickly but the fruitiness hidden inside really balanced out the rich chocolate. The Sherry Trifle was quite a standard dish but it was done well and the Macaroon I think had to be one of my favourites with the flavours of raspberry and pistachio complimenting each other perfectly.
For our tea, we chose The Goring's own blend which was a loose leaf tea and was very refreshing, with us managing to drink two pots of it during our visit! Despite being able to have as many sandwiches and cakes as you liked for afternoon tea, we only had the one cake stand and we struggled to finish all of that!
We enjoyed a great visit to The Goring. The surroundings are delightful with impeccable service and standards and the afternoon tea is definitely something to experience.
The Goring, Beeston Place, London, SW1W 0JW.