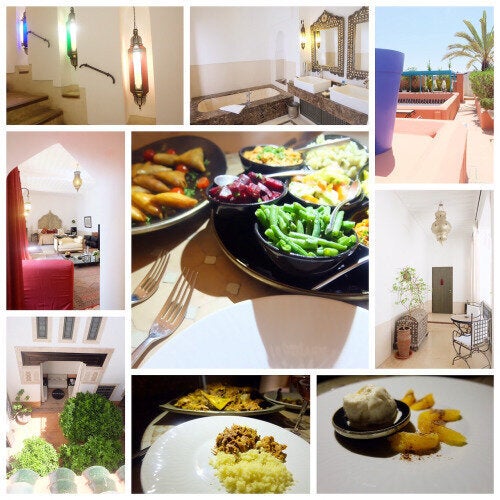 Continuing our Marrakech adventure, after a few days of peace and quiet at the Royal Palm we headed back into the busy city for more exploring. For the next two nights we were staying at Riad Farnatchi (a Riad is a traditional Moroccan house with an interior garden or courtyard) which looked sumptuous and elegant with detailed Moroccan design and I was excited for our arrival.
We were met from our car by one of the Riad's porters, who kindly carried our luggage and guided us down a small alleyway, where we were immediately welcomed with open arms by owner James. I hadn't realized the Riad was owned and run by an Englishman but James is from London and has been living in Marrakech for years. A wonderfully jolly and helpful man, he was the perfect host and immediately made us feel welcome, as he gave us a guided tour of the property with our delicious iced mint teas in hand.
Riad Farnatchi is beautiful and completely traditional in its style with handmade Moroccan furniture and furnishings, which have all been especially designed for them. The Riad features a newly opened spa, which is wonderfully luxurious with ornate woodwork and black and white patterned tiles, and a new restaurant, Le Trou Au Mur, will open in October.
There is a feeling of tranquility at Riad Farnatchi and this runs through their entire ethos, with guests always coming first. If you've just arrived off a long flight, feeling jetlagged and would like breakfast at 3pm, that's perfectly fine and their in-house chef will prepare it for you. If you'd like to enjoy your dinner in the restaurant, on the roof terrace, in the courtyard or in your room, the choice is yours and James' team will organize it for you. It's something I think is a great idea - when you're away you want to feel relaxed and at ease and that's exactly how we felt at Riad Farnatchi.
Our room, which overlooked the courtyard, was absolutely enormous with a beautiful courtyard, cosy lounge area, large bathroom and a big gold ornate bed taking pride of place. James had informed us that each room is uniquely designed and each has its own private terrace, and we noticed that all the terraces, with ours included, were private and not facing one another, which only added to the peaceful atmosphere.
If you wish to enjoy dinner at Riad Farnatchi then each dish has to be ordered well in advance as everything is cooked to order. We decided to enjoy dinner on our terrace that evening and ordered the Moroccan Salads, a selection of Moroccan Pastries and the Shoulder of Lamb with Couscous for two along with a bottle of Gris wine.
After enjoying a bath, with a selection of the many Molten Brown toiletries provided, I sat on our terrace in a comfy, light dress with bare feet just in time for one of the staff to bring our starters and wine. Our table was filled with salads and a large plate full of pastries and we hungrily tucked in.
The salads were fresh and bursting with flavour and worked well with the crisp and light pastries, which were filled with fillings of beef, vegetables and cheese. We could smell the delicious aroma of our lamb before we saw it and it was quite the sight when it did arrive - big enough for four! Now this is quite a big statement, but it was definitely the best lamb either of us had ever tasted. The meat was slow cooked and literally fell off the bone and it was full of flavour. We were so full after one plate with couscous but kept going back in for more as we couldn't stop eating it! It really was delicious. I'm not sure how we fit it in, but we finished off the meal with some Cinnamon dusted Oranges with homemade Ginger Ice Cream, which was light and refreshing.
With full stomachs we retired to bed and woke the next morning well rested. Our room had black-out shutters which meant we weren't woken early by the Moroccan sunshine and enjoyed a nice lie-in. After a light breakfast of fruit, homemade yogurt, Moroccan pastries, orange juice and coffee on our terrace, I headed off to the spa to try out a traditional Hammam.
Friends had recommended I try a Hammam, and I was so glad I did, as my skin felt incredible afterwards. I was taken to a private spa room where I lay on a heated tiled seat before being washed down with warm water. I was then covered in black soap and was left to relax with this all over my skin before it was scrubbed with a hammam glove. This was an unusual experience, seeing your dry skin come off, but it was soon washed away with more warm water. Lastly a clay mask was smothered all over my body and massaged in before a final wash. I actually thought my skin was glowing when I went back to my room and looked in the mirror and it was so soft and smooth. I can see why Moroccans regularly enjoy a hammam!
Despite being right in the centre of Marrakech, the location of Riad Farnatchi is quiet and serene, and once you've navigated the small alleyways into the souks, it's easy to find your way around. Although when adventuring out that afternoon, we did get a little lost, and had to have the help of a guide on the way back! Marrakech felt perfectly safe and we weren't afraid to have lost our way as people are friendly and helpful and we were happy to tip for our guides assistance in swiftly getting us back to the Riad.
The next day, we were sad to leave the peaceful and relaxing Riad Farnatchi. James made us feel so welcome and comfortable and his staff were just as accommodating and helpful. If you are visiting Marrakech then make Riad Farnatchi a must on your to do list.
*This blog was originally published on Dotty Dishes, for which they stayed as a guest of Riad Farnatchi*
Related