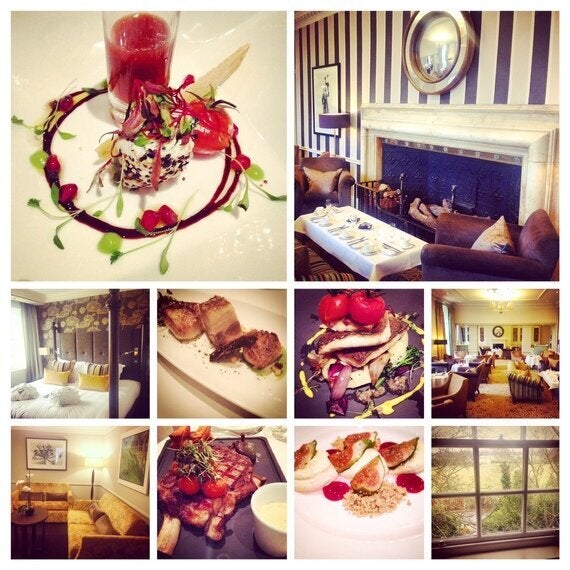 After a quiet January, it was a lovely treat at the end of last month to have a night away with my husband Steve at St Albans Sopwell House.
Sopwell House is only 20minutes outside London (from West Hampstead Thameslink) and just a 5-minute cab ride from St Albans station. Situated amidst beautiful landscaped grounds, the hotel is a large cream building with greenery growing up half of the front. We were greeted very warmly by the hotels guest relations manager on arrival and given a quick tour of the building which features a bar, lounge, two dining rooms, a conservatory and function rooms along with the spa, gym and swimming pool.
Our room wasn't quite ready for us so we had chance to sit in the comfortable bar area and enjoy a glass of pink prosecco each, and saw the lounge begin to fill up with friends, mums and their daughters and couples arriving for afternoon tea, which the hotel is a popular destination for.
Shortly afterwards we were shown to our room and we were delighted to see we'd been given a one bedroom suite, which overlooked the hotel's gardens, and featured a separate lounge area. There was a grand four poster style bed in the bedroom with a desk and flat screen TV and another TV in the lounge with two sofas to relax on. The bathroom was small but included a bath and shower. We had just enough time to enjoy a cup of tea in our room before wandering downstairs for our treatments in the spa.
I was very luckily given a full body ESPA hot stone massage (£85) lasting 50 minutes and I have to say, it was one of the best massages I've ever had. The masseur really got to work on my shoulders, where I'd told her I get the most tension, and I must have had a lot of knots lurking away as they felt fantastic afterwards! The hot stones were a great experience as even though the heat was a shock to the skin at first, it felt amazing once you got used to it and was very therapeutic. Steve was given a 35-minute back, neck and shoulder massage (£55) and he also really enjoyed it and it relived a lot of pent-up stress and tension.
After our massages, we had a swim in the indoor pool and then enjoyed some time relaxing in the spas sauna and stream rooms. We also read our books lazing in our robes on the loungers by the pool before heading back to our room.
We hadn't had chance to eat lunch so decided to order a room service burger and chips to share as we were hungry but didn't want to eat too much before our dinner that evening! The burger was a thick beef patty topped with cheese, pickles, lettuce and tomato on a sourdough bun with fat chips on the side and it was the perfect size to share. It was a delicious burger and one of the best we'd both eaten in a while.
After a relax in our room watching TV we decided to enjoy a cocktail in the bar before dinner and I chose a Cosmopolitan and Steve ordered a Whisky Sour (both £9.50). The lounge has a cosy feel to it with comfortable surroundings and there was a pleasant atmosphere with other couples enjoying early evening drinks.
We had a table booked for 8pm in the restaurant for dinner and we were seated by the window and given the menu to peruse, which featured quite a select number of starters and mains with some grill options for main course also.
I decided on the Goats Cheese Roulade with Tomato Gazpacho, Olive Tapenade and a Split Pomegranate Dressing to start (£11.75) and Steve chose Seared King Scallops with Slow Roasted Belly of Pork, Citrus Oil, Purple Potato and Apple (£12.75). Both arrived very well presented and were generous portions. The scallops were perfectly cooked and the meaty pork belly worked well with the sweet apple. The gazpacho was like a shot of virgin mary and the roulade was rich, firm and creamy and was balanced well with the sharpness of the dressing and tapenade.
For main course I opted for the Line caught Sea Bass with Potato Puree, Purple Sprouting Broccoli, roasted Red Onion, Shaved Fennel, Garden Herb and Mint Pesto (£24) with a side of Fresh Spring market Vegetables (£3.75), which was utterly delicious and all the flavours complimented each other exceptionally. The sea bass literally melted in my mouth and it was for me, a pretty perfect dish. Steve ordered the Aged Rib of Dedham Vale reared Beef with classic grill garnish, hand cut Chips and Béarnaise sauce (£28) which was quite simply the biggest steak either of us have ever seen! It was a huge slab of meat that was tender and packed full of flavour and an absolute steal for £28. Needless to say, Steve had trouble finishing it and had to leave some on his plate!
After a welcome breather, we decided we could manage pudding so I ordered the Vanilla Cheescake with Figs (£8.50) and Steve opted for the Selection of Cheese (£9.50). The cheesecake arrived deconstructed, which actually made it lighter to eat and the warm figs next to the creamy and sweet cheese and crumbly, buttery biscuit was a delight. The cheese selection was great with a mixture of hard, soft and blue cheeses and the only negative would be that it needed more crackers!
We retired to the bar for a nightcap and a lounge on their comfy sofas before going up to bed for a great nights sleep.
After a quick breakfast, where we helped ourselves buffet style to cereals, fruits, pastries and cooked items, we left the hotel feeling very chilled out after our one night's stay. Sopwell House really is a great place for a relax and being situated just outside London, you don't have to travel far to be pampered and enjoy good food in plush surroundings. They are building a Mews development with luxury accommodation currently, which opens in May, and we may just return to try those out when they open!
Sopwell House, Cottonmill Lane, St Albans, Herts, AL1 2HQ.