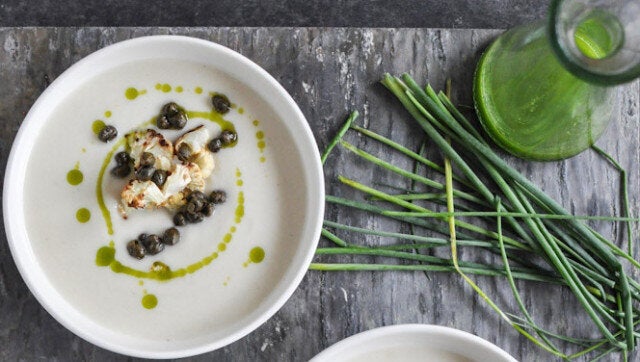 Last month I had a little visit to Brighton, which is a place I am a huge fan of. I'd always wanted to pay a visit to vegetarian restaurant Terre A Terre and was fortunate enough to be asked to review whilst I was visiting Brighton.
From my many years as a vegetarian, I am still a huge fan of vegetarian food and especially vegetarian food that pushes boundaries and is unique and interesting. Exactly like the menu at Terre A Terre, which I had often perused but never managed to dine at until last month. My other half Steve is more of a meat eater so wasn't overwhelmed about my lunch choice but was interested to try the restaurant since I was so excited to visit.
Terre A Terre is situated just off the charming laines and only a short walk to Brighton's sea front. It is quite a large restaurant with a mixture of tables and booths and is very simply decorated, which it can afford to be as it is the food that really makes an impact here.
We were given a table near the French doors into the small courtyard at the back of the restaurant and were handed the large menu to peruse. Terre A Terre could never be accused of being a boring vegetarian restaurant - everything on the menu sounded interesting and unusual and you really had to read the description of every item to get a proper understanding of what each dish offered.
We ordered a couple of drinks - a white wine spritzer (£3.85) and a coca cola (£2.25) and some deep-fried Grana Padano Green Olives (£5.55), which was something I just had to try. They came fat and crispy with a bitter, juicy centre filled with ricotta cheese, garlic, chives and lemon zest and did not disappoint. In fact, I can taste them right now as I write this and my mouth is well and truly watering!
After a great deal of deliberation, I decided to order the Peeking Buns (£8.95), which were steamed rice buns stuffed with Szechuan marinated halloumi and were served with kimchi Chinese cabbage, lapsang souchong pickled watermelon & cucumber, a miso chilli sauce and a char-grilled spring onion garnish. Steve opted for the Arepas Chilli Candy (£8.95), which were deep-fried fried corn cakes rolled in spice dust served with chilli chelly jelly, avocado hash, oregano and lime mojo and a candied chilli.
I have to say that on arrival of the starters, I was massively jealous of Steve's! I love corn and avocado together and after sampling a mouthful of his, it was absolutely divine. The corn cakes were soft and fluffy with a perfect crunchy outside and the creamy and smooth avocado and chilli jelly worked really well with them. I could have digged in and eaten the lot but I had my own starter to eat.
The Peeking Buns came served in a small Chinese steamer and there were two fat buns crammed inside. The buns were sticky and sweet and what I would describe as almost pancake like texture and the saltiness of the haloumi worked well to balance out the flavours. The watermelon and cucumber worked especially well and gave a fresh, cold crunch that was needed. They were nice but I couldn't help but wish I had ordered Steve's starter instead, which was just delicious. A nearby table had ordered the Terre A Tapas Plate which featured small selections of all the starters and it really was a sight to behold and looked incredible.
For main course, I had a bit of food envy again when the plates arrived... everything on the menu sounded so amazing I really did struggle to decide what to order! Steve ordered the Better Batter and Lemony Yemini Relish (£14.95) which was soft buttermilk soaked halloumi dipped in chip shop batter, served with vodka-spiked preserved plum tomatoes, fresh pea mint hash with pickled quails egg, sea salad tartar and chubby chips, finished with lemony Yemeni relish. It looked amazing and tasted delicious - it was the prefect alternative to fish and chips and to be honest, was actually better than a lot of fish and chips I've eaten. The haloumi was soft with a deliciously light and crispy batter and the chips were thick and chunky with a good crunch. Pea and mint is one of my favourite flavour combinations and the peas were still quite chunky with just the right amount of mint. I would eat this dish every week if I could!
For my main course I went for the Terre a Tiffin (£14.95) which included Cauliflower and ginger bhaji with fresh coconut green chilli curry leaf chutney, tamarind relish with channa rasam, deep fried chickpeas served with nimbu bhat cardamom brown onion lemon saffron baked basmati rice, confit brinjal pickle, chilli slivers, tangy lime and mumbai mix spice dust dressing. I am always a sucker for a curry and this was really tasty and I enjoyed having lots of little parts to the dish, with the coconut green chilli chutney and deep fried chickpeas being particular highlights. The only negative was that the rice was a little overpowered with lemon and was almost bitter to taste so I had to leave most of that.
We were far too stuffed for pudding, even though they all sounded incredibly inventive, and the desserts we saw other diners order all looked impressive.
Terre A Terre is a wonderful restaurant and a lot of vegetarian restaurants could learn from its creatively - there was not a vegetarian lasagne in sight. The dish names are clever, the presentation is clever and the food is more than clever. I would definitely recommend it, whether you are vegetarian or not, and I did not notice the lack of meat once. When you have food this good, you don't need meat.
Dotty Dishes was a guest of Terre A Terre.
Terre A Terre, 71 East Street, Brighton, BN1 1HQ.