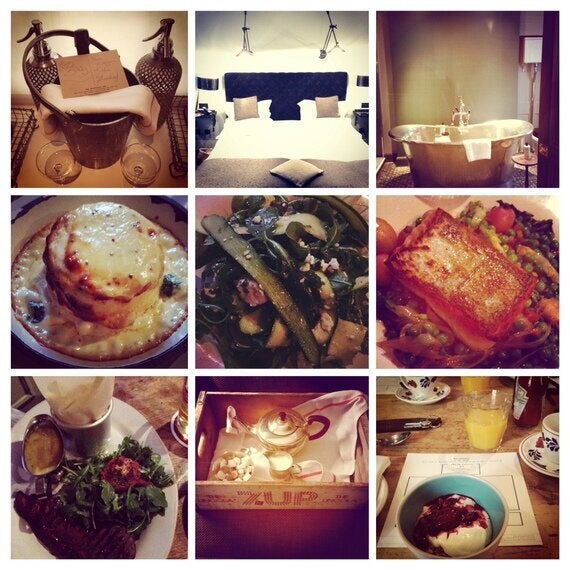 Last month, my other half Steve and I travelled to The Cotswolds for a few days to celebrate Steve's birthday. We got the train after work on a Wednesday night and arrived into Kingham just before 8pm, then it was a short 15 minute taxi ride to The Wheatsheaf, which is situated in the small market town of Northleach.
The Wheatsheaf is a restaurant and pub with 14 bedrooms situated upstairs and downstairs and we were given one of the 'excellent' rooms which was absolutely gorgeous. Decorated in warming Farrow & Ball paints throughout, there was a huge comfy bed in the middle and a grand bathroom leading off the bedroom through double wooden doors with the biggest metal bathtub I'd ever seen. We were also left a bottle of champagne, two champagne saucers and a little card wishing Steve a Happy Birthday in the room, which we thought was a lovely touch.
After a quick freshen up, we headed downstairs to the bar and restaurant area for dinner. There were lots of people eating and drinking in the bar and with a relaxed, fun vibe to the place and we were given a cosy table for two in the corner of the restaurant. I ordered a glass of Prosecco and Steve ordered a pint of The Wheatsheaf's 'Bobby's beer' whilst we had a look through the menu.
The menu at The Wheatsheaf is filled with delicious sounding dishes that aren't too fussy with seasonal ingredients and local produce, where possible. We had a job to decide what to order but after some deliberation, I decided on the Courgette & Feta Salad with Lemon, Olives & Capers (£7) and Steve chose the Twice Baked Cheddar Souffle with Spinach & Grain Mustard (£7.50) to start.
The soufflé arrived in an old fashioned enamel pie dish bubbling and oozing with a cheese and mustard sauce. It was very light and fluffy and not sickly or heavy as might have been expected and Steve said it was one of the best starters he's ever had. We were told it is a popular dish at The Wheatsheaf with people coming just for that and often eating it as a main course with chips.
My starter had a great mix of textures and flavours with the creamy feta cheese, crunchy strips of courgettes and salty olives and capers and it was really fresh tasting and the warm sourdough we ordered was a welcome accompaniment to the salad.
For main course, I decided on the Pan Fried Hake with Petit Pois a la Francaise, Radish, Pancetta & New Potatoes (£17) and Steve chose an 8oz Sirloin Steak with Fries, Rocket & Tomato and Stilton Hollandaise (£20). We also ordered a bottle of Malbec from the vast wine list to accompany them.
We thought the steak was very reasonably priced and it was a great size and cooked perfectly with the rich Stilton Hollandaise proving a great accompaniment. The Hake was cooked just right with a nice crisp skin and the crunchy radishes, sweet soft peas and subtle stock sauce all rounded the dish off well.
We were pretty full after two courses but they were both so good we felt we just had to try dessert. A couple next to us had ordered the Marathon Pudding which arrived in a cast iron dish and looked like chocolate heaven but we decided we couldn't possibly manage it so I opted for Fresh Berries with Lemon Sorbet and Mint and Steve chose Neal's Yard cheeses of St James and Cashel Blue (both £6).
The sorbet was wonderfully refreshing, and not overly citrus tasting like some lemon sorbets can be, and the berries were plump and juicy with the mint making the whole dish very fresh. The cheese was a very ample portion with Quince Jelly and Oat Cakes on the side and the St James, which we'd not tried before, was almost brie like with a pungent taste that was rather delicious.
We retired upstairs to bed after dinner and had a lovely night's sleep before waking to open presents for Steve's birthday in the huge bed! We ordered tea to the room for during this and it was brought up in a cool old fashioned wooden 7UP crate, which was a really cool touch.
Breakfast was served in the restaurant where we'd eaten the night before and it was all laid out nicely with pretty floral tea cups and saucers and traditional sauce bottles on the tables. There was a shelf with ingredients to make your own Bloody Mary's, an ice bucket with chilled Prosecco and a sweet jar filled with medical hangover helpers! There were lots of little touches that I noticed and The Wheatsheaf really made an extra effort with breakfast time. After some granola, berry compote and yoghurt and some lovely thick cut toast and proper butter, I ordered a good old bacon butty and Steve opted for Pancakes with Bacon and Maple Syrup.
The bacon arrived on doorstep bread, like the toast, and was a good bacon butty that was not too fatty. The pancakes were thick but fluffy and there were a lot of them!
We checked out of our room and left our bags with reception while we had a wander around picturesque Northleach - which didn't take long as it's a tiny little market town!
We had a lovely time at The Wheatsheaf and enjoyed the cosy rooms, great food and helpful and friendly staff (special shout out to the very lovely restaurant manager Jeremy). It is a little gem hidden in The Cotswolds and we can't wait to go back for another visit.
The Wheatsheaf Inn, West End, Northleach, Gloucestershire, GL54 3EZ.