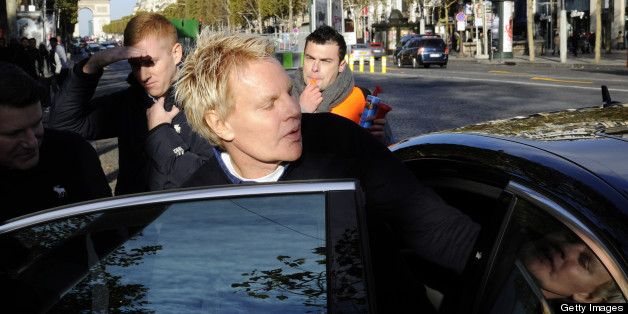 Getty Images
Abercrombie and Fitch have been catapulted into the social media recently with Robin Lewis' revelations that the CEO of the company, Mike Jefferies, doesn't want larger people buying his products. They don't offer XL and XXL options in their clothing for women, meaning that they only offer clothes up to a US size 10-12 (in UK terms that's a 14-16). Jefferies' justification for this, in an interview with Salon in 2006, is that he wants to 'market to cool, good-looking people' stating that 'we go after the cool kids. We go after the attractive all-American kid with a great attitude and a lot of friends'. He freely admits that 'A lot of people don't belong [in our clothes], and they can't belong. Are we exclusionary? Absolutely.' (http://www.salon.com/2006/01/24/jeffries/)
The fact that Jefferies has been so frank about his company's desired audience has incensed readers across the Internet. His exclusionist attitude has been seen as shocking with many people expressing disgust and disbelief. That they have a target audience isn't the problem: it's how vocal they are about it. The message appears to have come from a school child rather than the CEO of an international company. Unless you're a popular, 'cool' kid, you're not welcome in the world of Abercrombie and Fitch. But who defines this? I myself have been called cool recently by several people, all of whom admittedly were several years younger than me and were probably influenced by my nose ring, but I'm pretty sure I don't fit into Abercrombie's definition. I'm not, for a start, all-American though maybe I'm being pedantic here. I'm pretty sure that people I'd define as cool probably wouldn't fit into their definition either. So saying that you make clothes for 'cool, good-looking people' just seems a bit, well, vague to me.
Unfortunately, Abercrombie and Fitch isn't alone in its sizing. If you look at a selection of high street shops such as Topshop, River Island and New Look their sizing doesn't differ much from Abercrombie's. Topshop is in fact identical in the range it offers and the other two chains only stock one size more. Out of all four stores, only New Look has a plus sized range. So yes, what Jefferies' is saying is awful. But at least he's being honest. Topshop sells clothes in the exact same sizing range and yet people aren't up in arms about them.
In 2012 the average size for women in the UK was a 14 and it seems, at first, that they are well catered for by these high street shops. But when we look at the women modelling the clothes they are selling, they are often way below this average. On the Topshop website, the models used are a size 10. Something that did catch my attention when talking about this blog post with my female flatmates was that we all agreed that Topshop sizing was completely different to other high street shops. Most women would agree with me that when shopping in Topshop, you have to add on a size to that you'd buy in most other shops. If we take this into account, then the model used is probably closer to an 8. That's 3 sizes smaller than the average UK woman. Clothes that suit her body shape are going to look radically different on a woman who is 3 sizes larger than her. It's just a fact that there is more woman to be covered and so the fabric is going to behave differently.
On this note, I want to point out a flaw in the sizing system for women in the UK and it's this: how can we guess an average when women's bodies come in all sorts of beautiful shapes and sizes? Say that you have, like me, long legs. I have tried buying jeans from around 6 different shops including the memorable pair of high-waisted, extra-long jeans from Topshop that hit my hips and ended before my ankles. No two shops offered consistency with a size 10 extra -long pair from New Look having to be changed for a size 14 in order to provide the same fit as a size 10 from a different shop.
I think that rather than targeting Abercrombie, even though their CEO seems to be radically out of touch with the reality of the market, we should be looking at how women's bodies are defined by the high street. Clothes are an unavoidable part of how a person views themselves: sizing is often inexorably tied up with self-esteem. Women's magazines promote the ideal 'bikini body' based on a specific size. We need to realise that the amazing variety in female bodies cannot be defined by an average sizing system. No two women are alike and the high street should reflect this beautiful diversity.