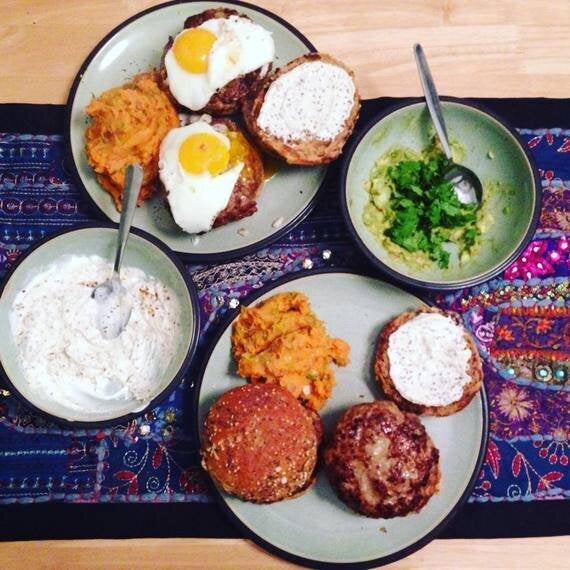 These lamb burgers are foolproof, fiery and flipping easy to make with a few little secrets to guarantee your burgers are juicy and dont fall apart when you cook them
The punchy burger sauce is spiked with harissa, an amazing chilli paste made of roasted red chilli peppers, garlic, rose petals, cumin and other spices - it's one of those ingredients that's worth spending a little more money on. It's great spread on bruschetta or pizzas, stirred into fajitas, beef chilli or even homemade dips, but it works an absolute treat in a burger sauce with mayonnaise, cool yoghurt and that classic burger sauce staple American mustard.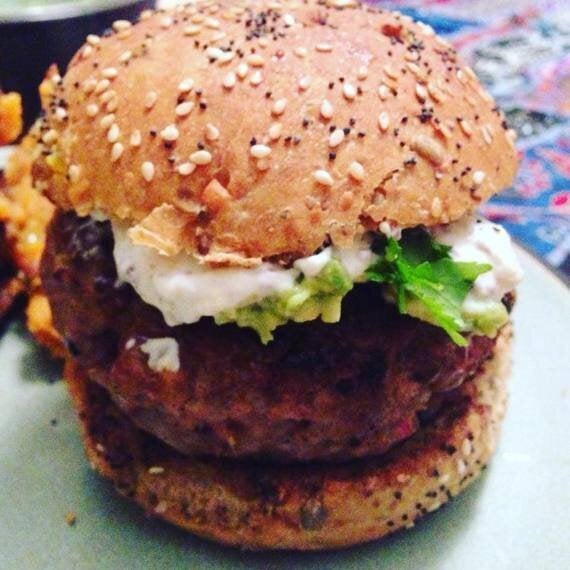 250g quality lamb mince (20% fat)
1 small white onion, finely diced
1 red chilli, finely chopped
1 large clove garlic, crushed
1 small handful of fresh breadcrumbs
plenty of salt and pepper
1 tsp American mustard (optional)
Saute the onion in a little oil in a frying pan until transparent and lightly golden. Turn off the heat and add the crushed garlic and chopped red chilli. Leave to cool.
Toast the spiced in a dry frying pan until fragrant then roughly grind in a pestle and mortar or spice grinder.
In a large mixing bowl, add the lamb mince, sauteed onion, garlic, chilli, the ground spices, breadcrumbs, egg yolk and seasoning. Mix well between your hands for around 4 minute until the mixture all incorporated and becomes smoother.
Mold into 4 burger shapes, making sure the sides as as flat as possible and that there is a slight dip in the middle of the burger shape (this will prevent the centre of a burger rising when cooked.)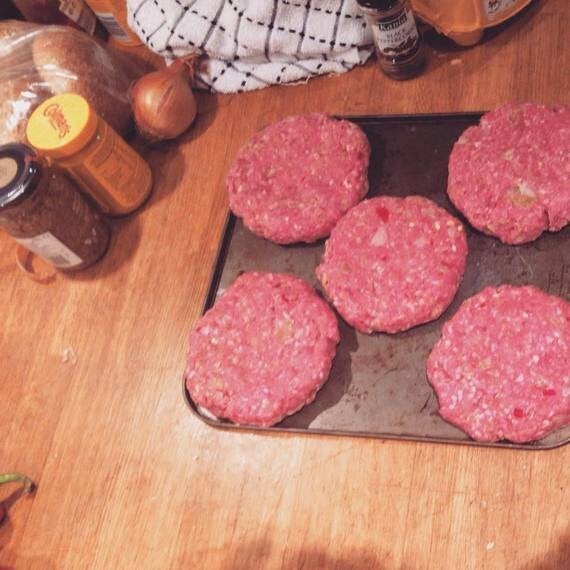 Put your burgers onto a baking tray and chill in the oven for at least 30 minutes. Meanwhile mix the burger sauce ingredients together and keep in the fridge until later.
Preheat the oven to 220c. When the burgers have rested, heat a griddle pan until really hot and fry the burgers for about 1 minute each side until they have a charred brown crust (careful not to overcrowd the griddle pan.) Now place on a baking tray and finish off the cooking in the oven for a further 5-10 minutes until the insides are still slightly pink and juicy. Leave to rest for 5 minutes before serving.
Cut each bun and toast on each side in the same frying pan that you browned the burgers. Assemble your burgers with generous dollops of burger sauce and the fresh lettuce.
Related