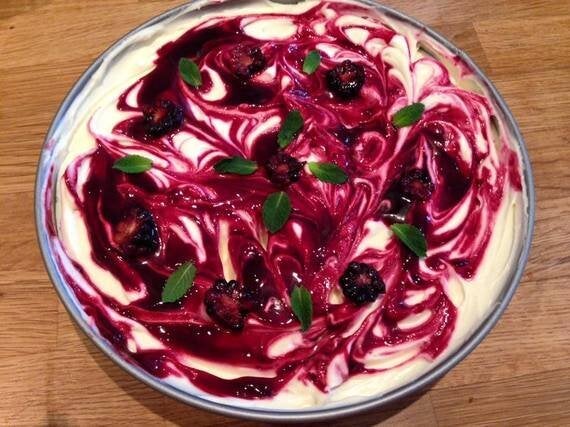 More fool you bakers! This 'no bake' cheesecake looks like it has taken ages to prepare, but in reality it takes 20 mins to put together and two hours to set in the fridge.
Serves 6-8 people in an 8 inch loose based tart tin
For the buttery bisuit base:
100g butter
250g disgestive biscuits
100g soft light brown sugar
For the cream cheese topping:
180g/ 1 tub of cream cheese
300ml double cream
For the blackberry marble drizzle:
250g blackberries
1 lemon
50g caster sugar
mint leaves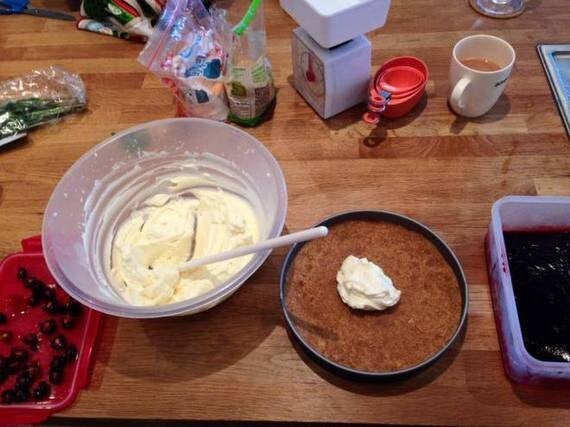 Reserve 10 blackberries for garnish later and add the rest to a small pan with the juice of half a lemon and the caster sugar. Heat until bubbling then simmer for 10 minutes until the berries have broken down and the sauce has thickened. Then leave to cool.
Gently heating the butter in a small pan until it has melted. Bash up your biscuits, either with a rolling pin or using a food processor. Once you have reached a breadcrumb texture, pour the biscuit crumbs into a mixing bowl with the melted butter and soft light brown sugar. Mix well and pour into the tin. Squash the base down well using your fingers. Now keep the base in the fridge whilst prepping the filling.
Take the blackberry sauce and strain through a fine sieve. Discard the blackberry seeds. In another mixing bowl, whip up all the double cream until it firm peaks are formed. Mix in the cream cheese. Take the biscuit base from the fridge and scoop the cream mixture on top, flattening the surface with a palette knife.
To create the marble effect, pour blobs of blackberry sauce on top of the cheese cake using a teaspoon. Next take two chopsticks in one hand and use to spread the sauce around the top of the cheesecake quickly and randomly, using a scribbling motion, until you have created a marble effect on top. Decorate the top with blackberry halves and mint leaves.
Chill in the fridge for at least two hours before cutting and tucking in.