I've been trying to come up with a recipe that celebrates the good old sprout and uses up Christmas leftovers. Sprouts with bacon and cream is my favourite side dish (I think I prefer it to turkey... shhh) so what better than a carbonara to use up those green little gems.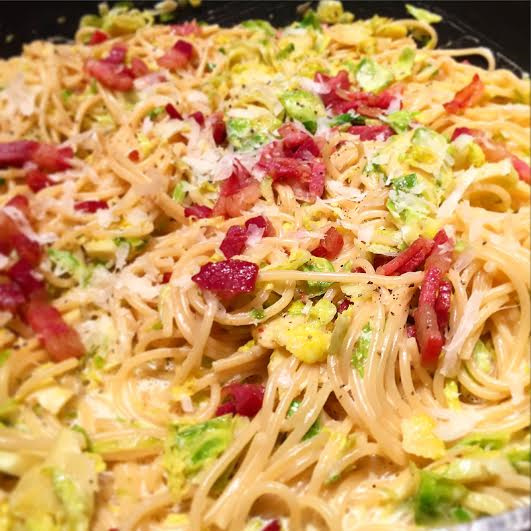 Spaghetti Carbonara with Shredded Sprouts and Pancetta
350g spaghetti
250g pancetta lardons
200g Brussels sprouts, cooked and shredded or thinly sliced
1 tsp butter
60g parmesan cheese, finely grated, save some for the top
4 egg yolks
300ml glug of double cream
1 fat clove of garlic, crushed
salt and pepper
Add your spaghetti to a saucepan of salted boiling water and cook for 8-10 minutes until al dente. Heat a large frying pan and add the pancetta. Cook on a medium heat for around four minutes until crispy, stirring constantly. In a bowl, whisk together grated parmesan, egg yolks, cream and crushed garlic until smooth. Season with salt and pepper.
Next add the sprouts to the bacon with a tsp of butter and continue to cook on a medium heat for a further 2 minutes to heat up the sprouts.
When the spaghetti is cooked, reserve ¾ of a mug of the cooking water then drain in a colander. Add the spaghetti straight into the frying pan with the pancetta and sprouts and mix well. Now turn the heat off and pour in the cream mixture. Stir until the spaghetti is well coated with sauce, adding the reserved cooking liquid to thin the sauce and help it coat the pasta.
Serve topped with the remaining parmesan cheese.