You peer through a laser-cut porthole in a large hemisphere and are greeted with an extraordinary light show. What look like dozens of eyeballs stare at you in all manner of changing colours and patterns, some simple, others complex. Or could it be a luminescent deep-sea creature appearing out of the gloom? Or a giant brooch of sparkling gems? Lights pulse, rotate, gently hypnotise until a flash initiates a kind of "psychedelic storm". Viewing it reminded me of the first time I experienced a kaleidoscope as a child. This exhibit, and a similar one programmed to different configurations, forms the centre-piece of "Freq.", an exhibition of light sculptures at London's Hoxton Gallery. There are six sculptures and 10 editioned prints in all, the latter capturing some of the sculptures' patterns.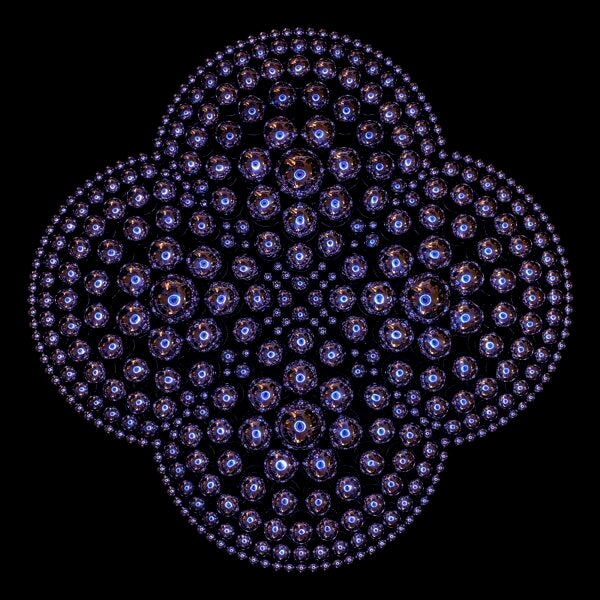 They are the fruits of collaboration between photographer Julian Abrams and the multi-disciplined design studio, Haberdashery. The hemisphere exhibits consist of polished stainless steel ball bearings glued in carefully constructed geometric patterns to a Perspex base. Around the sphere are small light-emitting diodes (LEDs) electronically programmed to change colour, and to vary in intensity and in the speed at which the colours change. Inside a camera will record people's reactions. "We hope to capture the reflection of this work in people's eyes, to see, hopefully, a sense of awe and wonderment," says Ben Rigby, one of Haberdasher's co-founders.
Another exhibit consists of a line of stainless steel rods one side of which is illuminated by a blue light, and the other by a red one. The interplay between the two creates subtle effects and optical illusions in which the rods seem thicker at one end and the colour brighter at the other. Perceptions of depth seem to vary too. These rods were the first entry point for Julian Abrams. "I wanted to reduce things to their purest form which is basically geometry, light and colour. Simplicity was the key. You don't need a Fine Art degree to understand it." Arts graduates might see references in this exhibition to artists such as Bridget Riley, Yayoyi Kusam and Chris Levine but representation is elminated, there's nothing conceptual. Everything is based on the principles of light; what you see is what you get. This makes it accessible for everyone including children.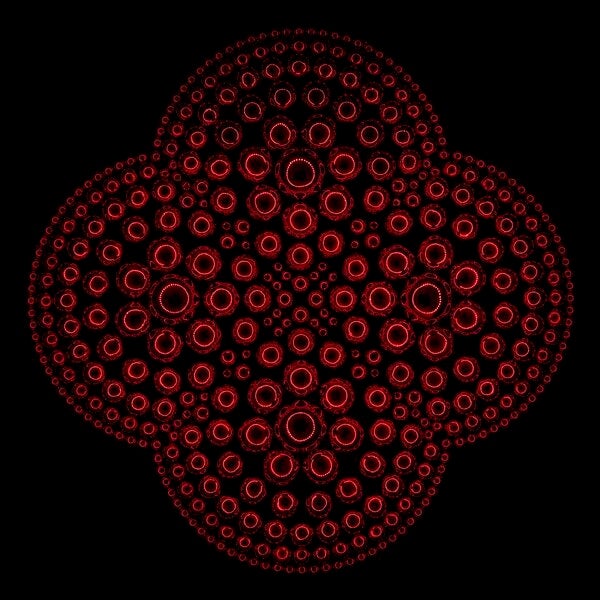 Collaboration has become something of stock-in-trade for Haberdashery. They have a long-standing relationship with Chris Levine, for example, and built his recent exhibition Stillness and Light at the Fine Art Society with its holographic depictions of The Queen and Kate Moss. They also recently staged and curated the Medical Research Council's centenary exhibition held at London's Imperial College. Collaboration with Julian Abrams extends back nearly four years. The Freq. Project has been a welcome opportunity for him to return to the more fine arts based approach of his training. "We actively celebrate collaboration," says Ben Rigby. "For each project, we bring in specialists and we learn something new from them and it gives us new directions. If Julian hadn't approached us with the seed of an idea about reflections and building things, we would never have got started on this exhibition." In some ways, Haberdashery are a collaboration in themselves. Rigby has a Fine Art degree, while co-founders Mac Cox and Daniel Siden are from product design and engineering backgrounds respectively. All hold an appreciation of light and how it can be played with. They specialise in understanding materials and surfaces and how they interplay with light.
If the exhibition is well received, the artist and creators hope that the project will continue to evolve perhaps on a larger scale. They would like to see such installations in hotels, shopping malls, atriums as well as galleries. To experience these light sculptures and photographs you need to trip the light fantastic to the Hoxton Gallery at The Arch, 9 Kingsland Road, London E2 8AA. It runs 21 - 27 June, 11am - 8.30pm.