Gabriella Boyd is a fresh, young talent on the contemporary art scene. Having graduated from Glasgow School of Art where she received the Chairman's Award in 2011, she came to the attention of Charles Saatchi who bought two of her paintings and his Saatchi Gallery awarded her a Special Commendation. Last year she was selected for inclusion in the prestigious Catlin Guide for which 40 of the UK's most promising new graduate artists were recommended by a wide survey of curators, art writers, collectors, gallerists and course tutors. The exposure received has seen her included in group exhibitions in the UK and as far afield as the USA, China and Brazil. Her prestige increased when she was shortlisted for the Catlin Prize. Now she has gained her first solo exhibition entitled Strong Necks, in the new High House Gallery in rural Oxfordshire.
Gabriella Boyd's paintings are of interiors. They are bright, bold, dreamlike, figurative yet with few defined faces. This last aspect not only represents universality but ambivalence as to the relationship between the figures she paints. "It's important to me," she tells me as we study the works in her exhibition, "that the situations I paint reflect how strong certain relationships between friends and lovers can be while at the same time they're completely intangible and completely impossible to pin down. Having no faces helps that perception." There is evidence of the influence of Surrealism here in the blurring of the boundaries between the conscious and sub-conscious worlds. Boyd has what she calls a spider-web of artists who have influenced her work. They include Bonnard, Vuillard, Matisse, early Hockney, the Leipzig painters Wiescher and Ruckhaberle, Philip Guston and the photographer Roger Ballen. "I like painters who manage to create their own world," she says.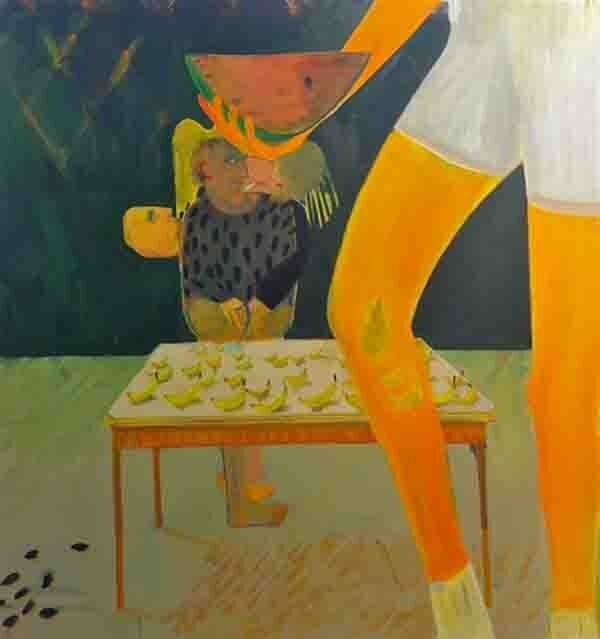 In Ripe (above) for example, figures are displayed in different planes, perspectives, time-spans and frames of mind. Some of the figures feel ominous with arms appearing from a torso, yet the addition of the cigarette adds a playful touch as does the brightness of the colours. The ripeness of the title is achieved by the preponderance of fruit yet there's a sexual connotation here too. Boyd plays with the viewer, tempting you this way and that, posing questions but not giving you enough to supply a definitive answer. That's what makes her work intriguing.
For Boyd, her paintings are a journey. Only so much is planned, the rest involves following trails the end of which may come as a surprise. She maintains that her most successful paintings evolve this way while she maintains a balance between control and following where the painting leads her, being flexible enough to let accidents happen and pursuing them if they feel good. "The form, almost on an abstract basis will often lead the narrative and eventually a figure may emerge through the way I am painting and gradually I'll let that take control of where the painting goes."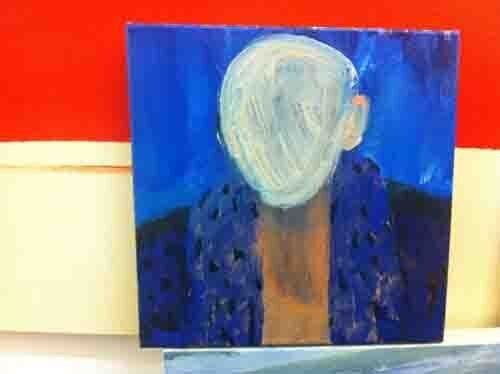 So why the title Strong Necks? "Initially it sounds like a very tangible form, the image of a cylinder that you can almost put your hands around, and yet it's quite emotionally loaded. It has strength and fragility at the same time. It's also suggestive of people looking at other people, that tension between characters. Strong Necks could also mean almost a defensive thing, people in different situations dealing with each other individually." It's that kind of tension and ambivalence on which Gabriella Boyd thrives.
Strong Necks by Gabriella Boyd is showing at the High House Gallery, Main Street, Clanfield, Oxon OX18 2SH until 7 April 2013. The gallery is open Thursday - Sunday. For more information, click on www.highhousegallery.com