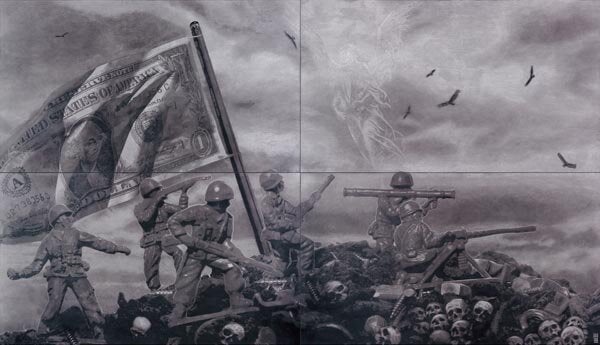 Mark Evans describes himself as a "sculptor within a tenth of a millimetre". The 38-year-old artist's chosen medium is always leather, a textile he finds appealing both aesthetically and functionally. He barely scratches the surface of it to produce illustrations that are dramatic, symbolic and very large. In his parody of Iwo Jima, entitled Woa Jimi (above) for example, the plastic nature of the soldiers emphasise their disposability. The six soldiers, the six hovering vultures and the eighteen skulls invoke the devil. Nuts and bolts symbolise the Military Industrial Complex and the intersection of the four panels represents a sniper's rifle sight. The bleakness is tempered by an ascending angel offering bread and wine and an alternative set of values to the soldier she's about to meet.
This work is several feet high. Evans is currently working on a giant 90 x 12 foot exhibit for an Asian hotel. His commissions grace the walls of celebrities, interior designers, collectors, galleries and institutions all over the world. During last year's Frieze week, he sold works worth £1.9 million in two days. The sales of his art range from £40K - £480K. Since his inaugural exhibition took place in March 2010 at the Scream Gallery, he has had several international shows including a solo one in Los Angeles and group exhibitions in Monaco and Switzerland.
The origins of the niche he has carved out, almost literally, for himself, began in childhood. "I grew up on a farm in Wales and fell in love with knives. I loved carving on the barks of trees, nothing aggressive," he tells me. Soon he had secretly collected a sock drawer of knives and had acquired a delicate skill in their usage. However, what turned a pastime into an artistic skill was one of those deliciously serendipitous moments.
In 2000, after a vain attempt to wash blood off a brand new leather jacket, he scratched a stain off with a knife to reveal lighter shades of suede beneath. It was a Eureka moment. He turned seeming disaster into victory by etching a portrait of Jimi Hendrix onto the back of the jacket in the same manner. When several people, including a buyer from Harrods, stopped him in the street to enquire from where he had bought the coat, his mind was made up. He had not long graduated with a Fine Art degree and had recently got married. "It gave me the courage to go into debt and invest in this art." Three years of experimentation followed before football stars and other celebrities began commissioning work. Other artists like Tracy Emin endorsed his skills and his popularity exploded.
The financial crisis of 2007/8 nearly put paid to his career. A commission by multi-billionaire Russian businessman, Oleg Deripaska was cancelled when the businessman lost $21 billion and cancelled the palace he was building in Moscow. Months of preparation by Evans had gone to waste. Other commissions were lost too. Yet, the crash turned out to be Mark Evans's saviour.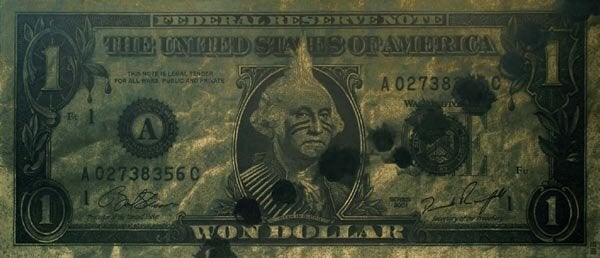 He began working on subjects for himself rather than for others. In particular, the financial meltdown inspired him to produce etchings depicting the phenomenon in symbolic terms. He showed me a few as we walked around his studio, a converted building on a Hertfordshire farm. Strewn among the art are knives, picks, bradawls and all manner of tools of his trade. One large work, inspired by the movie Fight Club, shows a wolf howling at a dollar moon as civilisation resets itself over New York City. Dollar bills are parodied (as above) and a ferocious bull together with pigmy warriors sporting Rolex watches attack Wall Street. All his work involves a painstaking attention to detail with a surgical precision. There is no room for error since a false scratch or cut cannot be undone. A British maverick entrepreneur agreed to pay Evans to produce up to 18 pieces for an exhibition depicting his vision of power and greed. They captured the zeitgeist of the times and hedge fund managers were among those who clamoured to snap them up.
One highly regarded piece that proved too big to sell and too big even to erect in his studio, is entitled The Third Temptation (below). It retells the Biblical story of how Satan took Christ to the top of a mountain and offered him the entire kingdom of the world if he bowed down to him. The great Goliath of corporate greed represents Satan while the ordinary man hovers precariously above Wall Street. "I hope that one day it'll end up in the lobby of a bank," Evans says with an ironic glee.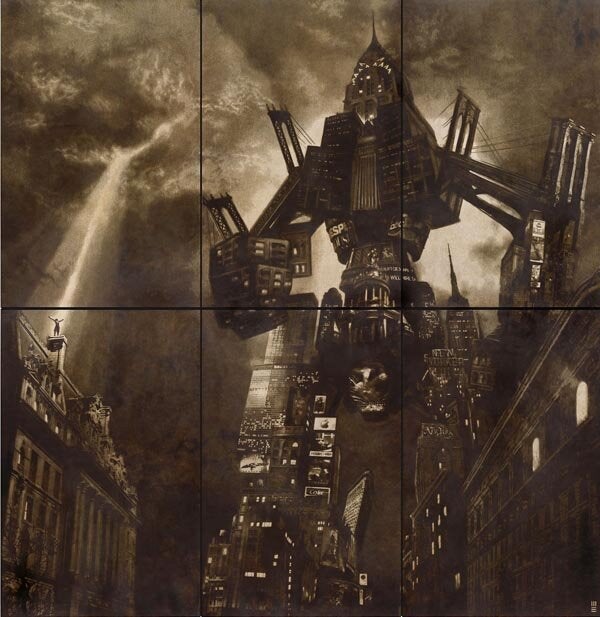 Mark Evans's work is original, spectacular, aggressive and provocative. His hangings are often dark but not bleak and express a raw power. An exhibition of his works is scheduled for London next year.