This week marks the inaugural London Design Biennale 2016 staged in the grandiose setting of Somerset House. Its theme is Utopia by Design, marking the 500th anniversary of the publication of Thomas More's Utopia.
Among the exhibits that has caught my eye is one at the French Pavilion called The Astounding Eyes of Syria. The tragedy of that country is played out daily on our news screens - mayhem and destruction in a seemingly interminable conflict waged by different factions in a complex geopolitical web.
Benjamin Loyauté is a designer, artist, author, academic, filmmaker (not easy to pigeonhole) who has visited Syria both before and during the current conflict. Looking for a project that could in some way unite Syrians, he was struck by that country's fondness for sweets evident in the colourful mountains of confectionery that were once abundant on street candy carts and souk stalls.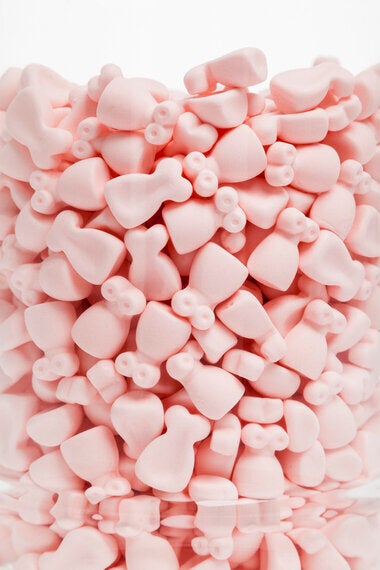 So he decided to invent a new sweet (above) sculpted in the shape of an amulet known as an Eye Idol, the mysterious 4th century Assyrian archaeological objects first discovered in 1937 by Max Mallowan, the husband of Agatha Christie. Loyauté even invented a name for it, Louloupti, a pet name given to a child echoing the Syrian fondness for giving sweets affectionate nicknames.
"I think the sweet is universal", Loyauté tells me. "I wanted to find the most humble, modest object which can link all Syrians together. I chose the shape because it's a small archaeological object that predates Islam. I wanted to talk about the deep culture, the history, the living heritage, to emphasise the ancient civilisation of Syria."
He regards his sweet as a sculpture and persuaded a confectionery company in France to manufacture a million of them. The main features of this Biennale installation involve a vending machine from which the visitor can buy sachets of Louloupti, the proceeds of which will go to a charity that supports educational initiatives for refugees and displaced children.
The visitor is also invited to sit and watch an 18-minute film entitled The Astounding Eyes of Syria shot in high-definition by Loyauté in the Beqaa Valley refugee camp in Lebanon earlier this year.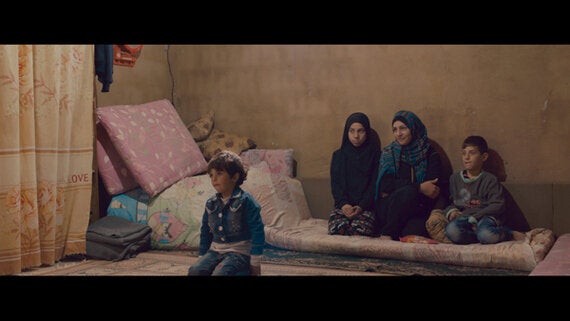 It's a haunting film that shows refugee families (as above) sharing their nostalgic memories of sweets at a time when they were at home and at peace, a part of daily life once taken for granted . One woman describes how the serving of sweets and pastries even helped soothe a row with a neighbour. A father wishes he had a time-machine that could wipe out the war and restore peace.
"I invite people to do a kind of performance - to watch, to meditate," says Loyaute. "I don't want to provoke them, I want to make them undergo an introspection."
The film is interspersed with street scenes of sweetshops and close-ups of the Louloupti thus combining a kind of fiction with reality. It's not so much a Utopia, more what French philosopher Michel Foucault called a Heretopia, a kind of "other space" within a reality, for example how a parent's bed might become an ocean or a forest in the mind of a child.
For the public, the Louloupti becomes a sculpture that they can buy, take home and keep. In this way they are also contributing in a small way to help ease the tragedy that is Syria. Thus, the sculpture becomes art with a purpose. Loyauté calls it "semantic design".
He hopes to create an unlimited edition of his new sweet that could be sold all over the world. The proceeds would also be used to protect Syria's immense cultural heritage. As Loyauté puts it, "We can destroy people or buildings but we cannot destroy this collective memory."
The London Design Biennale runs at Somerset House from 7 - 27 September
The images are used with the permission of Benjamin Loyauté.
Popular in the Community