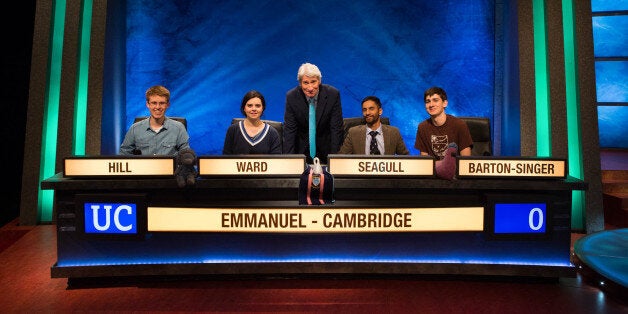 Emmanuel College Cambridge, or Team Emma, as we are affectionately known as, has an illustrious history on University Challenge. Team Emma were champions in the 2009-10 series, with one of the most virtuoso captains of all time, Alex Guttenplan (who had his own self-titled 'Guttenfans'!)
As the previous Team Emma had triumphed in 2010, the 2016-17 team wanted to do justice to our predecessors. So we worked out our strengths and weaknesses (none had done Biology since our GCSEs at 16) and planned on how to fine-tune certain areas - such as the periodic table, Shakespeare, Nobel prize winners and flags of the world.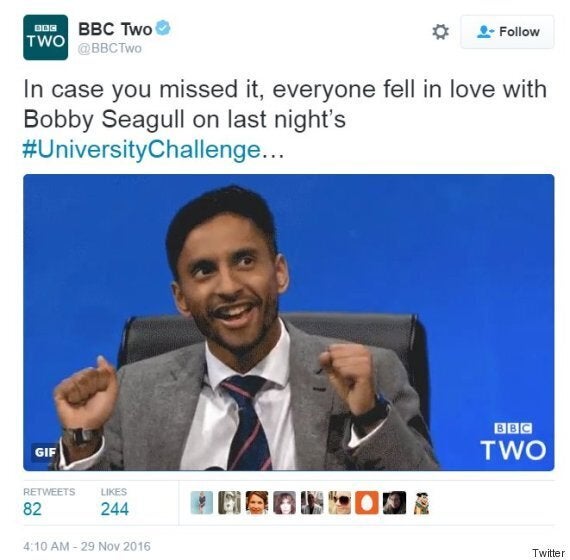 In Cambridge, there is weekly quiz practice - where college teams compete in University Challenge style matches. Fans will be excited to hear that there were several Monkman v Seagull practice duels here! This helped us to hone our "buzzer technique", yes this really does exist! You can press the buzzers slightly and be ready at the slightest clue provocation to pounce. Team Emma also went on learning trips to museums in London including the Science Museum and the V&A.
Our team has gelled together as everyone brings different skills to the table. Tom Hill is our expert Historian as well as understanding UK geography. Leah Ward is strong on Literature/Maths as well as having unique bits of knowledge that no else possesses. Bruno Barton-Singer seems to know everything from Physics to Philosophy and more. And my job is to keep us all together, preferably with a smile!
Think of Britain, then you will think of the Queen, Wimbledon, fish & chips, the BBC, the Beatles and Shakespeare. University Challenge can be added to that list of uniquely British cultural institutions. Being on the show has been one of those "once in a life time" experiences, especially being at the opposite end of Jeremy Paxman's questioning. Nothing can quite prepare a team for being under the spotlights and camera in the studio. It is one thing to shout out the answers from the comfort of your sofa, and another to throw caution to the wind and buzz in the studio.
We didn't quite expect the public outpouring of support and love for Team Emma on social media. We take the competition seriously, but also have tried to enjoy it together as friends. This sense of fun and humour has definitely been palpable on screen and resulted in lots of internet - and real world - Team Emma fans. Fans have even created Team Emma memorabilia such as t-shirts, mugs, ladies dresses and even duvet covers.
On a personal note, my surname has drawn lots of attention. My father gave me the surname Seagull from birth after the 1970s inspirational novella called "Jonathan Livingston Seagull". It has made me stand out from a young age - even my primary school dinner ladies loved my name. #Seagull trending on Twitter has been amusing to say the least. My unique surname and University Challenge "fame" has gained some recognition in Cambridge - apparently I'm the 8th most recognisable student name in Cambridge (a so called "BNOC", Big Name on Campus) according to a Cambridge Tab newspaper poll.
I've also attracted Twitter attention from certain public personalities such as BBC Pointless presenter Richard Osman ("Seagull doing what seagulls do here") and even CBBC's Hacker T. Dog.
Hearing BBC Radio 1 DJ Scott Mills mix my TV introduction into R&B artist's "The Weeknd" song has been one of my personal highlights. I'm a very proud east Londoner and massive West Ham football fan. So it has delighted me that the club interviewed me (gave a "Seagull" named shirt) and will run a special University Challenge feature in their next match day programme against Chelsea. Twitter fans have also commented that they would enjoy me presenting TV programmes such as Blue Peter or even bring back Johnny Ball's mathematics based 1970s show Think of a Number.
Being a Maths teacher, I would definitely love presenting on TV to a wider public should the opportunity arise. Mathematics in the UK needs enthusiastic figure heads that the public can empathise with.
Team Emma have managed to secure four consecutive wins and have our semi final on 27th March, just one match away from that grand final and replicating the success of the 2009-10 champions.
Related