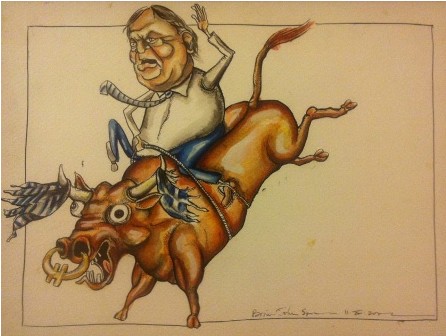 Here's my cartoon that depicts Greek finance minister Evangelos Venizelos, who last week alongside a band of merry Eurogroup finmins successfully restructured Europe's most indebted nation's massive national debt. By completing the debt write-off deal Greece can now expect to gain access to the second €130 billion EU-IMF-ECB bailout package later this week and thus avoid a chaotic default and push back any imminent possibility of a Grexit.
The controversial debt restructuring which cut €110 billion from the €206 billion of Greek bonds held by private investors - one of the stringent bailout conditions laid out by the Troika - brought relief to financial markets. However with further cuts and austerity measures to be implemented and without the internal locomotive engine power to garner any material growth it's hard to see how last week's more immediate progress can secure any long term political, economic or social stability; certainly that's why I've drawn the Greek finmin riding what we could call the "eurobull" - one that he and much of Greece have been riding for the last two years. However with the most optimistic projecting that Greece will cut its debt to 120% of GDP by 2020 I'm one who's wondering just how much longer it is till the "eurobull" bucks Greece?
Funnily enough, writing this piece has just given me another cartoon idea - watch this space!